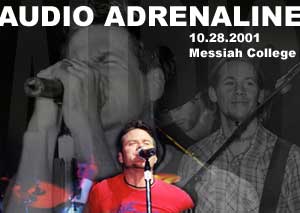 Audio Adrenaline (with special guests Reign Storm)
10/28/01, Messiah College, Grantham, PA
People who know me, know I love Audio Adrenaline. I mean, the mere fact they're reviewed several times here should really be no surprise (Sorry if you're sick of them, but I know you'll get over it). I've seen the band live more times then most people would like me to admit, and I still enjoy each and every live show I've seen the band do. So, naturally when the band ventures to our home state of Pennsylvania, within a 2-hour drive, we'd try our best to make it out to see them. Audio A just recently finished recording their latest album Lift to be released in November and hadn't toured much before their October 28th show at Messiah College in Grantham, Pennsylvania. Jim and I made the trek out to Messiah on the brisk Sunday afternoon and walked around the campus killing time before our scheduled 6:30pm interview with Audio's guitarist Tyler Burkum. After talking to Tyler, we were disappointed to find that they had no plans of playing any new stuff for the audience. We tried to persuade him to encourage the guys to play something from Lift and Tyler entertained the thought but didn't sound too hopeful. Following the interview, Jim and I basically sat around, through the opening act of Reign Storm at 8pm, till Audio's appearance at 9pm. The auditorium at Messiah was an unusually intimate setting for an Audio Adrenaline show these days. Normally the band plays festivals like Festival Con Dios or Creation, or is headlining a major tour. Here things were a little different, and made for what will turn out to be my favorite live show from these guys yet.
Their set seemed to start off like the typical shows of recent. They opened with their cover of "Let My Love Open the Door" from their 1999 album Underdog. Despite the smaller venue, the band still managed to use dry ice cloud jets occasionally during the show, notably during the show's opening song. They followed with their hit "Mighty Good Leader," before travelling back to 1993 with their megahit "Big House." "I have to admit I'm kind of sick of playing this song," Mark says in a half-joking way. They proceeded to take the audience back to 1972 for their 1996 cover of "Free Ride."
Apparently we did convince Tyler enough because they announced the next song as a new song off of Lift, and being the first time the song had ever been played to a live audience. For a first time, the band did an excellent job performing "Glory" for the first time live. And since I was familiar with the worshipful tune, it had a really powerful worshipful connection for me. It was awesome. "I messed up a couple words..." and Tyler, grinning from ear to ear exclaimed "That was fun!" For a majority of the show, some wacko (me) began screaming for a new song called "Ocean Floor." Although no one knew what that was all about, he continued to do it anyway in hopes the band might hear him...
Crowd participation was encouraged for the newer song "One Like You," featured on the band's Hit Parade best-of project that was released earlier this year. This lead into the encouraging "Underdog," which was followed by the convicting and personal devoting to God, "Hands and Feet." The band followed with their rearranged classic "We're a Band," including their new ritual of pulling volunteers from the crowd to join the band on stage to dance around. With the completion of the tune, and removal of the fans from the stage, lead singer Mark Stuart invited requests from the crowd, in which someone asked for the popular rock ballad "Walk on Water." Next someone requested "I'm Not the King," not expecting Mark to insist they sing it along with him. With the request of "Blitz," the band proceeded to play a mere fraction of the song, as they had forgotten most of it! The band's set was disrupted even further when someone requested "Get Down," which is usually reserved for the show's closer. Following the upbeat pop tune, bassist Will McGinniss brought his young son Satchel on stage for who drummer Ben Cissell set on his lap to accompany him on drums briefly (which of course elicited quite a few "Aww"s from the audience.
Despite the continuous unheard cries from the small corner of the audience for a song called "Ocean Floor," the band continued to play whole and portions of popular Audio A songs. The other new tune from Hit Parade, "Will Not Fade," was played next for about a minute before being abruptly ended and the request for the swing remake of the band's "DC-10" was fulfilled. In deciding what to play next, Mark whispered to Tyler and Will his suggestion for their next song. Upon telling Ben, he threw his arms up in the air admitting he had forgotten how to play it. At that, Tyler began fooling around with his strings and began playing dc Talk's infamous hit "Jesus Freak." Will soon accompanied him, and finally Ben joined in. Mark, confused and surprised at his bandmates' song choice and the audience's ecstatic reaction, began singing the opening verses. As he began forgetting the words, he pointed his mic into the audience where aid wasn't hard to find as seemingly the entire crowd knew the words. Stuart even successfully filled in for portions of Toby McKeehan's famous rap verses. In conclusion, Mark decided to set the record straight as he jokingly informed the audience that they had written the song back in the mid-nineties and dc Talk stole it from them.
After giving the crowd a choice and playing the crowd-pleaser, their own "Never Gonna Be as Big as Jesus," I grew impatient as my voice began making its exit and growing weaker. "MARK!" I shouted. "What?" he looked around but didn't see anything notable. He continued on talking. "MARK?!" I gave it another shot. "What?!" he looked out into the audience. "Everybody be quiet so I can hear..." The room actually silenced. "PLAY OCEAN FLOOR!" If only people realized that my idiotic nature was for good reason. "Play 'Ocean Floor?!' How do you know about that? That's top secret stuff?!" The room shut up completely. I could hear the people at the closest Dunkin' Donuts grinding coffee. My idiotic nature was now challenged. Rightfully so I suppose. "It's good!" Mark didn't seem to know what to do, and informed the audience that Tyler sings the (soon to be) infamous chorus. He began strumming the chords and offered a solo performance of the chorus singing, "They're all behind you, they'll never find you, they're on the ocean floor. Your sins are forgotten, they're on the bottom of the ocean floor." That's good enough for me.
As if nothing happened, the band gave "Some Kind of Zombie" a shot, with Stuart admitting that Ben had forgotten the drums for it. A haphazard but worthy attempt at "Zombie" was followed by the band's newest single from the album Lift, the funky praise-themed pop tune "Beautiful." The crowd offered their help with the song's "doots" and was the perfect song before the applicable closer "It's Over" rocked the show to an end. An explosive closer that encourages the crowd to take the message with them when they leave, Audio Adrenaline had successfully combined worship, fun, and a positive message into an hour and a half of one heck of a good time.
This is more of a personal testimony or account of the evening than a review, but if you have yet to attend or enjoy an Audio Adrenaline show, you're missing out on a true Christ-focused rock and roll concert.
Audio Adrenaline Photo Gallery
click on an image for a bigger size
*all photos by
John
, and are the property of
Jesusfreakhideout.com