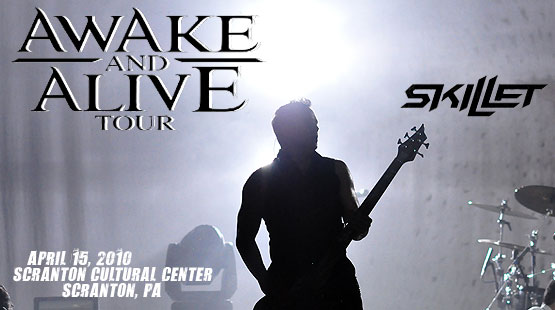 Skillet, Red, The Letter Black
4/15/10, at in Scranton Cultural Center in Scranton, PA
Following the major success of the band's Spring tour with TobyMac on the Awake Tonight Tour, Skillet hit the road again less than a week later to launch their 2010 leg of the Awake and Alive Tour, reprising the successful Fall 2009 tour. While The Letter Black returns on the road with the hard rock ensemble, Essential Records rockers RED replace Hawk Nelson and Decyfer Down to add a little extra edge to the event. And RED is probably a better stylistic match than those they are replacing, so the evening's dose of rock is even more intense than the tour's previous run.
As those who read our Awake Tonight Tour coverage know, we missed Skillet's entire show due to our interview with Toby. So we were certainly looking forward to the band's return to Pennsylvania with this tour, and having more of a headlining spot this time around. However, this time we actually missed opening act The Letter Black's set due to our interview with Skillet's John Cooper, so we didn't get to our seats in the Scranton Cultural Center until between their set and RED's. I've seen RED perform many times since they first hit the rock scene, and they're definitely an act that translates stronger live than in recorded form. They also seem to just improve with each performance I see and this one was no different. Love 'em or hate 'em, they put on a pretty strong rock show.
While still touring their latest record, Innocence and Instinct, the band mixed up the selections from both their debut (End Of Silence) and their newer effort pretty well. "Shadows" followed their opener (which I didn't take note of due to concentrating on shooting photos of the guys), and then they picked a track from their debut, "Let Go," even taking a moment to pause to photograph their Scranton audience. While their set wasn't that long, members of the band took several opportunities to address the audience. Before playing their next song, "Never Be The Same," they made sure to specify that the song was about Christ's influence on their lives. Although the tour was predominantly focused on Christian audiences, it was evident that the audience still consisted of some mainstream music fans, so it was great to hear them unashamedly proclaim their faith. The rock quartet had a great deal of room to rock out on stage, and front man Mike Barnes (as well as the Armstrong twins) would make fair use of short pedestals at the front of the stage space throughout their set. After "Never Be The Same," they announced the next song as being their current radio single, and then proceeded to perform their pretty cool version of Duran Duran's "Ordinary World." "Fight Inside" was next, which they dedicated to anyone fighting something from their past (and admitted their own struggles as well), and followed it with "Death Of Me" and then what is probably still their biggest hit to date, "Breathe Into Me."
There was then a really long set change before we'd get to see the main event (the house music between sets was even beginning to repeat the same songs we heard before RED played). For anyone who saw the Fall "Awake and Alive Tour," Skillet's set probably didn't look all that different, but the band did change up the song order some. Instead of opening with "Whispers In The Dark," they burst onto the stage with the new fan favorite and ridiculously catchy and anthemic "Hero," drawing immense excitement from their audience. Vocalist/bassist John Cooper emerged suited up in a heavy striped blazer with mic in hand, while road manager ScottyRock supplied the bass to let Cooper roam the stage freely. His wife Korey and fellow guitarist Ben Kasica let loose with unbridled energy as well, with this flurry of action and energy buzzing on the stage. "Whispers In The Dark," from their breakout record Comatose, was next, and then the somewhat corny "It's Not Me, It's You" from Awake followed. At this point, the signature live violin and cello solos were spotlighted, leading into the title track from their 2006 release, Comatose. I have to admit, when the song started, I thought it was "Awake and Alive," which kind of reinforced my feelings that there are a great deal of similarities between both albums. But after Cooper paused between songs to talk about a war going on every day - and not in the Middle East, but everywhere - involving our faith, he presented "Awake and Alive" as a sort of call to action and proclamation of faith. It was a cool moment and it actually made a good segue between the songs. The lights then went completely out, with a couple of lights then backlighting guitarist Kasica who sat perched on a stool with acoustic in hand. He performed a brief acoustic guitar solo and then the rest of the band joined him for an acoustic set. They surprisingly then offered a cover of Metallica's "Enter Sandman," with Mike from Red then joining them for a verse. Afterwards, while John was talking to the crowd, Skillet broke into an acoustic rendition of the theme for the TV show The Office, since the show is based in Scranton. It was a fun and unexpected little moment. While many bands seem inclined to make Office references while playing in Scranton, I certainly wasn't expecting it from a hard rock band like Skillet. The band then performed an acoustic version - for the very first time - of their song "Believe" (which actually may have sounded better in acoustic form than it does on Awake), before putting their stools and acoustics aside for the plugged-in pop punk rocker "Those Nights." The song always makes for a fun live moment and this show was no exception. John even broke out the video camera, as he does at most shows, and shot footage of the audience with intentions to post it on the band's YouTube. When the lights dimmed again, they came back up illuminating only drummer Jen Ledger who provided a solo for the Scranton crowd. John then prefaced the next song as being about a girl who gave up on life and is confronted by God encouraging her that she isn't alone, and they peformed the fan favorite "The Last Night." "Savior" was next, and a nice surprise at that. The band seldomly plays tracks from anything older than their two most recent albums these days, so it was great to hear them play their single from their 2003 record, Collide. Kasica then offered up another solo, this time an electric one, and Skillet closed with their current hit, "Monster."
Of course, an encore is a bit inevitable, and when the band re-emerged, they surprisingly opened with the edgy "Sometimes." Throughout the night, at different points, the band used the rising/falling pillars at the back of the stage which would frequently be used by guitarists Korey and Ben, as well as the violin and cello accompaniments. The latter was the case for the band's evening closer, as another set of violin and cello solos preceded the final song of the night - the opener from Comatose, "Rebirthing." By the end of the night, Skillet had brought forth yet another incredible rock show that was exciting and even exhausting (in a good way, of course) due to the amount of energy they display on stage. Fans of the band shouldn't miss a single tour of theirs because there is bound to be a few surprises up their sleeves. And if you enjoy their latest records and have yet to see them live... what are you waiting for?
--
John DiBiase
, 4/28/10
Awake and Alive Tour 2010 Photo Gallery
click on an image for a bigger size
**vertical images cropped for thumbnails**
RED:
Skillet:
*all photos by
John DiBiase
and are the property of
Jesusfreakhideout.com