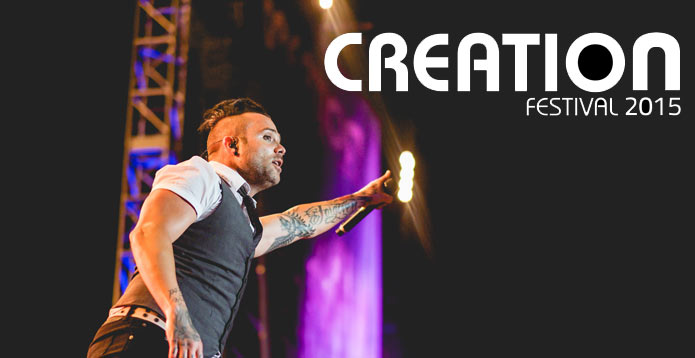 Creation Festival East 2015
6/24-27/15, at Agape Farm in Mt. Union, PA
Creation Fest has come, officially signaling the beginning of summer. It has quickly become one of my favorite yearly traditions, and not just because I love photography and live music.
While the music may be on the marquee, and the main factor in drawing the masses--you'll quickly find--takes a backseat to the fellowship. You see, I'm tasked with writing a concert review of Creation Fest. While that's definitely doable, I think one could find that all Creation Fest reviews are kind of the same. So I'll say this. Go to Creation. You won't regret it. I don't care who is booked to play, or whether or not last year had a better or worse lineup. The music will draw you in, but all of the other intangibles will be what keeps you coming year to year.
That being said, The Bible says we overcome by the word of our testimony. So here goes.
Last year was my first-ever Creation experience. I came to the festival as a broken man. I won't get too far into it, but I had recently experienced soul-crushing loss. Looking for anything to grasp on to, I came to Creation as a photographer looking to expand my concert photography portfolio and maybe find some aid for the heaviness that I was feeling day after day. I was generously offered a spot camping with the other photographers. With no better plan in mind, I accepted. It was perhaps put best by the daughter of "photog camp dad" Randy.
"This is your first time at Creation?"
"Yep."
"Did you come with anyone?"
"Nope."
"You don't know anyone here?"
"No one."
"So, you came all this way, by yourself, to hang out and camp with complete strangers? You're brave."
I'm thankful that I hadn't actually thought of it that way before going, because it probably would've scared me off of the whole thing.
It's good to look back sometimes and see the crazy ways that God works things out. He took me, in all of my brokenness and fragility, and used the lure of my hobby to bring me to these complete strangers from all over the East coast for a purpose. Now having known them all for over a year, and successfully shooting the festival twice with them, they all hold a special place in my heart. It wasn't some grand gesture, but just a constant sense of inclusion and warmth that they showed to me that began my healing. That's God. And that's Creation Fest.
I assure you, with any year at Creation, you will have a blast. Loud music, singing and dancing with 50,000 believers, worship - it's a tremendous time. But I reckon that in the weeks following, when you look back at your few days spent at the festival, the most vivid memories will be the quiet moments in fellowship with one another. Lecrae brought the house down, but the late night campfires with the photography family stole my heart. Skillet played a great high-energy set, but making small talk with Joe and Tim's giant stack of nachos is what makes me smile. Peter Furler stole the show, but inside jokes about the consciousness of some performers are the memories that will stick.
These may not be the reasons most come to their first Creation for (I know they weren't mine), but I guarantee you they will be the reasons why you come back.
With all that being said, to those unfamiliar with Creation, there are two stages and a ton of performers throughout the four day affair. The "Main Stage" houses most of your mainstream names, and the "Fringe Stage" showcases various genre musicians. During my three days there (I had to leave a day early due to a massive rainstorm coming in), I was privileged to witness wonderful acts like NF, Tedashii, I Am They, The Vespers, Brian Campbell, Matthew West, TobyMac, and Blanca, among others including those listed earlier. Each artist was great and unique in their own way, and I hope my concert photos reflect that.
Creation's stages don't offer just music, as they have numerous wonderful speakers to pour into you amidst all of the performers. Reggie Dabbs and Bob Lenz are two that stick out to me, in addition to the tremendously touching testimonies of others, including the musicians themselves.
If all of the above hasn't convinced you to come to Creation next year, they also have a sports zone, complete with a skate park, rock climbing, bull riding, and various other activities.
Still not convinced? Four words: Cheesecake on a stick.
I apologize if you've read expecting a more traditional concert review, but I felt that this is what I was supposed to write. I cannot encourage anyone enough to come to Creation. There's something for everyone here, and there's music for every taste. Spiritually speaking, I firmly believe God has something for everyone in attendance as well. If you open your heart up to it, beautiful things will happen.
To my photog phamily, thank you for the kindness and warmth you've shown me. You may not have known it at the time, but it made all the difference in my life. Until next year!
--
BJ Smith
, 7/7/15
Creation Fest East 2015 Photo Gallery
click on an image for a bigger size
**vertical images cropped for thumbnails**
Blanca
Brian Campbell
Sorensen
Colton Dixon
Lecrae
I Am They
The Vespers
Chelsea Musick
Matthew West
Skillet
Capital Kings
NF
Tedashii
Peter Furler
TobyMac
*all photos by BJ Smith and are the property of the photographer and Jesusfreakhideout.com