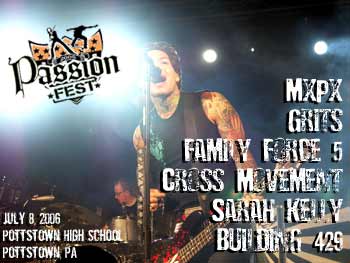 Passion Fest Festival
7/8/06, at Pottstown High School in Pottstown, PA
Ah, the 'all-day music festival' -- a treat becoming more common these days for drawing the masses to a single place for fun, fellowship, and faith. Passion Fest 2006 was an all-day event on a slighty cloudy Saturday afternoon held on a field outside of Pottstown High School. This free festival boasted such names as Sarah Kelly, Grits, Cross Movement, Family Force 5, Building 429, and even headliners MxPx, while also featuring the skating attraction of Stephen Baldwin's "Livin' It" team and speaker Christian Hosoi. Sounds like a foolproof plan for a great day, right?
Actually, there wasn't much that didn't pleasantly surprise me about Passion Fest. The stage was sizable with sort of a Creation East Fringe Stage setup. The sound quality was fantastic and just in case the crowds would swell enough to leave some of those further back without a clear view, an impressive jumbo screen displayed on the right side of the stage gave a larger angle of the on stage happenings. The festival had a few snack vendors (although some festival goers felt more could have helped since it was an all-day shindig), places for band merch, other Christian-themed vendors, as well as a special area for the kids to play on inflatable attractions. But considering the nature of one JfH, on to the music, shall we...
We arrived shortly before Passion Fest's first performance, Sarah Kelly, began her set. As we walked to the stage area, Sarah was doing her sound check before a growing audience. She sat behind her keyboard, accompanied by just her guitarist and drummer to perform an extended acoustic set. Opening with "All I See" from her debut album Take Me Away, Kelly was poised to lead the audience in early afternoon worship. Her hit single "Take Me Away" followed, before she introduced a new song entitled "Out Of Reach" from her upcoming sophomore release Where The Past Meets Today. A set highlight no doubt, the song is an example of her new music being a step back from modern worship and focusing more about life's struggles and pains. The beautiful piano-driven "About Midnight" appropriately followed, as well as a few choruses of "Take the whole world, but give me Jesus." Kelly gave reinforcement to being Christian music's sweetheart everytime she'd pause to share her heart with the audience. And all ears were engaged when she got serious to talk about her experiences with abuse in her pass, encouraging others who may be struggling with similar problems. Sarah closed out the remainder of her set with two more new tracks, the equally sensitive and soul-baring ballads "Fall Into You" and "What You Leave Behind."
After Sarah Kelly, Lindz West, formerly of the UK's World Wide Message Tribe, came out to speak to the crowd. West was emceeing for the day, but extra time between the afternoon's sets allowed for his own new group to perform a bit. LZ7 proceeded to play two of their own songs, resurrecting the all familiar dance pop sounds WWMT had been known for. While they seemed to successfully get some of the crowd moving, their style felt somewhat dated and the lyrics, which mostly just encouraged the audience to jump (in both songs) seemed rather trite. But while that may be the case, their energetic performance was a good precursor for what was to come...
While the next act was setting up, we made our way over to the vendor area to connect with Sarah Kelly for an afternoon interview. This also meant missing a good portion of the day's events. And since this was the case, we have much of the rest of the afternoon reviewed here by JfH Staffer Justin Mabee...
When Cross Movement came up on stage, I was a little surprised, mainly because only three guys got up on stage: DJ Official, William "Duce" Branch (The Ambassador), and Brady "Phanatik" Goodwin (usually there are four of them). They got right into the show though, starting off with the popular "Start Somethin," and not even stopping for barely a breath before going into "Rise Up," both from their immensely successful album Holy Culture. They then switched gears to "Epiphany," a radio hit from their newest album Higher Definition. Most concerts that I've gone to with Cross Movement performing has included more new music than ever before, but this show seemed to include a lot of tracks from older albums released by the group. And Duce and Phanatik can certainly keep the crowd going by themselves with or without their group counterparts. After "Epiphany," two more songs from Holy Culture came, and then an older Cross Movement song that I hadn't heard before. It was great to hear them bringing back flavor from their roots. Perhaps it just has something to do with the group's Greatest Hits album coming next month. Virgil Bryd (Tru-Life) showed up after being caught in traffic, just in time for "It's Goin' Down" and The Ambassador's own hit "Get U Open" which is a definite crowd pleaser. Finally, Cross Movement finished with their staple hit "When I Flow...(It's Gospel)," and left the stage in order for Building 429 to come up and perform a sound check for their show at 3pm. After their concert, however, Cross Movement took a little time out before later walking through the masses of people, signing autographs and taking pictures to show their fans appreciation. (- Justin Mabee)
We got back from meeting with Sarah minutes before our most anticipated set of the day... Atlanta's own Family Force 5. Now, if you've seen this crunk rocking quintet hit the stage before, it's like letting loose a tornado through a trailer park (whatever that means). Since I first saw them live at GMA Week 2005, I've had the pleasure of seeing them perform many times, and they've yet to disappoint. The band opened modestly, however, with their rock single "Replace Me," following up with the tasty, groove-laced "X-Girlfriend." Their energy continued to build as they proceeded with the silly "Drama Queen" and the call-to-dance, "Lose Urself." Those who'd never seen the band before were seemingly won over by this point in the show as their stage frenzy continued to peak with the popular and infectious "Kountry Gentleman," "Cadillac Phunque," and their ridiculously catchy "Love Addict," which also called for some crowd participation. But all good things must come to an end, and the band was poised to give it their all -- as they do with each and every show -- when they let go with their raucous finale, "Earthquake." But of course this wasn't enough for the audience, and after considerable demand, the guys returned to perform their breakdance anthem "Numb." One thing I noticed about this particular performance, however, was it seemed to take a bit longer for the band to warm up to the audience. This is most likely due to the fact that the space between the audience and the stage was incredibly spacious. While the roominess made it easier for press folks like myself to move about the stage area to get photos with ease, it created a considerable void between the audience and the artists. And with a show as dependent on this energy as Family Force 5's, it can mean everything.
At this point, we actually needed to rejoin Sarah Kelly to finish our interview (hey man, you gotta see Family Force 5, even if it means breaking up an interview... we love you, Sarah!!), which ended up absorbing the rest of our afternoon. But of course, the loyal Mr. Mabee is able to provide you with his thoughts on the afternoon events...
Building 429 has had to grow on me in the past few years they've been around. I wasn't one of the new artist band wagon jumpers, and I really didn't care for Space In Between Us when it first came out. Then I saw them on the Lifesong Tour with Casting Crowns, and I realized they could definitely play. Building 429 has a way of sounding better on record than they do in concert sometimes, depending on the venue. I've now witnessed them at both a large venue and a small one, and I have to say they tend to sound better in the larger setting. The set for B429 was short, to say the least. Jason Roy, lead singer of the band, got up and led the way for their first song (and first track on their new album Rise) "Searching For A Savior." Surprisingly, after that strong intro, they dove right into their number one hit "Glory Defined," and switched gears again for new track "Fighting To Survive." The band seems to shine on both their harder rock songs and softer ballads alike, even though during the edgier ones, the music (especially the guitars) tends to drown out Roy's occasionally softer vocals. Jason paused a moment to tell the audience that he would promise to play the older music from Space In Between Us as long as the crowd promised to go crazy and sing along with all of it. After going through another new hit, entitled "I Believe," they went straight into the one new song from their re-release of Space In Between Us, "Free." Afterwards, they completely slowed it down for their two ballads "Space In Between Us" and "No One Else Knows," which were executed beautifully. Realizing that their set was almost up, the band quickly went right into the rocking "Now That It's Over," before ending their set with new single "Fearless." A solid track to end a solid set.

Grits performed much later than scheduled, mainly because of a lot of technical problems. Finally after about a half hour of waiting, they took the stage and began with "Tennessee Bwoys," complete with a play on Pennsylvania, asking the crowd "Where ya'll from?" with the crowd responding "PA!" The audience continually gave their all with every song Coffee and Bonafide threw at them, including party songs such as "Hittin' Curves," the ever popular "Ooh Ahh," "Make Room," and "Bobbin' Bouncin." Right in the middle of all these hits, Bonafide threw in the new track from their latest album 7, called "Changes." The song shows off Bonafide's heart, and his struggles through life, and teaches the message of living through all the changes in our lives. It shows that Grits will still live on, even after their Gotee Records contract is up. The two of them could even part ways and go solo and still make great music. Afterwards, DJ Manuel (who previously toured with John Reuben) got to show off his scratch skills, and to finish up the set, Grits had to, of course, end with their most famous hits, "High" and "Here We Go." At the same time, the guys gave away some free t-shirts, keeping the crowd hyped, especially for the act that followed, which it seemed almost everyone at the festival was waiting anxiously for... (- Justin Mabee)
We returned to the Pottstown High School grounds around the time that MxPx should have already started but, to my surprise, Grits was still performing. This was perfect because I'd had the chance to see Grits at GMA Week this year, but I had never seen MxPx live in all their years of performing. The pioneers of pop/punk took the stage with the appropriately catchy opener "Well Adjusted," and proceeded to fill their lengthy set with popular songs throughout their career including "Responsibility," "From A Mile Away," "I'm OK, You're OK," "Play It Loud," "Party, My House, Be There," "Young and Depressed," and "The Next Big Thing." Much of the attendance seemed familiar with MxPx's legacy, and the punk rock trio didn't seem to have too much trouble encouraging the audience to get into their set. And although it was getting pretty late at this point, it was cool to see and hear the band lead the audience enthusiastically as "The MxPx Choir" in a sing-a-long for "I'm OK, You're OK."
Although I definitely enjoyed the band's set, despite never being a real tried and true MxPx follower, it felt a little out of place to have an act like them close out a blatantly Christian - and at times evangelistic - festival. While it likely brought listeners to the show who wouldn't normally be caught within a 100 miles of such an event, there was nothing spiritual about the band's set. And while not every act that hit the stage during the day was there for the sole purpose of evangelism (Family Force 5, for one, is primarily a good, clean party band), MxPx's history for trying to leave the Christian music scene behind them made their appearance at an event like this especially puzzling. But regardless of intentions - past or present - there isn't particularly a negative thing that can be said about MxPx's music or performance at Passion Fest. I was delighted to finally get to see this band live, and I definitely was able to appreciate them more after hearing their songs in person.
As the band's set drew to a close, the punk threesome began taking requests, and proceeded to perform two old favorites, "Want Ad," from their 1994 debut Pokinatcha, and the catchy "Chick Magnet," from their 1996 album Life In General. The band said good night at this point and left the stage, but soon returned for an inevitable encore. They then finished out their performance with "Quit Your Life" and "Punk Rawk Show."
Especially in the wake of such a devastating cancellation (Oh, I'm sorry, "postponement") of such an event as Creation East, the smaller-scale and more intimate Passion Fest was a breath of fresh air. Mixing pop, hip hop, rock, and punk acts into one busy but enjoyable day-long set was a wonderful idea, and I'm thrilled something like this was organized. Here's to hoping that Passion Fest will be an event long repeated and experienced in coming years!
--
John DiBiase
, 7/12/06; portions by
Justin Mabee
where noted.
Passion Fest 2006 Photo Gallery
click on an image for a bigger size
Sarah Kelly - 1:00pm
LZ7
Family Force 5 - 5:00pm
MxPx - 8:45pm
*all photos by
John DiBiase
, except for Grits and Cross Movement provided by
Justin Mabee
; all images are the property of
Jesusfreakhideout.com