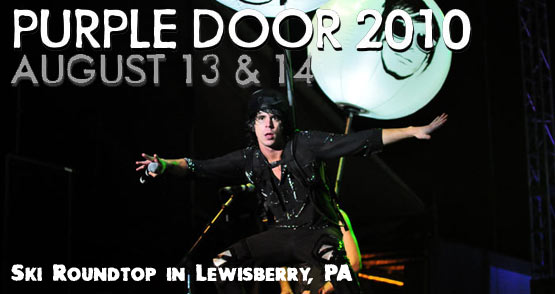 Purple Door 2010 Festival
8/13 - 8/14/10, at Ski Roundtop in Lewisberry, PA
2010 marked the fifteen anniversary for Purple Door Festival -- a celebration of the edgier side of Christian music, along with the arts (in the form of a special on-site art gallery), at Ski Roundtop in Lewisberry, PA. This year, rain threatened to make the festival a wash out, but the precipitation held enough that once the festivities began, the worst people had to deal with was mud... and a decent amount of it too. But grey skies and patches of soggy ground were no match for Purple Door 2010, and what unfolded over the course of two days was one of the festival's best years yet.
The gates opened in the late afternoon, as Onward To Olympas was the first act over on the HM side stage at 5:00pm. The HM Stage is the equivalent of the Fringe stage at Creation, but taken to the next level. You won't find any rock bands or pop rock bands at the HM Stage -- you expect lots of metal and hardcore acts. The Main Stage events didn't officially kick off until forty minutes later when Tooth & Nail Records punk act Children 18:3 took the stage. For an opening set, the band played a fairly long time, but were a great way to launch Purple Door 2010. Opening with the brief "Rain's 'A Comin'," the sibling trio was off to a strong start, with "Even Sleeping" close behind it. Their usual opener, "All My Balloons" was next, and then front man David Hostetter asked the audience to crunch up to the barrier to get closer to the stage. "Cover Your Eyes" followed, then an instrumental of sorts, and then the sibs gave props to their sound guy before moving into "Mock The Music," "Oh Bravo!" and a surprising rendition of "God Bless America." To conclude their set, they performed two new tracks, "Stronger" and "Lost So Long," before ending with "LCM."
Following a brief break, Tooth & Nail Records rock band The Classic Crime took the stage. Meanwhile, In The Midst of Lions had played over at HM and A Plea For Purging was going on at the same time as Classic Crime. Opening with "Say the Word" from their debut, Albatross, Classic Crime offered a fair mix of tracks from their three studio albums, with "Grave Digger" from The Silver Cord next and "Cheap Shots" from their new album, Vagabonds afterwards. At this point, vocalist Matt MacDonald encouraged fans to put their arms around each other as they played "Who Needs Air?" and then moved into "Perfect Voice" from Vagabonds and back to Albatross with "The Coldest Heart." As "Four Chords" began, I knew it was now or never to go grab dinner, so I had to miss the rest of their set, which was unfortunate because I heard they closed with "Salt In The Snow," which is arguably one of the band's best songs to date.
Facedown metal act War of Ages performed at 8:00pm over at HM to conclude the evening's night of music at that stage. But at 7:15, at Main Stage, Renee Yohe - the inspiration behind the organization To Write Love On Her Arms - performed a special acoustic set. Although I missed a good portion of her performance, I did catch the song "Shark Teeth," which Yohe said was written out of her experiences with pain and struggles in life and in relationships. Her acoustic set was a nice change of pace from the rock music that made up much of the night's lineup. The only performance of the night at the Gallery Stage - which was located on the landing outside of the Ski lodge and right below the art gallery - was indie poet/musician Bradley Hathaway. Like Yohe, Hathaway offered a pretty chill and vibey live acoustic set. Again, it was a stark contrast from the rest of the evening's bands, but a nice chance to unwind between the onslaught of rock music.
Speaking of onslaught of rock, at 8:50pm, Solid State Records, and Pennsylvania natives, August Burns Red offered their head pounding hardcore set at Main stage. It was a brutal, mind numbing performance that was surprisingly aggressive for even Purple Door's Main Stage. Admittedly, ABR is too heavy for my tastes, and considering that they were the only band as heavy as them to play the Main Stage all weekend, it felt like they were a bit misplaced being there (and in such a prominent spot as right before the headliner). On Saturday, even the metal giants Demon Hunter performed at HM instead of Main, so it seemed a bit perplexing to have such a non-accessible band on the festival's chief stage. And I mean no disrespect to the band or fans or the genre at all, mind you, it's just an exhausting style to hear late at night if it's not quite your style (and it seems some other festival goers felt this way too... that is, at least those who weren't going nuts in the audience). Regardless, the ABR guys certainly know how to rock a stage and keep the focus on Jesus, and August Burns Red succeeded in that.
Wrapping up the first night of Purple Door Festival 2010 was a headlining performance from Tooth & Nail Records rock band Thousand Foot Krutch. I remember seeing these guys at Purple Door earlier last decade before they made it national, so it's pretty cool to see them headlining the festival. TFK has certainly come a very long way. But with the release of last year's solid album, Welcome To The Masquerade, and even making some waves in the mainstream, the band's place as headliner has certainly been earned. They opened with the title track from their newest record, with vocalist Trevor McNevan trotting out on stage while waving a large flag bearing the band's flame/mask hybrid logo on it. Crowd pleasers "Bring Me To Life" and "Move" preceded "Absolute" (which opened with a sound clip of Jack Nicholson's famous quote, "You can't handle the truth!") and "The Flame In All Of Us." "E for Extinction" from Masquerade followed, with "Scream" and "Step To Me," "Falls Apart," and "Rawk Fist" following. Finally, the band closed with "Fire It Up" and "Puppet," concluding the event's first night.
Unfortunately, I had to miss most of TFK's performance as we set up for a special after party that evening. August 13th, while the first night of Purple Door, was as also the fourteenth anniversary of when I started Jesus Freak Hideout, so we organized a special after party in the upstairs restaurant of the Ski Roundtop lodge for one hundred friends and fans. Gotee Records rock foursome House Of Heroes agreed to come to Purple Door a day early to perform a special acoustic set for those in attendance and it became the highlight of the day.
Sometime around 11:30, three of the four House Of Heroes boys sat perched on tall chairs, with their acoustic guitars and bass, to perform a mix of HOH originals and covers. The atmosphere was light and relaxed, which added to the intimacy of the performance. The guys opened with "If" from their previous record, The End Is Not The End (and despite soundchecking it at least twice that night, vocalist Tim Skipper still managed to forget a few words, which was received with forgiving laughs from the audience), and then moved into "Serial Sleepers" from their self-titled Gotee release. Tim briefly talked about their brand new record, Suburba and then played a trio of songs from it, starting with "Love Is For The Middle Class," and continuing with "God Save The Foolish Kings" and the lovely ballad "So Far Away." With the mood being so light, there was plenty of joking going on, and the occasional chatter with members of the audience. The aptly chosen "Friday Night" was next, and then their cover of The Beatles' "Can't Buy Me Love." For the beautiful and emotional "Ghost," which appeared on the store release of The End Is Not The End, bassist Eric Newcomer sat out (and literally joined the audience) for Tim and guitarist Jared Rigsby to perform the song as just a pair. Tim teased us about JFH being a teenager now, asking if I'd allow "her" to date. The silliness escalated a bit, making an awkward segue into such a serious song as "Ghost," but it helped add to the laid back and fun mood of the evening.
After "Ghost," Tim announced the next song as having been originally intended for Suburba when it was supposed to be more of a concept record, but was ultimately cut, and the previously never played before song, "The Cop," was next. They then returned to their love for The Beatles with a cover of "I'm Only Sleeping," before Eric rejoined them for the self-proclaimed worship song, "Field Of Daggers" from The End Is Not The End. For the next song, Eric traded his bass for Tim's guitar as they performed a cover from the movie She's The One, as Tim sang the lyrics from a sheet he'd written them on. It was well after midnight when they announced the next song as their last, but then spontaneously decided to add in "Elevator" from Suburba before closing the night with "By Your Side." When the guys finished, we gave away some JFH shirts and copies of Suburba (along with a copy of it on vinyl) and mingled a bit before cleaning up. It was a great experience and hopefully we'll be able to do something like this again next year for our fifteenth!
SATURDAY...
Unfortunately, much like last year, I had trouble getting a full night's rest (it was my own fault), but I nonetheless readied myself for a full day at Purple Door Festival. We arrived in the morning around 9:30am and reassembled the Jesusfreakhideout.com merch and information table before the first bands were to start performing at 10:00am. As we settled into the morning, indie rock band My Heart To Fear started at 10 sharp at Main Stage while Oceans In Love performed at 10:30am at the Gallery, Free The Fallen performed at 10:15 at HM, and rapper Thi'SL opened The Forum stage at 10:15. We took turns manning the table and grabbing breakfast, before catching most of VSR worship band Esterlyn's 11:10 set at Gallery Stage. Luke Caldwell did a nice job leading the Gallery audience in a morning worship service of sorts, opening with "Freedom Is Here" from their new album, Call Out, and continuing with "Lord Is Good," then a track I didn't catch the title of, and "Now You're Found." Caldwell then shared a bit from his heart about the band's name being inspired by a girl named Esther Lynn, and then played the song "Esther" before closing with "He Is Worthy."
A string of lesser known acts continued over at Main, with Days Divide, Talain Rayne, and Leo, while Besides Daniel succeeded Esterlyn at Gallery and Ace Augustine and An Early Ending played at HM. Following Stand True's Bryan Kemper speaking at The Forum, Project 86 front man Andrew Schwab took the mic to share from his experiences about getting the best use out of our God-given gifts. Schwab opened with a story about his prize car being stolen out of his driveway in 2003 and tied it into a three step process of exploring our calling by "taking inventory" of our life. It was an inspiring talk, and Schwab held his own well even after the sounds of Texas In July, nearby at the HM Stage, and B.Reith, at Gallery, started their sets and began to overpower his speaking.
Gotee Records hip hop/R&B/pop hybrid B.Reith performed Purple Door last year as well, but this year his audience was considerably larger for his second year in a row (and around the same set time, too). By the time I had made my way from The Forum to the Gallery Stage to see Reith's set, the singer had already completed three songs, including "I Know" and "Mess," and was on the anthemic hip hop track, "Comeback Kids." B. then shared that the next song was inspired by a broken heart that Christ had since healed, and performed the more acoustic "Wish That" before performing the pop radio friendly "Antidote." Shortly afterwards, I had to leave his set, but he performed the fun and funky "Go On" before his set's end.
At 1:45pm, Gotee Records' Abandon Kansas performed at Main Stage, but I had to grab lunch real quick before we did our sponsor spot at Gallery and before Leigh Nash would perform there at 2:30pm. Meanwhile, Mychildren Mybride performed at 2:10 at HM, and to my ultimate frustration, Tooth & Nail Records rock act Ivoryline played at 2:30 at Main. This meant that I had to make the decision to either choose Leigh's set over Ivoryline's, or split the time between the two (which always causes one to miss set time as you walk from one stage to the other). My longtime appreciation for Sixpence None The Richer and even Leigh's solo work (and the anticipation of the next Sixpence record, coming Spring, 2011), won out over my recent appreciation for Ivoryline's sophomore record, Vessels, and I stayed for all of Leigh Nash's enchanting performance. Nash was charming from the moment she took the stage with only a friend on his acoustic to accompany her. She announced that she would be playing some covers, some Sixpence songs, and a lot of solo material, and opened with "There She Goes," a song Sixpence covered for their self-titled album. Between songs, she often joked about having to compete with the rock band sounds drifting over from Main Stage (which was Ivoryline performing) and thanked the audience for choosing her little set over that one. From there, she began to play some of her solo material from Blue On Blue, first with "Ocean Sized Love," and then talked about her drive from Nashville to Pennsylvania before moving into "Blue" and "Along The Wall" (the latter of which she explained was inspired by the wall put up through relationships and God needing to be a mediator and teacher). She then announced a new Sixpence None The Richer song from their forthcoming album, Strange Conversations, and mentioned that the song was inspired by her father's death a few years ago. "Sooner Than Later" was the song, and as I began to recognize it, I realized it was one that the twosome released on their 2008 digital indie EP, My Dear Machine. Next, Leigh talked about her son Henry and how the song "Just A Little" was written out of the internal emotional struggle of how she felt the first time she ever had to leave him for a trip. After playing the song, she candidly joked about how the song didn't make much sense but captured her feelings at that moment in her life. Nash then covered Skeeter Davis' "The End Of The World" before performing Sixpence's biggest hit, "Kiss Me." She was out of time, but she playfully, albeit stubbornly, insisted on staying to finish one last song, and lead the audience in a couple choruses of the hymn, "I Need Thee Every Hour." It was a lovely way to end the set and helped cement her show as one of the highlights of the festival.
After a set change, Credential Recordings' Seabird performed at the Gallery at 3:30. Come&Live!'s newer signing Showbread were rocking HM Stage at 3:15, so I was interested in finally being able to catch them live, but I wanted to see Seabird as well. The piano rock band opened with "Believe Me" from their latest album Rocks Into Rivers, and moved right into one of their best live tracks, "Let Me Go On" from their debut. Aaron Morgan talked a bit about their new record and his daughter London before launching into "The Good King" and then playing "Baby I'm In Love," which was inspired by the anticipation of his daughter's birth. More new songs were next, including "Don't Change A Thing" and "This Road," before Aaron shared a bit about their trip to Haiti and encouraged people to visit HelpHealHaiti.com. Seabird then went into what is probably their most recognizable song next, "Rescue," then into the fun and dancy "Maggie Mahoney," before concluding their set with "Don't You Know You're Beautiful" and "Apparitions."
I'd gotten to the HM Stage as Showbread was finishing up their second-to-last song of the night. Vocalist Josh Dies then talked about their new status as an independent band with the goal to be able to release all future music for free through Come&Live! Records, and announced their forthcoming new album as being titled Who Can Know It. With that, the electronic-flavored raw rock band closed their set with "Nothing Matters Anymore."
At this point, we were in a bit of a jam. We had a sponsor spot before the 4:30 HM Stage finale performance by Demon Hunter, but we didn't have a set time... and at 4:00pm, Family Force 5 had begun an acoustic set over at The Forum (Yes, an acoustic set). We decided to run over to The Forum real quick while Demon Hunter set up, and caught one of the most interesting sets of the weekend. There, on the tiny Forum Stage, was the Family Force quintet lounging on stage, reducing their catchy, crunky dance rock tunes to acoustic jams. It was quite an experience. When I arrived, the guys were working on a rendition of "Fever" before moving into "Kountry Gentleman." At that point, someone informed them that they had fried the sound equipment, but it was fixable, and after announcing that they would begin recording their next studio album the following Monday, they moved into "Drama Queen." Before they finished the next track, "Supersonic," I had to head back to HM to catch a bit of Demon Hunter before grabbing some dinner.
At 4:30, worship artist John Mark McMillan was performing at Gallery Stage. He had a full band with him and a decent crowd, but I could tell his styling was a bit of an acquired taste. As the original author of the popular song "How He Loves," I felt like I've heard a stronger version when David Crowder covered it. Meanwhile, McMillan was really the only other act performing while Demon Hunter was rocking out HM, and then Universal's Paper Route took the stage at 5:30 at Gallery to bring a unique indie flair to the night. The band offered a style and stage presence closest to Mute Math or Remedy Drive than anything, playing a myriad of songs from their musical repertoire including "Wish," "Time Machine," "Carousel," "Are We All Forgotten," "Enemy Among Us," and "You Kill Me." The multiple singers and skilled musicianship made for a pretty captivating live performance. It was no wonder that members from Family Force 5, Seabird, and other bands that played the festival could be seen in the audience watching this band perform. Paper Route is definitely one of those best kept musical secrets.
By 6:20, all the stages were finished except for one... the Main Stage. Ohio rock band House Of Heroes were ready to present their official Purple Door set, all plugged in for a solid rock performance. Strangely enough, while many of the smaller stage acts were getting ten or twelve song sets, it was surprising to find that many of the Main Stage acts seemed to get seemingly short, or at least "abbreviated," sets. House Of Heroes opened with "Code Name: Raven" from The End Is Not The End, and then jumped into "God Save The Foolish Kings" from their new album, Suburba, before returning to The End... for "If" and then back to the new record for "Elevator." After "Serial Sleepers" from their self-titled record, the guys performed "So Far Away" and then addressed the audience before closing with their hit "In The Valley Of The Dying Sun." I would have loved to hear the band play for a bit longer (at least, as a full plugged-in set), but it was great to at least have had a more hearty helping of HOH goodness the night before.
Around 7:10, hip-hopper Lecrae stepped up as the evening's speaker, sharing his personal testimony and encouraging the audience to live a sold out life for Christ. He mixed in some live breakdancing and even some of his own songs (like "Don't Waste Your Life"), for what seemed like an extended set that blended message and performance together.
There was a lengthy break and shortly before the 8:45 scheduled time for Project 86, the hard rock band took the stage a little early with one of their hardest hitting, and most memorable, songs, "Sincerely, Ichabod" from their record, And The Rest Will Follow. The band visibly displayed some significant changes for anyone who hasn't seen them in awhile. Besides front man Andrew Schwab, the entire band was different. Even The Wedding's own bassist Cody Driggers was filling in. But with the member changes, there still seemed to be a great amount of energy on stage (but guitarist Randy Torres and bassist Steven Dail were still incredibly missed). "Safe Haven" from Songs To Burn Your Bridges By was a nice addition to the list, with "Oblivion" and then "The Butcher" from their latest record, Picket Fence Cartel, following. "Last Meal," a seemingly live staple for Project, from Truthless Heroes was next, then "Light 'Em Up" and "Evil (A Chorus Of Resistance)" from Rival Factions". Schwab then introduced the next song as a special treat for the Purple Door fans, and played "Destroyer" from Picket Fence Cartel, a song the band doesn't usually include in their set lists. He then shared about an organization called Charity Water before pumping up the audience for the fan favorite "Stein's Theme." Afterwards, there was some commotion on stage about Project exceeding their set time limit, but regardless, Schwab and band went ahead to perform one last song, another crowd pleaser in the form of "Spy Hunter." It was a solid performance and it was great to see the band given a Main Stage slot after performing HM last year.
One final set change for the night came and went and when the stage illuminated for the closing act, an elaborate setup was revealed as a glowing drum set was perched high in the middle of the stage (on top of the Family Force 5000 machine) with large illuminated stacks flanking it. Several platforms were in front of the guys, which they used throughout the set, and with the start of "Dance Of Die" also began the evening's grand finale. Last year, the Family Force 5 boys donned matching football outfits, while this year, more subtle, slightly shiny black shirts and vests were featured (which aren't quite as catching as the glow-outlined leather jackets they wore a few years back). One of the band's most popular songs was next, "Kountry Gentleman," and then "Replace Me" followed suit. A surprise addition to the set was "Never Let Me Go" from the Diamond Edition re-release of Business Up Front, Party In The Back, but another set staple, "Drama Queen" soon followed. Appropriately, front man Soli, after announcing their plans to head back to the studio in a few days, jumped into "Keep The Party Alive," before slipping on his signature Hulk movie gloves for "Love Addict" and "Put UR Hands Up."
Although the band is slightly less raucous as they're getting older, their show is still one of the most energetic and crazy you can experience. After "Supersonic" and "Radiator," a semi-hybrid of Michael Jackson's "Thriller" and "Get Your Back Off The Wall" signaled the end of their set. But while "Wall" was being performed, a strange glow could be seen back stage, so when the guys left the stage, it wasn't too much of a surprise that they were going to return.... and when they did, they each had a backpack strapped to their back with a pole that displayed a large white glowing orb with a caricature of their faces on it. And almost as if the faces were specters hovering above their heads and the backpacks were part of some kind of apparatus for busting them, as the band's ode to surfing a driver-less car, "Ghostride The Whip" signaled the start of their encore. But they kept these funky gadgets strapped to their back as the proceeded into "Fever" to end the night, but not before the House Of Heroes boys came out and joined the band in dancing with them on stage (and waving towels in the air, occasionally swatting at the FF5 boys' glowing heads). It was such a bizarre sight and gimmick, even for Family Force 5, that it just seemed to fit them perfectly. They're a great band for creating fun and funky tunes and they make no bones about "partying for Jesus." After the guys left the stage, bassist Josh "Fatty" Olds took the mic to lead the audience in prayer. It was a wonderful way to close out the festival with the focus on just why everyone was there.
When all was said and done, Purple Door Festival 2010 was the fifteenth year and perhaps its best. The festival is still going strong and I hope it continues for at least another fifteen years. If you're a fan of harder music and some of the more underground/indie talent in the Christian music circle, Purple Door is really more of the festival for you. Check it out next year (www.purpledoor.com) and hopefully we'll see you there!
--
John DiBiase
, 8/18/10
Purple Door 2010 Photo Gallery
click on an image for a bigger size
**vertical images cropped for thumbnails**
Children 18:3: Friday, 5:45pm Main Stage
The Classic Crime -- Friday, 6:30pm Main Stage
Renee Yohe -- Friday, 7:15pm Main Stage
Bradley Hathaway -- Friday, 8:00pm Gallery Stage
August Burns Red -- Friday, 8:50pm Main Stage
Thousand Foot Krutch -- Friday, 9:50pm Main Stage
House Of Heroes -- Friday, 11:30pm JFH 14th Anniversary After Party
Jesusfreakhideout.com Table (Kevin, Rebekah, Amy, & Tim): Saturday
Esterlyn -- Saturday, 11:10am Gallery Stage
Jesusfreakhideout.com Sponsor Spot (Kevin & Tim): Saturday, 11:50am Gallery Stage
Andrew Schwab -- Saturday, 12:15pm The Forum
B.Reith -- Saturday, 12:40pm Gallery Stage
Leigh Nash -- Saturday, 2:30pm Gallery Stage
Seabird -- Saturday, 3:30pm Gallery Stage
Showbread -- Saturday, 3:15pm HM Stage
Family Force 5 (Acoustic Set) -- Saturday, 4:00pm The Forum
Demon Hunter -- Saturday, 4:30pm HM Stage
John Mark McMillan -- Saturday, 4:30pm Gallery Stage
Paper Route -- Saturday, 5:30pm Gallery Stage
House Of Heroes -- Saturday, 6:20pm Main Stage
Lecrae -- Saturday, 7:40pm Main Stage
Project 86 -- Saturday, 8:30pm Main Stage
Family Force 5 -- Saturday, 9:50pm Main Stage
*all photos by
John DiBiase
and are the property of
Jesusfreakhideout.com