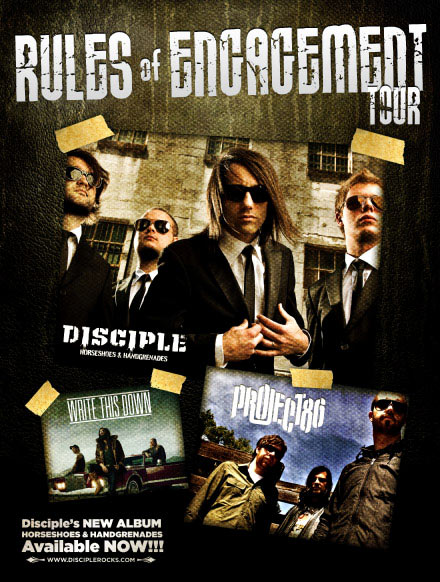 Rules of Engagement Tour
Disciple, Project 86, Write This Down
2/26/11, at Warehouse 54 in Manheim, PA
Intimate venues for rock shows are ideal settings for immersing yourself in the energy that can be generated by the bands and crowd. Warehouse 54 in Manheim, PA has become one of my favorite Pennsylvania venues for virtually any show they can fit into their relatively new concert house. On Saturday, February 26th, Warehouse 54 was home to Disciple's winter headlining tour featuring fellow hard rockers Project 86 and newcomers Write This Down. The show promised a continuous onslaught of hard rock and the audience certainly got exactly what they came for.
Write This Down is one of the most promising new acts on Tooth & Nail Records these days. With a hard edge featuring a mixture of melodic vocals and screams, Write This Down offers catchy tunes while fitting right at home on tour with the likes of Project and Disciple. The fivesome opened with "Renegade;" screaming/singing vocalist Johnny Collier would frequently run around the stage, feeding the on-stage energy. "Redemption," "We Shot The Moon," "Alarm The Alarm," and "Handgrenades" all followed. For a newcoming opening act, six songs was a hearty serving to get to offer an audience. But with each song, WTD performed skillfully and passionately. Before closing with "Kings and Counselors," Collier shared with the crowd of how they had been robbed recently and all of his clothes and another bandmate's were stolen, along with other personal items. He then humbly asked the audience to contribute any financial support if they felt God moving them to. Afterwards, they launched into the final song and the promoter's crew unveiled the Disciple drum set which featured a gigantic stuffed bear perched on the stool behind the kit. With wires attached to its wrists, someone off stage pulled the strings, causing the bear to mock-drum like some kind of marionette. At one point, Collier looked back to see the bizarre sight and just stopped singing, paused in awe. It just made the gag all that more amusing.
The set change between Write This Down and Project 86 was fairly quick, allowing the evening's events to flow swiftly and smoothly. With hired guns surrounding him, including Disciple's own guitarist Andrew Welch pulling double duty that night, Project frontman Andrew Schwab emerged to lead off the night with the ferocious "Sincerely, Ichabod." With 2011 marking Project 86's 15-year-anniversary, Schwab performed songs that could all be found on their latest release, a live album titled 15.Live. Schwab is a commanding frontman, with an intensity that he often uses effectively to pump up his audience. The crowd didn't seem to need much convincing to get into the show, however, as the occasional mild mosh pit would break out from time to time (which would only escalate by the time Disciple came out). "Safe Heaven" from Songs To Burn Your Bridges By was next, followed by the classic "Me Against Me" from Drawing Black Lines and "Destroyer" from their latest studio album, Picket Fence Cartel. Schwab continued to rile up the Manheim audience and performed "Illuminate" and "Evil (A Chorus of Resistance)" from Rival Factions before encouraging the audience to shout out a song for the band to close with, with "Spy Hunter" being the unanimous decision. It was a rather short set, but still a highlight of the evening.
As stage crew tore down the opening acts' equipment, Disciple frontman Kevin Young stepped out to share from his heart about Compassion International, urging the audience to look into different ways they can be the hands and feet of Christ in sponsoring a child. A brief intermission then followed, and before too long, the night's main event was beginning. A theatrical intro gave way to the brutal "Watch It Burn" from the band's latest album, Horseshoes and Handgrenades. As usual, Young juggled his singing and screaming duties masterfully, something that I'm amazed he can still do after nearly twenty years of performing heavy music. The heavier songs continued with the catchy "Game On" and "The Wait Is Over" before moving to the more melodic with "Invisible" and even "Battle Lines." Young frequently paused between songs to offer encouraging words or reflect on the songs. At one point, Young smiled and said that prior to the show he was feeling pretty crummy but due to the audience's enthusiasm and energy, he was feeling a lot better. Before the next song, Kevin encouraged his audience that the track was for anyone struggling with anything or feeling defeated. And with a fist in the air and a throat-shredding scream, Young launched into "Shot Heard 'Round The World." Afterwards, Welch grabbed an acoustic guitar and sat on a stool for a stripped-down rendition of "Romance Me" from Southern Hospitality. And with tears welling up in his eyes, Kevin spoke on love and the Father's love for us before closing the brief acoustic set with their radio hit "After The World."
To get the rock energy back in gear, Disciple turned it up for the anthemic "The Ballad of St. Augustine" from Horseshoes... (which I believe is when Write This Down's Johnny Collier joined Young on vocals) and then the title track from Scars Remain before leaving the stage. But fans didn't have to wait very long before the guys were back out performing two songs for their encore, "Dear X, You Don't Own Me," the lead off track from the new album and "Rise Up" from their self-titled release. But before disbanding the crowd, Young arrested their attention one last time to share the Gospel with them.
Disciple and Project 86 have built their careers around some of the best hard rock songs and live shows in the genre. Adding new act Write This Down into the mix creates one solid and memorable night of rock music. Check these bands out in recorded form or if they roll into your area on tour anytime soon!
--
John DiBiase
, 3/5/11
Rules of Engagement Tour
click on an image for a bigger size
**vertical images cropped for thumbnails**
Write This Down:
Project 86:
Disciple:
*all photos by
John DiBiase
and are the property of
Jesusfreakhideout.com