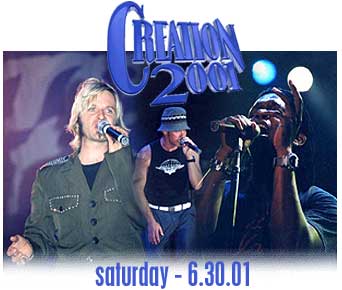 Kirk Cameron, Skillet, Project 86, Relient K, Josh Harris, Tait, Kevin Max, tobyMac, dc Talk
6/30/01, Mt. Union, PA. at the Agape Farm.
The fourth and final day (third full) of Creation 2001. Part of us was ecstatic to go home, forsake camping and return to the beds we call our own. But the majority was enjoying the week way too much to want to leave. Thank the Lord for the food vendors there as well. After cooking "food" at our campsite or just swallowing a Pop Tart and a soda each morning, it was a nice break to snag a stromboli or cheese steak from one of the festivals vendors. But Saturday ran like not much more than just another installment into the Creation yearly festival. Only difference? A stellar lineup. And the lineups are what tend to really make the days.
Once again worship started at 9am, followed by the morning speaker who this time was a special treat. Television's Mike Seaver from Growing Pains, actor Kirk Cameron spoke at 9:15am for a regretfully short 25 minutes about his testimony and how he got saved while doing the show. He got surprisingly emotional during his talk about "More to This Life," as he mentioned experiences he had growing up and things he went through while doing the show from 1985 to 1992.
From 9:55am to Noon, the festival presented a new feature, All Creation Sings, which involved the audience singing along to worship songs to be used for a live recording to be released on CD later this year. Helping lead the worship was Darrell Evans, Lincoln Brewster, Paul Baloche, Jami Smith, and Rita Springer. It was around this time that me and a friend experienced the autograph lines at Creation in a not-so desirable way.
Among the merch tents at the top of the hill across from main stage, was a tent that featured regular autograph signings with most of the artists featured at the festival. We decided to give it a whirl and wait in line so we could get our chance to meet Kirk Cameron (and so I could get an autograph for someone who likes him and his role in the recent Left Behind film). We waited approximately an hour in a half in a slow moving line which incidentally was cut off about 10 people ahead of us. Although we were all quite upset, Kirk had been signing for quite some time and the security assured us he had already stayed over his limit of time and missed a press meeting (which if you've been to a press meeting, you'll know he's not missing much). What would have made a lot more sense regarding the autograph line would if they had cut it off earlier, further down the line, so those waiting as long as we did, didn't have to feel cheated. But our story is just 1 negative experience out of the thousands who had positive ones during the week.
At 1:00pm, we were struck with quite a dilemma. Skillet or Project 86? For many of you that may be a no brainer, but for me it wasn't. I love them both, but Skillet is great live and I had yet to see Project live. Skillet was performing on main stage, while Project was performing at the Fringe. The compromise? Watch half of one show and half of the other. Skillet opened with "You're Powerful," rocking the main stage as hard as they could. John Cooper thumped his bass while screaming praises to our Creator, while his wife Corey was head-banging as she played the keyboards. "'Original Panhead'," John read a sign from a fan in the crowd, "Thanks man. It's encouraging to know we still have fans from the beginning!" The Coopers and their band were extremely real and personal with their audience. This was especially apparent in their intro to "I Rest" (which followed "Dive Over In" and "Invincible"), where they told a story of how their band equipment was stolen and Corey just sat down and started making up and singing the chorus "I Rest." After "You Take My Rights Away" and "Best Kept Secret," I left main stage and proceeded to Fringe to catch the tail end of Project 86's show. To my surprise, the band hadn't even started yet. Apparently, they had arrived late to the festival and were still setting up when I got to the stage. It wasn't until after 2 (when Relient K was supposed to go on) that the band started their set. They opened with their emotional "Me Against Me," a song about our inner struggles with ourselves and our sin. "One Armed Man" followed, along with "Chapter 2" and a brand new song entitled "The Spy Hunter." The band was forced to play a shorter set due to their lateness and because Plankeye wasn't able to show for their 4pm set, there luckily was an extra hour at Fringe Stage to work with. The band had a lot of energy and presented the hardest rocking show that I [personally] saw that week. The crowd got quite wild, however. Even some Creation security suffered injuries (including a bloody nose), and the security guards were working overtime throwing people out of the crowd-turned-mosh-pit. The set continued with the dark "Chimes," and ended with "Sad Machines" and their popular "Stein's Theme."
Relient K took their pop punk sounds atop Fringe Stage around 2:45pm and opened with their personal cover of the New Kids On the Block's "Hangin Tough." Their 80s shout-outs continued with their "Charles in Charge" theme cover. From what I saw of their show, before leaving to go to the daily afternoon speaker segment, they had only played one new song, this being "Pressing On," from their new album to be released in August this year. They also played such tunes from their debut record as "When You're Around," "Wake Up Call," and "Softer to Me" (and I'm sure they played their hit "My Girlfriend" when we weren't there). Before we left, they sang a "new" song for their friends the "Combos and Skittles Girls" appropriately entitled "Combos and Skittles."
In Woods 3, Josh Harris gave his final talk of the festival on "Learning to Number Your Days (Psalm 90)." Like the other messages he gave during the week, this one was solid, engaging and delightful to listen to. This young man has a lot to offer and a lot to say and is worth listening to. At 5:35pm, South African band Tree63 played main stage while at 6pm, The Insyderz played Fringe. At 6:25pm, the new Sonicflood played main. The latest edition of the band features no original members, but all new ones including 2 members formerly of Big Tent Revival. Their set sounded decent from the Forefront booth, but the vocals aren't as strong as they used to be. Buster Soaries spoke at 7:15pm and gave a good talk entitled "A Fish Story." Following Soaries, the new boy band sounds of True Vibe captured main stage before the closing main act went on.
The sky was getting dark and the wind picked up pretty good before it began raining during True Vibe. It downpoured at one point and it let up right before dc Talk's set. We helped Forefront and Sparrow load up their truck with everything they had brought so that we might be able to catch dc Talk's much anticipated set. At a few minutes before the 9:10pm scheduled performance, dc Talk's unique set arrangement began. But those who didn't know prior to Creation how dc Talk would be organizing their set list were in for a big surprise. Because although it read "9:10 - dc Talk" on the program for the festival... it said nothing about what was really going to be presented. And that was 20 minutes of each member's solo acts and then 40 minutes of the trio as a whole. Cool? Well... if you expected it!
Tait was the first to go on and since we were finishing up packing up at the time they started (regretfully), I couldn't see how people were reacting to what they were receiving. It wasn't dc Talk. It was Michael Tait's new band. And an excellent band at that. They opened with "Alibi" which, like all the songs they played, is off their debut record Empty which released the following week, but it is also on dc Talk's Solo EP, so those who knew that EP would have probably figured out what was happening before others might have. Tait's rock and roll with a soulful gospel flavor sounded good on stage, but wasn't received as positively from everybody as I would have expected. I had heard from more than one source of people asking "Where's the message?" I found that to be an ignorant and unfair assessment of the show, and it was those people who said that were probably the same expecting a 2 hour dc Talk show. The upbeat pure-pop/rock song "Carried Away" followed, along with "All You Got," an encouraging song to urging those hurting not to give up, and they ended with the harder-rocking "Spy." Tait's set seemed regretfully the shortest of them all.
Roughly 20 minutes after Tait began playing, there was a brief set change and Kevin Max walked out on stage in the midst of a dry ice cloud sporting large white angel wings and began singing "Return of the Singer," from his solo project (as well as the Solo EP), Stereotype Be. He removed the angelic garb and sported an army jacket as his odd melodic pop/rock continued with "Existence," one of the highlights from his solo project, as well as U2's "Hold Me, Kiss Me, Kill Me, Thrill Me." He continued to play another one of his solo songs, "I Don't Belong," and ended with a cover of the song "We Are the Champions." His show was quite poorly received by numerous people and I think, after numerous listens of his solo project, that Max has quite a bit of potential and is sadly misunderstood due to his eccentricity.
tobyMac thrilled the audience with his hip/hop performance, being carried through the crowd on a wooden board as he repeated the questions rhythmically "Where my freaks at? Where my freaks at baby?" The song continued on to have a strong "Jesus Freak" theme. One of his songs featured on Solo, "Somebody's Watching Me," followed, a song which borrows the chorus from the old 80s song by Rockwell and Michael Jackson. During this, Toby took the opportunity to stage dive just a few feet from me, surprising the crowd as well as the Creation stage crew. "Place to Be" followed before Toby addressed the crowd and set the record straight that "Dc Talk is NOT breaking up!!" He went on to promise that after his solo album releases in October, dc Talk will record a new album. On that note, Toby and his backup musicians continued to rile up the crowd with his hit single "Extreme Days." Toby had obviously put on the most rousing performance of the three. I find it difficult to compare them all because they're all so different and excellent in their own separate ways.
Without further ado, dc Talk rested and pleased many a fan by performing their set all together, opening with their cover of "Spirit in the Sky." The guys looked good on stage together. And they went on to put on one of the best dc Talk shows I have seen to date. They were energetic, excited, and rocked the house. A little 'old school' dc Talk came next with "Jesus is Just Alright." Their set, although too short, included some of the best of their career with "In the Light," "Colored People," "What If I Stumble?" (which they admitted should be called "When I Stumble") "My Will," "Supernatural," and of course, "Jesus Freak." During "Jesus Freak," the guys were so pumped, Kevin Max was going to stage dive but was stopped by the stage crew, and all gazed in shock as Toby began climbing a pole that made up the frame of the main stage. Nearing the top, Toby stopped and resumed singing with one arm clinging to the pole and the other holding the mic. Some of us couldn't help but fear the worst if something happened where Toby would lose his footing and fall. But thankfully he made it back down unharmed and the band finished their set. The left the stage after "Jesus Freak," but pleased the crowd with a short worshipful encore with their cover of U2's "40" (based on Psalm 40), and a few choruses of "How Great Thou Art."
In past years, the event would end with a fireworks show, but this year it was skipped without any question or explanations. The Creation folk asked for volunteers to help deconstruct main stage and the beginning of the end of the festival had begun. We had packed up our gear during the day, so we were ready to drive four hours to get home immediately following the last show. On our way out we sat through a line of traffic for roughly 45 minutes before making the trek home (we wanted to do anything but spend another night camping there :) ). Although the festival ends Saturday night, there is a small morning service on Sunday. According to the program, at 9am worship began, at 10 Paul Schenck was scheduled and the closing prayer was at 10:35am.
We had a blast at Creation 2001 and hope to return for 2002. If you have a chance to catch Creation West 2001 or Creation 2002, I wouldn't miss the opportunity. It's an experience everyone must have in their lifetime!
Creation 2001: Saturday Photo Gallery
click on an image for a bigger size
Kirk Cameron -- 9:15am Main Stage
Skillet -- 1:00pm Main Stage
Project 86 -- 1:00pm Fringe Stage
Relient K -- 2:00pm Fringe Stage
Tait -- 9:10pm Main Stage
Kevin Max -- 9:35pm Main Stage
tobyMac -- 9:55pm Main Stage
dc Talk -- 10:10pm Main Stage
*all photos by
John
, and are the property of
Jesusfreakhideout.com
Wednesday | Thursday | Friday | Saturday