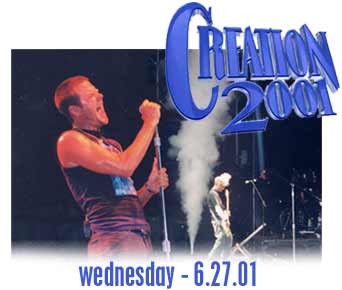 Jennifer Knapp, Audio Adrenaline
6/27/01, Mt. Union, PA. at the Agape Farm.
Creation time again! It came a whole lot faster than we thought it would, but not fast enough for me! The annual Creation Festival gives the Christian music fan a little taste of heaven each year for approximately 3 and a half days. But, it can also give the camping-hater a little taste of hell for approximately 3 and a half days. OK, so we all know, as Christians, hell is a lot worse than camping can ever be... but camping and me don't mix. Anyhow, the camping is just the small setback of the wonderment of Creation festival. Hey, we could always get a hotel room, right?
We decided getting to the festival earlier than last year was the way to go, but the 2-hour wait in the line of cars outside Creation's gates (as well as some car trouble on the way) easily set us back a couple hours. But the wait is well worth it when you get inside and realize where you are and what you're in store for. Well, we got in, found out where we were camping, set up, and I went up to the large pavilion where I spent most of my spare time helping out Forefront and Sparrow Records at their booths. From the booth I heard Cross Movement who seemed to gather quite a crowd and a good response, followed by FFH. Duffy Robbins gave a talk on "Fleshed-Out Faith," after FFH's set, around 7:40pm.
At around 8:40pm, Jennifer Knapp and her band took the spotlight. I also had the pleasure of hearing her set from the booth as I worked. I noticed she played such favorites of hers as "A Little More," "Undo Me," and "Lay It Down." As always, she rocked quite hard live as opposed to her light rock on her albums Kansas and Lay It Down.
And of course anyone who knows me knows I wouldn't be caught dead at the booth during the closing performance, Audio Adrenaline. At about 9:45pm, Audio A began playing an instrumental intro to their set (and typically with camping and all your things not always making it home... I lost my notes for Wednesday!), which was quickly followed by a punchy rendition of their cover of The Who's song "Let My Love Open the Door." Lead singer Mark Stuart was sporting a Jaws sleeveless tee and a short do while bandmate, drummer Ben Cissell sported a freshly-cut short mohawk which was shaven right before the show. Several jets of air shot up like mini-geysers on either side of the stage as Audio A lived up to their name (as usual) and got the crowd pumped up. [If I'm correct] "I'm Not the King" from their 1996 bloOm record followed, as the band continued to rock the 70,000+ crowd. They also performed such favorites as "Chevette," the call to serving God with "Hands and Feet," "Big House," "Underdog," and the newer worship-centered song "One Like You," from their greatest hits project Hit Parade which released in March. The highlight of the show, however, was when they performed their modern rendition of "We're a Band" (complete with the opening guitar riff from Aerosmith's "Walk this Way"), and pulled people from the crowd to dance on stage with them. But that's not the highlight-- the highlight was when Stuart invited T-Bone on stage to toss in a freestyle rap for a surprise crowd-pleaser. At times, Mark even stood in awe as he watched T-Bone rattle off some raps at a crazy speed. But for me, the real kicker was when the band exited the stage before their encore, and T-Bone congratulated Ben backstage on a good show. Ben replied in a sarcastic, but lighthearted way, "Yeah, thanks for making that song, 15-minutes, T-Bone!" But the band came back on for "Never Gonna Be as Big as Jesus," and closed out the night with the fun and uplifting "Get Down." The exhausted band left the stage and were pretty approachable backstage. The tired and drenched with sweat, Stuart, seemed eager to chat with those backstage and even admited the glistening belt he wore during the show was given to him by his wife, which she bought at... Victoria's Secret? But off-the-bat, Audio Adrenaline solidified themselves as clearly putting on one of the best and most memorable performances of the festival.
While some artists were occupying the Acoustic Cafe till the sound curfew at 1am, we headed back to our campsite and turned in shortly thereafter for an early start the next morning...
Creation 2001: Wednesday Photo Gallery
click on an image for a bigger size
Audio Adrenaline -- 9:45pm Main Stage
*all photos by
John
, and are the property of
Jesusfreakhideout.com
Wednesday | Thursday | Friday | Saturday