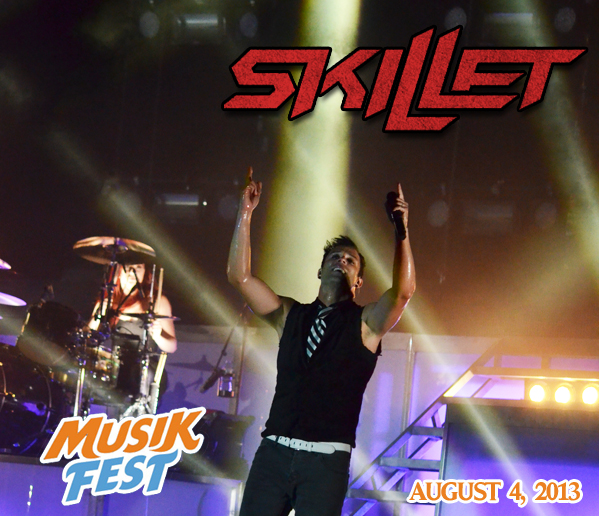 Musikfest 2013
Skillet, Thousand Foot Krutch, Decyfer Down, We As Human
8/4/13, at Sands Steel Stage in Bethlehem, PA
Musikfest is host to all kinds of music and events in the heart of Bethlehem, Pennsylvania every year around the first week in August. This year, regional Christian radio station The Word FM sponsored Skillet's Christian market tour that also brought Thousand Foot Krutch, Decyfer Down, and newcomers We As Human in tow. The event took place on Sunday, August 4th, under a clear sky on a warm summer evening.
After checking in at the Visitor's Center, we made our way to the Sands Steel Stage where Atlantic Records' We As Human had already begun their set. This was my first experience with the Sands Steel Stage, a nice festival-style stage setup that has the gigantic Bethlehem Steel Stacks serving as a backdrop. Ever since the Sands Casino moved into Bethlehem and they began converting the old abandoned Steel factory area into a place for events, Musikfest has actually (in this reviewer's opinion) gotten a some new life breathed into it. Musikfest used to take place mostly in the heart of Bethlehem city and with its expansion into the Steel Stacks area, it's opened up a lot of new possibilities for entertainment and places to go. Two years ago, we attended a NEEDTOBREATHE show at the neighboring Musikfest Cafe at ArtsQuest Center across the street from the Sands Steel Stage, which was also indoors, as opposed to this venue being outdoors. But the setup for Sands Steel Stage is a nice one-- the entrance has a variety of food stands to check out if you're hungry, as well as plenty of room for artist merch.
I first saw We As Human perform at Winter Jam in January of last year (2012) and I was left a little underwhelmed with their show. While the band is good at performing their own take on today's modern rock sound, it still tends to lack a signature sound for the band to call their own. But the guys are super passionate about their music and ministry, and it's something you can't miss while watching their show. While we missed their opening song, "I Stand" followed, along with "Zombie." On their self-titled debut, Skillet's frontman John Cooper sings this particular track with the band, so I was curious to see if Cooper would emerge for this performance. Unfortunately, the singer did not, and We As Human then continued to play tracks from their debut, with the exception of "Double Life" (a song vocalist Justin Cordle said was written for a murderer), which was from their self-titled EP. "Bring To Life" followed, along with a song they dedicated to the women of the audience, "We Fall Apart." Cordle also took this moment to give a short message about us having worth and that true fulfillment can only be found in our Creator, reminding us that we are cared for beyond measure. He then said that the next song was one they just shot a music video for and launched into "Strike Back." Finally, the band closed with "Dead Man," with Cordle venturing out into the audience to interact with the crowd, while the song gave the band the opportunity to let loose a bit and offer some serious guitar solos.
The set changes did feel a bit long, but it also gave the audience ample time for bathroom or snack breaks. But before too long, rock act Decyfer Down emerged to unleash some old and new tunes on the Bethlehem audience. They opened with "Break Free," from their debut album End of Grey (which released before Fighting Instinct vocalist TJ Harris joined the band), and from the start, Harris's stage presence seemed considerably more lax than Cordle who preceded him. To his credit, Cordle oozed energy and passion, but Harris seemed not to really have much of either tonight. "Fight Like This" was next, and then TJ stopped to talk a little about the new album (and the long time lapse between their previous album, Crash in 2009 and their new album, which releases later this month) and then performed the title track, "Scarecrow." "Fight To Win," another new one, was next, and then they performed the title track from Crash before closing with "Fading." But before they started that final offering, Harris talked a bit about addiction and how "Fading" was about that, and then added how God can change your life and how Jesus is Lord and Savior. It was a bold message for a largely mainstream setting like Musikfest and I have to give props to Harris for not mincing words.
The sun began to dip behind the horizon faster and faster once the next band finally took the stage. Some technical difficulties set Thousand Foot Krutch's start time back a little, but great things are worth the wait and that adage certainly applies to TFK's set. "Let The Sparks Fly" was an energetic opener and then frontman Trevor McNevan greeted the Bethlehem audience before encouraging them to get "Wicked" with him. "Falls Apart" and "Move" kept the energy flowing with rocking tracks before the band slowed it down just a tad. McNevan then introduced the band and talked a bit about worship and what it means before performing the inspiring "Be Somebody." He then shed his TFK-logo branded jacket and talked about their status as an indie band before playing the title track from their first album since leaving Tooth & Nail Records, The End Is Where We Begin. "Courtesy Call," also from the new album, followed, along with its lead-off track, "We Are," featuring a blistering guitar solo from Andrew Welch. "War Of Change" was next and then McNevan encouraged the audience to throw up their "Rawkfist" before "Fire It Up" would give Welch another chance to shred. And with the infectious "Light Up The Sky," Thousand Foot Krutch brought their generous dozen-song set to a close.
One last lengthy set change separated TFK's set from the evening's main event. A large sheet was raised to hide the stage from the audience, but while previous Skillet shows have used this for effect with opening string performances, the curtain was removed curiously before the show even began. But once the onslaught of theatrical rock and roll was unleashed, Skillet opened with "Hero," the standout track from their 2009 release, Awake. The song was given a unique electronic intro while a comic book style video played in the background behind the large stage setup. The band's now-signature use of bursts of flames shooting into the air made a return for "Hero," while blasts of smoke were shot up during the following song, "Whispers In The Dark." A dueling string intro between masked John Cho and Tate Olsen preceded "Comatose," and then the band performed their first new song from their 2013 release Rise with "Sick of It." For the popular single, bursts of flames returned, along with startling pops of sparks, all while a special video played behind then, showcasing photos of fans holding up signs displaying words of things they're sick of. To introduce the song, frontman John Cooper talked about the book of Isaiah and encouraged the audience to give to God the struggles and trials they're tired of dealing with. After the song, Cooper did a head count in Bethlehem of who is seeing Skillet for the first time, and then mentioned they were heading to Russia in the morning. They then performed their live show staple "Those Nights" before the strings returned for "Awake and Alive." Drummer Jen Ledger started the song off on stage next to Cooper to sing with him before running back to her kit to perform the rest of the song on drums. Meanwhile, Korey Cooper and Seth Morrison picked up guitars and stood in the back of the stage on pedestals that would raise and lower during the song. Ledger's kit then slid forward closer to the front of the stage, before raising up and down as well. Jen's kit slid back into place and then Cooper introduced the title track from the new album, "Rise," which featured a video behind the band that incorporated Ledger's own album cover-style artwork in a revolution-themed animated cartoon (And the flames returned for this song as well). Afterwards, John expressed how often they get asked about the meaning of their song "The Last Night" and then introduced that song, giving a straight-forward message about Jesus and how much he loves how Jesus encouraged us to come to Him for rest. At the end of the song, streams of sparklers shot up into the air. Another new song, "Not Gonna Die," was next, and then the scripture verse for Isaiah 53:4-5 displayed on the screen in between songs. The video screen descended to the stage floor to reveal mere flashing lights to flicker during their performance of the lone offering from their 2003 album Collide, "Savior." Cooper then talked briefly about Rise's album concept and then talked about what part of the album's story that the next song, "American Noise," fit into. Full blown fireworks went off on and behind the stage, with some video footage (another animated story) playing on the screen behind the band. John then introduced the band members with some short solos, of which Seth used to move into the start of "Circus for a Psycho" with its AC/DC-esque guitar riff. Behind the band, a cheesy but amusing video showed Cooper wrestling a clown in a boxing ring as the band played on stage. Ledger's kit rose up again but added a series 360 spins this time for the first time of the night. The set began to wind down a little as "Monster" utilized the video screen and pyrotechnics to close their set. After thunderous applause, the band returned for a final performance, starting with cello and violin solos that led into "Rebirthing" from Comatose. The band utilized pinwheels of sparks that spun on top of a pole, the pedestals moving up and down, and more fireworks behind the stage. To close, a spark even shot out of John's bass guitar while in his hands.
It's undeniable that Skillet puts on an incredible show. I have to be honest with you, though, and admit that part of me does miss the days when Skillet's show was energetic and exciting without all the frills and spectacle (I've seen them many times since first seeing them as just a three-piece in 1998. And I've also seen this more amped up Skillet stage show since they started doing it several years ago, so it does lose a bit of the "oomph!" when you've seen it many, many times). I found the bold message about their faith encouraging and inspiring, especially given the Musikfest setting, and I thought the new songs fit into their set really well. In the end, the Sands Steel Stage proved to be a great venue for a summer concert and a highlight of Musikfest. And no matter what your feelings are about Skillet's recent albums or musical style, there's no denying that they put on one of the best, most engaging stage shows around.
--
John DiBiase
, 8/15/13
Skillet Set List

01. Hero
02. Whispers In The Dark
03. Comatose
04. Sick Of It
05. Those Nights
06. Awake and Alive
07. Rise
08. The Last Night
09. Not Gonna Die
10. Savior
11. American Noise
12. Circus for a Psycho
13. Monster
Encore
14. Rebirthing
Musikfest 2013
click on an image for a bigger size
**vertical images cropped for thumbnails**
We As Human
Decyfer Down
Thousand Foot Krutch
Skillet
*all photos by John DiBiase and are the property of Jesusfreakhideout.com