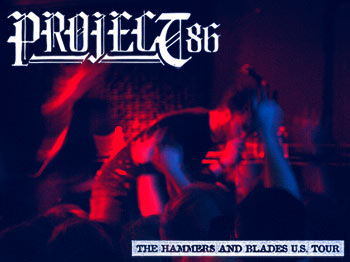 Project 86, August Burns Red, The Showdown, Schema
5/3/06, at The Chameleon Club, Lancaster, PA
In October, we attended a stop on the And The Rest Will Follow Tour that featured Tooth & Nail hard rock act Project 86 with a quartet of opening rock bands. The styles were mixed and so were the results, but it ended up being one energetic night of rock music. For the Spring of 2006, Project 86 returned to the same venue we'd attended - The Chameleon Club in Lancaster, PA -- but this time with a new entourage.
We packed ourselves into the snug club and didn't have to wait too long before the show was underway. An indie rock band from Arkansas named Schema opened, surprising us with their presence, given that we'd assumed that only three bands were on the bill. Unfortunately Schema brought virtually nothing new to the table musically. Dressed more like they'd just gotten out of their day jobs before picking up their instruments, this rock foursome had an unimpressive familiarity that was distracting and dismissable. Their music wasn't bad by any means, it just made for a forgettable opening act.
From there, The Showdown unleashed their brand of "high voltage" metal upon the audience. Vocalist David Bunton barked and growled through most of the set, serving as an entertaining frontman even for those who might not be ready to revisit a style that was at its peak twenty years ago. The Showdown proved to be excellent musicians even when the pure heavy metal shtick - complete with long locks - came across more on the cheesy side than not. Their set proved the strongest of the opening acts, as the band mixed songs from their debut A Chorus Of Obliteration (including "Hell Can't Stop Us Now"), and cuts from their forthcoming sophomore release.
Lancaster's own August Burn Red followed the unashamed heavy metal sounds of The Showdown. But before the band began, they offered the only reminder any of the artists of the evening would give that the bands peforming that night were Christians -- they huddled for prayer before their set. It's sadly something you seldom see and the band earned some serious respect from me after that. When the guys took the stage, however, it was strange to see how they presented themselves... this hardcore band's members looked like they had been lifted right out of Boy Meets World, not appearing as what you might expect when hearing their music. And while they put on an undeniably aggressive and energetic set, most of the songs sort of ran together. Nevertheless, August Burns Red was a force to be reckoned with, and I was curious to see what it would be like for a band like Project 86 to follow them.
And follow well they did... Project 86 has always been faithful to mix things up a bit, leaving room for surprises for their fans. So when the band opened with "Another Boredom Movement" from their Truthless Heroes record, you can bet many were a little caught off guard. But a fine opener it was, and the surprises continued with "Stein's Theme" falling in second. One noticeable change in the band's onstage appearance, however, was the absence of original bassist Steven Dail. This evening's show marked Steve's first night off the tour as he was home to be married. As his temporary replacement stood Jack Houston of New Republic. Project's ringleader Andrew Schwab admitted this was Jack's first set with Project and they hadn't had any prior rehearsals together.
With a few flood lights sparingly used to backlight the band, the stage was dimly lit, with only occasional yellow and orange lights breaking up the frequent uses of green and red. Project 86 continued to mix up selections from their past four records, continuing appropriately with "The Spy Hunter," "The Hand, The Furnace, The Straight Face," and "Last Meal." Schwab then announced that he guaranteed no one in the audience would know a single word to their next song. The punkcore "3 Card" inevitably followed. The band pushed on strongly with "Me Against Me," a set highlight that saw Schwab encouraging the crowd to sing along loudly (and they enthusiastically did), "Subject To Change," and the dark and moody anti-pornography "P.S." The band's recent hit single "All Of Me" livened things up again before "Safe Heaven." The end was upon us all when they offered up a personal favorite with "Sincerely Ichabod" (which ironically was the opener last time we saw them). And as Schwab leaned into the audience to instigate crowd participation, August Burn Red's Josh McManness returned to the stage to repeatedly growl the line "Off with your head" into the mic as the song ended. A chorus of "One more song!" rung loudly through the venue as a hungry crowd cried for an encore. Project returned to announce their final song and ripped into "One Armed Man (Play On)."
The evening's assortment of artists seemed a lot more fitting and appropriate this time around. And while the ferocity of acts like The Showdown and August Burns Red can almost make the heavy rock signature of Project 86 seem like a pop/rock radio act, the opening acts still gave the feeling you were leading up to something much greater. Project 86 is just that.
--
John DiBiase
, 5/4/06
Project 86 Set List
01. Another Boredom Movement
02. Stein's Theme
03. The Spy Hunter
04. The Hand, The Furnace, The Straight Face
05. Last Meal
06. 3 Card
07. Me Against Me
08. Subject To Change
09. P.S.
10. All Of Me
11. Safe Haven
12. Sincerely, Ichabod
**Encore**
13. One Armed Man (Play On)
The Hammers And Blades U.S. Tour Photo Gallery
click on an image for a bigger size
Schema
The Showdown
August Burns Red
Project 86
*all photos by
John DiBiase
, and are the property of
Jesusfreakhideout.com