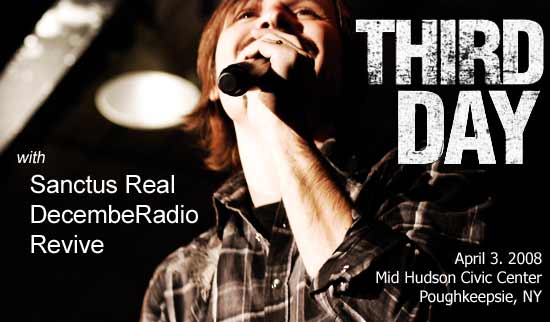 Third Day LIVE Tour
Third Day, Sanctus Real, DecembeRadio, Revive
4/3/08, at Mid Hudson Civic Center in Poughkeepsie, NY
If you're a concert-going music fan, it's especially frustrating when you learn a tour you're eager to see does not roll into your general vicinity. This is what happened to us for Third Day's Spring '08 "LIVE" tour with special guests Sanctus Real and DecembeRadio. However, I was indeed quite stoked to discover that the closest show, in Poughkeepsie, NY, wasn't too much of a haul, clocking in at just under three hours there and an additional three back. While that's a trip to the post office for your typical traveling man, it's plenty of a drive for a guy like me - especially when that trip back starts at midnight.
This Thursday night, early April show kicked off surprisingly late at night for a four-act lineup, with indie Australian act Revive opening. Sadly, due to a lack of paying attention to the time while catching up with some friends, we entered the Mid Hudson Civic Center auditorium just as Revive was wrapping up the last song in their set and signing off. The Third Day guys have sort of taken the band under their wing, even producing the band's debut, Chorus Of The Saints, and I was interested in hearing their live show.
Only about a minute or two passed after Revive left the stage before DecembeRadio launched into the first song of their brief set, "Love's Got A Hold." The Virginia-based southern rock group offers a guaranteed solid live show (even when technical difficulties threaten said show, like we recently saw late last year). I was surprised, however, at just how short this set was. After they closed "Love's Got A Hold" with a take on Kansas' "Carry On My Wayward Son," DecembeRadio performed their hit single, the ballad "Drifter," before performing another slow song, "Find You Waiting," from the 2007 re-release of their 2006 self-titled debut. To close out their four-song set, the band performed a brand new cut from their upcoming sophomore record, Satisfied, "Satisfy Me," and had left the stage empty once again. It's understandable why the band performed some of their most well-known radio singles, but their set seemed unusually mellow for them. With the absence of rockers like "Table," "Dangerous," and "Razor," it didn't seem like a rounded representation of the band's sound or typical show. "Satisfy Me" did still leave room for the band to bring an audience member on stage to aid in providing a cowbell solo, which the Poughkeepsie folks loved. All in all, the guys put on an impressive set once again, despite its brevity.
A local radio station team came out between sets to promote an autographed acoustic guitar giveaway while the stage setup was shifted for the next act. Ohio pop/rock quintet Sanctus Real are another live favorite who make their touring debut with Third Day on this Spring venture. With a Fall headlining tour in the works to fully back their latest recording, We Need Each Other, this run of dates just gives fans - and hopefully fans-to-be - a taste of what's to come. Sanctus opened softly with an original worship ballad, the powerful "The Face of Love," setting the tone nicely for their set. Bathed in a purplish, blue light, there was a significant mood build. From here, the guys cut loose with the We Need Each Other album opening rocker "Turn On The Lights," arguably one of the group's tightest rock anthems to date. If the audience's attention hadn't been arrested yet, this would be the song to do it. "I'm Not Alright," an anthem for honesty in feeling vulnerable, was a fine follow-up and the perfect predecessor for the perseverance through trials in relationships, "Don't Give Up." It's great to observe Sanctus Real's maturity over the past decade, from a more youth-oriented pop/rock band to the mature headliners the band has grown into. It's always exciting to see where this band goes next. "Whatever You're Doing," another new cut, followed, with the fantastic original worship song "Sing" close behind. Frontman Matt Hammitt taught the audience the chorus to encourage them to sing along, and it sounded all that much stronger to hear a choir of voices singing along with the band. And further driving home the theme of unity, the band closed with the title track from the new album, the infectious "We Need Each Other," to end their seven-song set on an especially high note.
An intermission came next, allowing those in attendance to visit the lobby and grab some snacks, take a bathroom break, or pick up some merch and meet the opening bands. After about fifteen minutes - around 9:15pm, Atlanta rock foursome Third Day emerged with "Tunnel," the opening track from their most recent studio release, Wherever You Are. This was the first Third Day show since probably 1999, when they were touring Time, that I wasn't seeing in a large arena or at a summer festival in front of tens of thousands. With about two thousand fans in attendance this night, the stage setup felt a lot more simplified and intimate. Just weeks prior to this show, longtime Third Day guitarist Brad Avery exited to pursue other endeavors, so this was also the first time I was seeing the band without Avery since the first time I'd laid eyes and ears on a live show of theirs in the summer of '96. It was a bit surreal not seeing Avery up there with the guys, with fellow guitarist Mark Lee picking up Brad's parts and signature solos. This also gave bassist Tai Anderson a chance to step forward from usually hanging more in the background and take his place up front with vocalist Mac Powell and Lee. Joining the four guys on keys was producer/artist Scotty Wilbanks who was stationed in the back next to drummer David Carr. Without any video production or extreme lighting rigs, (and what seemed like a smaller stage than usual), there definitely was a more intimate feel at this show.
This feeling was only increased by the band's debuting of four brand new selections from their upcoming, July 29th new studio album release, entitled Revelation. "I Got A Feeling" and "Rockstar" from their album Wire were next, before Powell introduced the first of the new cuts, "I'll Always Be True," a song he described as being dedicated to the men and women fighting in Iraq. Powell introduced the acoustic ballad "I've Always Loved You" as one of his all-time favorite Third Day songs, before the band performed their updated rendition of the classic, "Thief." At this point, they debuted another new one, "Call My Name," which fit in well with the rest of the song choices. A wonderful sort of worship interlude followed, featuring "King Of Glory" and "Your Love Oh Lord" (which concluded with a portion of the hymn, "Nothing But The Blood"), before two more highlights from Wire - "Come On Back To Me" and "I Believe." The worship in a Third Day show is some of my all-time favorite live worship moments and this night would prove to be no exception. A special performance of the upcoming title track from Revelation served as another set highlight. The song, lyrically about asking God for direction and guidance, not only brought forward an honesty that most Christians can relate to at any stage in their walk, but it also was right in line with Sanctus Real's messages in songs like "I'm Not Alright." The worshipful mood returned to close the set, starting with the popular "God Of Wonders," which featured Revive vocalist Dave Hanbury in support of Powell. Finally, a retouched rendition of "My Hope Is You," from their Conspiracy No. 5 record, made for a grand finish, with the band leaving the stage - only briefly for an inevitable encore. Upon returning, they performed the last new track, "The Other Side," which was probably the most rocking of the new offerings, and Mac made it a point to introduce the guys of Third Day before the song's end. As a special treat, Sanctus Real's vocalist Matt and guitarist Pete Provost came back out, along with a couple guys from Revive and DecembeRadio vocalist Josh Reedy, to join the band for a cover of The Traveling Wilburys' "Handle With Care." It was fun to watch the vocalists team for four-part harmonies a few times, making for a unique way to pull together the acts at the end. But before Third Day was through, they closed with their signature cover of Rich Mullins' "Creed" and then took a bow.
This tour, which will probably be just about finished by the time you read this, unfortunately, is definitely one of the more laid back Third Day tours I've seen in awhile. It was great to hear several new cuts along with old favorites, although it was especially surprising to note the complete omission of fan favorites like "Consuming Fire," "Sky Falls Down," or the newer radio hit, "Cry Out To Jesus." Still, what was presented felt more like a classic Third Day performance, and will most likely be remembered as one of my favorite tour experiences in a while. But with Third Day promising a tour package later this year that includes Switchfoot, Jars of Clay, and Robert Randolph, as we get closer to the release of Revelation, you can expect another tour from these guys that'll be for the books.
--
John DiBiase
, 4/4/08
Third Day LIVE Tour Photo Gallery
click on an image for a bigger size
Revive
DecembeRadio
Sanctus Real
Third Day
*all photos by
John DiBiase
and are the property of
Jesusfreakhideout.com