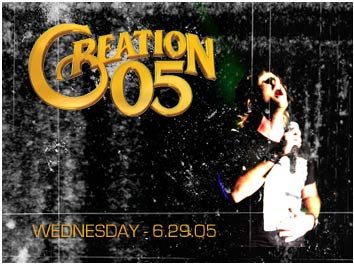 Relient K, Switchfoot
6/29/05, Mt. Union, PA at the Agape Farm
I don't think I can stress the importance of good directions enough. Being that this was our sixth full year attending Creation (the one day in 2003 doesn't really count), you'd probably assume we'd have a pretty good plan on how to get there by now. You'd be right in thinking so, however, it's sadly not the case. So after learning the hardway that we don't have the route down perfectly, we arrived fashionably late at the infamous line of traffic at the start of Keystone Road that would inevitably lead us to Creation fest's gates. Upon entering the line before 5PM, we were redirected, along with many other cars, to a side road that would lead us into the farm grounds another way... well, so we thought... As if getting lost on the way there wasn't bad enough, three deliriously long hours passed as we sat in occasionally-moving-but-mostly-not traffic that only lead us to a dead end. Upon reaching its end, we were told to go back out to the main highway and re-enter Keystone Road's line of entrance traffic all over again. If this wasn't the ultimate test of patience and ability to maintain a Christ-like mentality, I'm not sure what else would have been. The redirection was sloppy, merciless, and inexcusable, and I am still surprised Creation fest would do something like this to its patrons. The cheery workers at the end of the road, who were almost as uninformed as the helpless victims in this three-hour line, only seemed to make matters worse.
This tragic mishap aside, everything else seemed to go pretty smoothly throughout the week. The lateness meant we missed BarlowGirl's 5:55PM set (sorry gals, one of these days we'll actually get to see your show...), David Crowder Band's 6:45PM worship, Greg Laurie's 7:30PM message "God's Cure For Heart Trouble," and most of Relient K's 8:30PM co-headlining performance (and with my wife being a newly converted Mmhmm enthusiast, that was an added disappointment). Needless to say, if it weren't for the old San Diego faithfuls being the evening's closer, a towel would have most indeedly been thrown in.
Relient K, for the few moments we did catch of their set, pleased the crowd like anyone would expect. This young band's career has been nothing short of impressive and their selection as an evening closer was a no-brainer. Following their set, we did thankfully catch Switchfoot's entire 10PM closing slot. Once again clad mostly in black, the band opened with "Ammunition," followed by "Adding To The Noise," two of the band's more energetic rock cuts from The Beautiful Letdown. Their hit "Dare You To Move" followed, slowing things down further with "More Than Fine" and "This Is Your Life." I still get a kick out of seeing Switchfoot perform closing sets at Creation. I still remember their 1:00PM Main Stage peformance at Creation 2000 when they were performing songs from their New Way To Be Human record and talking about their pending Learning To Breathe release. This three-piece-turned-five-piece has come quite a long way. Always more of an artistic and poetic pop/rock band, Switchfoot has always moved the crowd naturally, but never really have come off as a headlining act in the same vein as, say, Audio Adrenaline or Newsboys. However, lead vocalist Jon Foreman filled in these shoes quite respectably Wednesday night. Without being too "showy," the band let the music really speak for itself, as they always have. They performed the catchy brand new cut "Happy Is A Yuppie Word" from their forthcoming Nothing Is Sound album, followed by Bob Dylan's "The Times They Are A-Changin'" and the worshipful "On Fire." The contemplative "24" made a nice intro for the delectable title cut from The Beautiful Letdown, before the band played another new song called "Stars." Foreman announced that it would be the first time the band was playing the song in Pennsylvania, which was strange considering they not only have before, but played it at last year's Creation festival. Before leaving the stage, the band performed their runaway hit "Meant To Live," and later returned for their infectious single "Gone."
The annual opening night fireworks display followed Switchfoot's set and the festival's first night quickly drew to a close. While Canadian youngsters Starfield lead a worship set in the Acoustic Cafe around midnight, we dragged our tired bodies back to our car for a valiant (and thankfully successful) effort to find our sleeping quarters - aka the Clarion in Lewistown - for a much, much needed night's rest...
On to
Thursday
... --
John DiBiase
, 7/4/05
Creation 2005: Wednesday Photo Gallery
click on an image for a bigger size
Relient K -- 8:30pm Main Stage
Switchfoot
-- 10:00pm Main Stage
*all photos by
John DiBiase
or
Amy DiBiase
, and are the property of
Jesusfreakhideout.com
Creation 2005 Review: MAIN | Wednesday | Thursday | Friday | Saturday