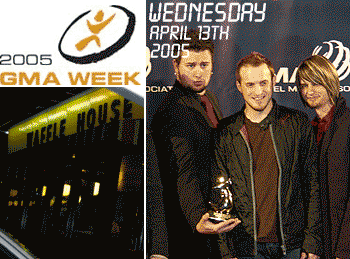 Wednesday was our lightest day of the GMA festivities. We didn't have an interview until 1PM, so we took the opportunity to catch up on some much-needed rest. We trekked over to the Hilton one last time for our final interview. At the Flicker suites, we had our longest and probably most engaging interview of the week. Our chat with one of the pioneers of Christian rap, T-Bone, lasted almost an hour since we were his last of the day. His inspiring conversation was the perfect way to end the week.
It was closer to 2:30PM when we finished with T-Bone and the fine Flicker folks. We decided to head down to the Opry Mills Mall to browse the shops before attending the 36th Annual GMA Awards at the Grand Ole Opry next door. We grabbed a quick bite at the Rain Forest Cafe and proceeded to the Opry.
We checked in as media a little after 5:00 and made our way to the press room. While the imagination is a wonderful thing, it can also be your worst enemy. I naively had been expecting something completely different upon entering the "press room." Instead, our designated press area was merely a cramped space framed by curtains and featuring first-come-first-serve seating. Since we were kind of on the late side, Amy and I created seating next to a garbage can and sat down. Tables made up the first two rows, apparently for those who had hundreds of dollars to spend to rent an internet connection for the event, and the rest of the room was filled with rather uncomfortable plastic folding chairs. At the front of the room, a small stage was set up with a large blue "GMA Awards" tarp backdrop and a microphone stand out front. On one side of the stage was a widescreen TV, with a smaller one on the other side. Both screens projected the events of the GMA Awards live as they progressed. The drawback to that, however, was when an award winner or celebrity was ushered into the room and onto the stage to answer questions, the audio for the GMA Awards broadcast was cut off. This was especially problematic when we completely missed several key awards being handed out, a performance from rock band Skillet, and a brilliantly scripted moment that featured Steve Taylor directing Michael W. Smith on how to present an award.
Throughout the evening, only a portion of the winners and presenters made it backstage for press conferences. And while I'd gotten the impression, from talking to some artists about the Doves before GMA Week, that the press room was more personal and featured more opportunities for one-on-one interaction with the artists, this couldn't be further from the truth. While the highlights of the press room were candid Q&A sessions with Skillet, TobyMac, Steven Curtis Chapman, and Day Of Fire, several artists like Rebecca St. James, Steve Taylor, Michael W. Smith, and Third Day never made it back there. It was a privilege to be a part of the press room, but I suppose I'd expected a little more. And, sadly, the attitudes and behavior of some of the media around us merely made me embarrassed to even be associated with the title of "press" or "media."
The GMA Awards ended as scheduled, and the press room kept buzzing with a little bit more activity as Steven Curtis Chapman, and finally, one of the evening's biggest winners, Casting Crowns, came in and served as the evening's last interview. We packed up our stuff (although I'm pretty sure I dropped my lil notebook with all of my notes for the week. I know, I know. Way to go, right?), headed out, and our first experience with GMA Week was officially over. What then unfolded over the next couple of ours was an adventurous crusade to locate a Waffle House with some friends...
GMA Week is pretty much the event in the Christian music industry. It was quite exciting and quite exhausting all at the same time. And while I've heard both great and negative things about GMA Week, our experiences were almost exclusively positive (save for some locked floors, relocated or cancelled interviews, spilled coffee, and obnoxious press folk). All I've been thinking since I've been back (besides "My goodness, are these interviews going to take forever to type up!") is... GMA Week 2006, here we come!
*The End* --
John DiBiase
, 4/20/05
36th Annual GMA Awards Press Room Photo Gallery
click on an image for a bigger size
Mark Hall -- Winner of: Songwriter / Song Of The Year ("Who Am I"), & more...
Nicole C. Mullen -- Winner of: Urban Album (Everyday People)
Darlene Zschech -- Presenter
Grits -- Winners of: Rap/Hip Hop Recorded Song ("Hittin' Curves")
TobyMac -- Winner of: Rap/Hip Hop Album (Welcome To Diverse City)
Tonex -- Performer
MercyMe -- Winners of: Pop/Contemporary Album (Undone)
Building 429 -- Winners of: New Artist Of The Year
Jeremy Camp -- Winner of: Male Vocalist Of The Year / Rock Song ("Stay")
Ed Cash -- Winner of: Producer Of The Year
Sanctus Real -- Winners of: Modern Rock Album (Fight The Tide)
Matt Redman -- Winner of: Worship Song ("Blessed Be Your Name")
Chris Tomlin -- Winner of: Praise & Worship Album (Arriving)
Watermark -- Performers
Natalie Grant -- Performer
The Crabb Family -- Winners of: Southern Gospel Album (Driven), & more...
Matthew West w/ wife Emily -- Winners of: Recorded Music Packaging (Happy)
Day Of Fire -- Winners of: Rock Album (Day Of Fire)
BarlowGirl -- Performers
Skillet -- Performer
Steven Curtis Chapman -- Winner of: Special Event Album (Passion: Songs) / Inspirational Song ("Voice Of Truth" w/ Mark Hall)
Casting Crowns -- Winners of: Group Of The Year, & more...
*all photos by John DiBiase or Amy DiBiase, and are the property of Jesusfreakhideout.com
GMA Week 2005 Review: Sunday | Monday | Tuesday | Wednesday