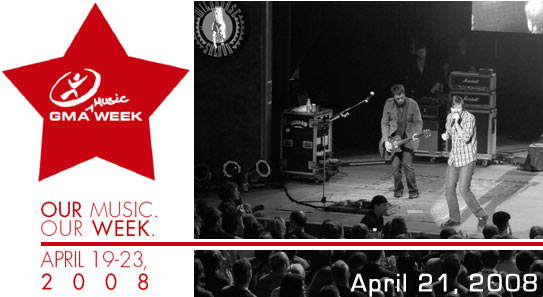 Ah, GMA Music Week -- the hub of the Christian music industry. It's a week of shmoozing and connecting and reconnecting, but ultimately, it's what you make of it. Seminars abound for whoever is registered, while media like ourselves make their rounds from interview to interview, showcase to showcase, etc. This year was a bit more hectic of a schedule than previously as we spaced out each interview pretty comfortably, which also left less downtime between them. And this year, the Renaissance Hotel - where, along with the Nashville Convention Center is the Week's home base - was newly remodeled on the inside lobby and in "The Bridge" cafe area. Oh, and did I mention there is now a fully functional Starbucks in the lobby? Oh yes...
As usual, it wasn't easy to pick which showcase to attend at night because of how many overlapped. Starting at 5pm over at Fuel, you had "The Dog & Pony Show 2008" featuring Kevin Max, Chris Sligh, Joanne Cash, Martha Munizzi, Carried Away, CO3, among others. "Walk The Way/INO Records" went down at 7pm at Bourbon Street Blues Club, featuring The Afters, Caedmon's Call, Derek Webb, Sara Groves, Phil Wickham, Addison Road, and Laura Story. World Vision secured the Renaissance Nashville Hotel Ballroom for Natalie Grant, CeCe Winans, Austins Bridge, The Isaacs, Melissa Greene, Daniel Doss Band, Big Daddy Weave, Francesca Battistelli, Mandisa, and DeWayne Woods. Food for the Hungry showcased 33 Miles, Sara Groves, Leeland at the Musicians Hall of Fame, Performance Hall, and there were still other showcases all night! But what really caught our attention? The "Music Builds Tour" Launch Party! Happening over at The Wildhorse Saloon, the showcase was scheduled to feature three artists from the tour - Robert Randolph, Switchfoot, and Third Day, but Randolph couldn't make it, so tour opener Jars Of Clay stepped in instead for one great night of rock music (and you got no complaints out of us for that).
The doors opened at 6pm, a baffling two hours before the show's start. Luckily, Wildhorse has a concert dinner menu, so we were able to put away a little dinner before kick off while hanging in the balcony. Jars Of Clay got things started. I'll be honest, it was really weird to see Jars open for a tour again. I haven't seen these guys in that position since they opened for PFR in 1995 before their debut dropped. It's kinda crazy. But due to the company they're keeping on this tour, JOC performed nearly every rock song they have in their most recent catalog, including a b-side. They opened with the title track from their most recent studio album, Good Monsters (which seemed an odd opening choice since it's kind of a goofy song), and moved right into the starkly contrasting serious lament, "Work." The Cash-esque "Mirrors & Smoke" followed, along with a brand new track from their recent Greatest Hits release, "Love Is The Protest," and then their hit single "Dead Man (Carry Me)." The infectious b-side "Love Me" was next (it still irks me it wasn't on Good Monsters), and then they closed with "Revolution," from their 2002 release The Eleventh Hour. After only seven songs, Jars Of Clay was finished and stage crew began preparing for Switchfoot. Jars' set was good, and it was unique to get a more rock, plugged-in set from them, but I'm definitely eager to see what songs they choose when the tour actually gets underway in August. With the guys working on a new album right now, I can only hope and assume we'll get a taste of new music when the Music Builds Tour actually launches.
San Diego rock band Switchfoot was next, offering up a strikingly similar performance to their Fall tour with Relient K. Their custom San Diego logo made up in lights hung as their backdrop once again, and the house lights remained mostly dimmed as they jumpstarted their set with a quasi-"Meant To Live" intro to their song "Oh! Gravity." Mixing up cuts from their three most recent records, the quintet kept things especially energetic as they moved quickly into "Stars" and then "This Is Your Life," complete with vocalist Jon Foreman's signature singing-into-the-guitar moment. The ridiculously catchy "Gone" followed, which the band mixed with their version of Beyonce's "Crazy In Love." Foreman then shared his appreciation for C.S. Lewis' works, and told of how they were asked to write the main song for the upcoming Chronicles Of Narnia sequel, Prince Caspian. With that, they performed a new song, entitled "This Is Home." While it was great to hear new music from the band, it was not an especially memorable song for a band like Switchfoot. "Dirty Second Hands" followed, ending with an extended jam from the guys, which once again concluded with Jon grabbing one of drummer, Chad Butler's cymbal stands and spinning around the stage as he beat the thing rather viciously. They resurrected the fan favorite and inspiring "On Fire," and Foreman encouraged the audience to get their cells out and let them shine. He teased the partially-GMA Week audience that he knows they're connected and need to get their phones out. As they played the song, Jon even hopped off the stage and into the audience, singing the whole time, until he stopped at someone's table and stood on top of it. While he was still in the crowd, they launched into "Awakening," and Foreman rode atop an audience member's shoulders all the way back to the stage. To close their set, Switchfoot offered a dramatic intro that began with a sort of drum solo from Butler and new lyrics about being "stagnant pools" before the band broke inevitably into "Meant To Live." The guys left the stage (only nine songs?!), and then returned for what Foreman dubbed a "California campfire song," "Dare You To Move." Their set is another I'm curious to see if they'd work in more new songs as they begin work on a new album this Fall. I also wonder if any of the bands will be playing more songs as well, or if this evening was a pretty good representation of what the Music Builds Tour will be like (sans Robert Randolph).
A long intermission followed as stage crew had to rearrange the setup and remove the Switchfoot lighted sign (which they seemed completely confused on how to do). The actual tour will most likely be a more well-oiled machine, so the intermission will probably not be quite as lengthy then. Still, it was relatively long and also feeling late after having a busy Monday and a late night following The Rutledge show the night before, so Third Day's set couldn't begin too soon. By the time the Atlanta, Georgia rock quartet had taken the stage, two large screens were setup behind them with multiple carpets laid out in front to give it sort of a home-y feel. With the rousing performance Switchfoot gave, it almost seemed weird to have Third Day follow it, however, their set was as strong as ever as they proceeded to incorporate several new songs into their set. Their brand new record, Revelation, drops on July 29th, so this tour will be able to showcase those songs more by the time it rolls, but with the catalog of music these guys possess, it's a bit tough to not play plenty of classics along with the new stuff. "Tunnel" opened their set, a wise choice from their most recent studio project, Wherever You Are. While I can imagine a cut like "This Is Who I Am," from Revelation might make a stronger opening for the Fall, this tour preview made more sense to lead off with something familiar. Wire's "I Got A Feeling" was next, with a word from frontman Mac Powell following. Mac revealed that he was feeling under the weather and asked for some help from the audience for "RockStar." And what's important to note about Powell's stellar vocals is that even while he's sick, his voice is still fantastic -- and better than a lot of vocalists in their peak condition. "Call My Name," the first single from their solid new record, Revelation, was next. The song's been conquering the radio waves and it's no surprise as to why. Although thematically sort of a from-God's-perspective version of "Cry Out To Jesus," it's musically catchy and a stand out song. It's likely to become a live staple of the band. A dramatic version of the classic "Thief" followed, featuring an impressive guitar solo from Mark Lee, and bassist Tai Anderson offered up an intro to another new one, "I'll Always Be True," which the band wrote for the U.S. troops. "Come On Back To Me" from Wire was a great addition to the set, with keyboardist Scotty Wilbanks giving a funky solo to introduce "I Believe." Finally, to end their set, they performed the title track from the new record, "Revelation," before leaving the stage. An encore is expected of course, so the guys returned once more for the rocking new song, "The Otherside" and a cover of Rich Mullins' "Creed" to finish.
Although slightly rough around the edges in execution and presentation, the "Launch Party" for this Summer's Music Builds Tour was definitely a GMA Music Week highlight and I'm looking forward to seeing the real thing this Summer. It's going to be a tour to remember, so check it out if it rolls into your area this year. As for GMA Week, we took our exhausted selves back to the hotel afterwards to get ready for another busy day on Tuesday...
On to Tuesday...
--
John DiBiase
, 5/1/08
GMA Week: Monday - "Music Builds Tour" - Photo Gallery
click on an image for a bigger size
"Music Builds Tour" at The Wildhorse Saloon
Jars Of Clay
Switchfoot
Third Day
*all photos by
John DiBiase
and are the property of
Jesusfreakhideout.com
GMA Week 2008 Review: Main | Sunday | Monday | Tuesday | Wednesday