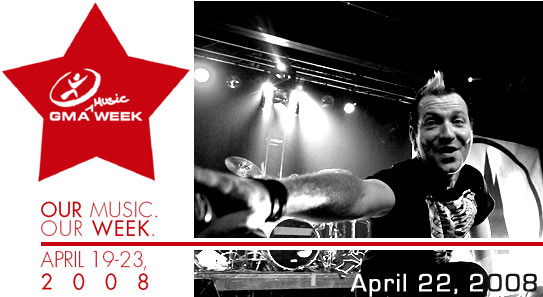 Tuesday at GMA Music Week -- since they moved the Dove Awards ceremony from Thursday night to Wednesday night a few years ago -- is ultimately crunch day as we ran through our last batch of interviews and proceeded on to the evening when it came down to choosing a showcase to attend. Thankfully, the decision was actually rather easy. Rocketown, one of our favorite Nashville venues, hosted the Tooth & Nail Records / BEC Recordings showcase starting at 7pm which went on to feature an impressive fifteen-act lineup that included new and familiar acts from the labels.
Following a full and busy day, we arrived at Rocketown after four acts had already performed, including Since October, Capital Lights, Manafest, and Run Kid Run. We were just in time for BEC rock act Kutless to finish setting up to offer cuts from their forthcoming June release, To Know That You're Alive, as well as a few fan favorites like "Sea Of Faces" and "Strong Tower." The new Kutless material didn't sound too different from what listeners have come to expect from the guys. Their style still has that Creed-esque, pop-flavored hard rock sound that Kutless has sort of made their own by now. It also seemed a bit odd to find the guys playing only fifth out of a list of fifteen artists, but they merely served as a bit of a springboard for what would end up being a long string of new and up-and-coming talent.
Singer/songwriter Chris Taylor followed, with members of Kutless serving as his live band (afterall, they have toured together a lot this Spring). Taylor had just released his BEC debut, Take Me Anywhere, only about a week before GMA, so it only seemed appropriate for him to be a part of this evening's lineup. His more subdued pop/worship styling was a pretty stark contrast from Kutless who preceded him. Chris opened his short set with "Atmosphere" before performing the title cut from his record and "Made For You," and then closed with "How Great Thou Art." As most of the night's sets remained this short - or shorter - it served as a fantastic sampler for new music. Taylor's set was also for certain a highlight of the night.
The set changes happened remarkably fast, and to make sure the audience wasn't just standing around waiting for the next act to get on board, a screen off to the side of the stage displayed music videos from artists like Anberlin, The Almost, Hawk Nelson, and MxPx to name a few. And to keep those in attendance up to speed with who was playing, the screen displayed their name to identify the artist during their performance. So after Taylor, Philip LaRue, formerly of the brother/sister duo LaRue was soon front and center with merely his acoustic and a female partner providing cello accompaniment for his two-song set. I was surprised to find a bit more of a southern sound in Philip's solo material, especially since his work with his sister was a lot more pop/rock oriented. Phil also didn't do much to interact with the audience and after his second song was seemingly off the stage as quickly as he had gotten on. I would have liked to have heard a bit more from him.
Soon, a lone singer stood on the stage and introduced himself as Cameron Jaymes of new BEC signing Jaymes Reunion. Music fans may actually remember Cameron from Five Iron Frenzy's final tour run when Jaymes had been previously linked to the now-defunct 5 Minute Walk Records. And even as just a man with his acoustic sharing a stage with other acts consisting of at least two members or more, Jaymes put on a truly impressive and engaging performance - with the help of catchy pop songs like "Fine" and "Beautiful" (the latter of which featured Jaymes seated behind a keyboard). By the close of his three-song performance, he had successfully reeled me in, and I must say that Jaymes Reunion's debut is a newly anticipated release for sometime this year.
Once Cameron cleared the stage, a series of plaid clad boys took their places, and an American flag was draped over a keyboard. Of course this made us curious, but all questions were answered when another new signee, Corey Crowder, took the stage and opened with the Creedence Clearwater Revival cover "Bad Moon Rising." Crowder's style embraced his Covington, Georgia roots as he performed one stirring, soulful southern rock set. While southern rock isn't on my list of styles that I prefer, Crowder's brand was especially accessible, and was yet another solid performance. He closed his short trio of songs with the title track from his upcoming debut, Southern Way.
Tooth & Nail rock band Ruth followed, offering the title track from their freshman release Secondhand Dreaming before debuting a pair of new tracks. While Dustin Ruth isn't exactly your most engaging frontman or all that strong of a vocalist, the indie rock band still shows some promise. Crowder and Jaymes were tough acts for Ruth to follow, so it probably isn't a big surprise that the band's new songs weren't exceptionally memorable (that's not to say they were bad -- you just have to consider what strong acts the band was following). But probably the most disengaging live performance was the follow-up set from The Glorious Unseen, a worship band with a refreshing take on the genre, but an ultimately sleepy stage presence. The fivesome opened with a prayer before singing "Hear Our Prayers" and then played only one other song, ending with "Close To My Heart" and another prayer. I definitely get the vibe that The Glorious Unseen could offer a lot more in the near future, but until then, there just isn't much of a 'wow' factor for these guys.
If by chance The Glorious Unseen had lulled anyone into a trancelike state, the high energy set from sibling punk/rock band Children 18:3 was the act to wake everyone back up. The punk trio performed three cuts from their self-titled debut - "All My Balloons," "LCM," and "You Know We're All So Fond Of Dying" - as a full-on whirlwind across the stage. It was virtually the same set they'd performed two nights earlier at our own showcase at The Rutledge, but that didn't make them any less entertaining. While they may try too hard to let their music do all the talking (which they've stated in promo literature but apparently hold fast to pretty firmly), the young group still brims with talent as yet another highlight act in the night. After closing again with a fun instrumental jam, the kids left the stage to make way for the finale performances.
Fayetville, Arkansas post hardcore band Spoken was next. What's interesting about these guys is that they're hardly my kind of style (I can only take so much screaming vocals... sorry, people), but with each time I see them, I find myself enjoying their set more and more. Whether it's the fact that vocalist Matt Baird can not only shred his vocal chords but can just as easily sing like a bird (and significantly better than some popular BEC rock bands, I must add), or the fact that these guys just know how to have fun on stage and transfer that excitement to their audience, I don't know, but they certainly haven't ceased to amaze. The group opened with "History Erased" from their most recent, self-titled release, and continued on with "September" as well as two other cuts before giving up the stage. Who knows, these guys just might convert me yet...
Arguably the oddest act to perform the Rocketown stage that night was Nashville's own new gothic pop/rock act The Becoming, who emerged looking much more like some death metal band than what they'd soon reveal themselves to be. Sadly, I couldn't get past how much their "look" just didn't match their sound, as they musically were interesting - the only thing even remotely goth about their sound was an occasionally haunting piano that supported their brand of pop and pop/rock - but overall unbalanced with their whole presentation. The guys seemed to go a bit overboard with the jet-black-dyed hair do's, mascara, and fingernail polish, to the point of it just being distracting. Appearance aside, The Becoming did put on a pretty good show regardless -- good enough that I'm interested to hear their Tooth & Nail Records debut sometime this year.
Last but not least, a skeleton audience of core fans remained for the final act, Thousand Foot Krutch. This was probably the most intimate of a setting that I'd ever experienced a TFK set and it was probably the best show I've seen from the guys to date. With just a small group of really passionate fans, frontman Trevor McNevan gave an energized performance as he fed off the audience's enthusiasm. They began their set with the fan favorite "Move" before proceeding with all new songs until the final offering. "New Drug," "The Flame In All Of Us," "What Do We Know?," and "Falls Apart" were all selections from the band's most recent release, The Flame In All Of Us, and it was great to hear some of the new songs in a live setting. For their final song, TFK reached back into their indie years and dug out another fan favorite, "Puppet" for a rousing finish. McNevan waved a large white flag around bearing the flame logo from the new album before the song's end. Although their headlining set was only six songs, it was a strong set and a solid way to cap off the evening.
Tooth & Nail Records has most certainly evolved into quite the source for eclectic new artists. From folk and southern rock to pop, worship, goth, hardcore, and more, this label knows how to find talent and develop it further. While in previous GMA Week years, showcase-hopping was the way to go, parking ourselves at The T&N showcase at Rocketown was indeed the right choice for us, and a great night of new music. You can bet we're looking forward to another great showcase from this label and its spin-offs in the future.
On to
Wednesday
... --
John DiBiase
, 5/8/08
GMA Week: Tooth & Nail/BEC Recordings Showcase Photo Gallery
click on an image for a bigger size
Kutless
Chris Taylor
Philip LaRue
Jaymes Reunion
Corey Crowder
Ruth
The Glorious Unseen
Children 18:3
Spoken
The Becoming
Thousand Foot Krutch
*all photos by
John DiBiase
and are the property of
Jesusfreakhideout.com
GMA Week 2008 Review: Main | Sunday | Monday | Tuesday | Wednesday