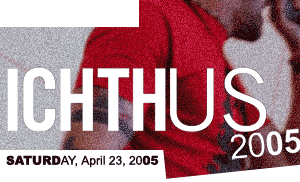 Falling Up, The Insyderz, Sidewalk Slam, BarlowGirl, Roper, Violet Burning, Extol
4/23/05, Wilmore, KY at the Ichthus Farm.
Falling Up - Main stage: 11:00AM
I saw Falling Up on the Deep End stage last year and was impressed with their showmanship and musical skills. This year they were placed on the main stage and their performance was even better than last time. The band members have improved were able to engage the audience despite the cold weather. Their show was a typical loud, rowdy rock show but the band was unique enough to hold my attention. Lead vocalist Jessy Ribordy shared about having hope in Christ and it was obvious the band takes ministry seriously. Falling Up keeps getting better and I hope they continue to mature and use their music to reach people for Christ.
The Insyderz - Deep End stage: 11:50AM
I was very surprised that The Insyderz were playing on the Deep End stage instead of the main stage. While the band did take several years off, they are still very well-known and would have done a great job on the main stage. This was the first time I had the privilege of seeing the Insyderz live. The band did a great job of mixing ska and rock to create a sonic explosion that made the crowd go wild. One could tell that the band members are seasoned performers because they had a great stage presence. The band performed a mix of new and old songs, including "Shame on Me," one of my favorite songs on their latest record Soundtrack For A Revolution. The lead vocalist took time to share with the audience the band's struggle to maintain faith in the midst of fame. He was very open about his weaknesses and shared his faith in Christ with the crowd. Although it was very cold during the performance, the horn players were able to keep their instruments in tune and seemed to play with ease. The Insyderz were the only band I saw at the Deep End that was allowed to do an encore. They returned to the stage and played "In the Secret" from Skalleluia Too, a fitting ending to a great set. The Insyderz greatly impressed me and proved why they have remained popular over the years.
Sidewalk Slam - Deep End stage: 12:50PM
I have seen Sidewalk Slam once before and thought they were a pretty decent punk rock act. The same can be said for their performance at Ichthus. They were very loud and energetic. They got the crowd excited and also talked about having hope in Christ. Their performance was that of a typical punk band - loud, fast, and upbeat. While I did enjoy myself at Sidewalk Slam's concert, it did not stand out and wasn't really anything special. I appreciated the fact that the band talked openly about their faith, and I was encouraged by what they shared. Sidewalk Slam has a lot of potential, but needs to step up their game a little more in order to be an exceptional band.
BarlowGirl - Main stage: 3:10PM
I saw BarlowGirl about a week before Ichthus at the Dove Awards. They performed their hit single, "Never Alone," and did a great job. I expected good things from them at Ichthus. However, my expectations were not met. The band seemed to have their timing off the entire set. At times, one could barely hear the vocals, and the girls missed several lyrics. Whenever drummer Lauren Barlow sang lead vocals, the other two girls seemed to not be able to keep up with her, and the lyrics were hard to hear. BarlowGirl did a few slower songs and led the crowd in worship. Their slower songs sounded a lot better than their faster ones. The band did have good harmonies, but, overall, their performance was a disappointment. It is possible that the band had problems with the sound system which could be why they didn't sound all that great. I know this band is capable of more than they showed at Ichthus, and I hope they work hard and improve their live performance.
Roper - Deep End stage: 3:45PM
Seeing Roper at Ichthus this year was bittersweet. I was excited to see their live show, but they were also a reminder that one of my favorite bands, Five Iron Frenzy, is no more. Front man Reese Roper was up to his usual antics. He entertained the crowd by dancing and making crazy faces, and he also had "Abba" written across his knuckles. Roper's sound had elements of Five Iron Frenzy and Brave Saint Saturn while still being unique. The crowd could not get enough of the band, and they showed their enthusiasm by creating a conga line and making quite a bit of noise (there was also a guy holding up a bag of live goldfish, something I have never seen at a concert). Roper's music was loud and upbeat, and they put on one of the most entertaining performances of Ichthus. The band is making a great start and I expect big things from them in the future.
The Violet Burning - Worship stage: 8:10PM
The Violet Burning has always captivated me with their ambient music and worshipful lyrics, so I was very happy they were playing at Ichthus. They were scheduled to play Friday and Saturday night, but Friday's performance was canceled due to bad weather. By the time they played Saturday, many festival goers had left, so the crowd was small. However, the band played as if there were thousands of people there. I was very impressed because the Violet Burning took time to pray before and after their show, something I did not see any other band do. The show had a very worshipful feel and the band was honest and vulnerable. The Violet Burning performed songs from many of their albums and also took requests. Many times during the performance I closed my eyes and soaked in the atmosphere. The band talked a lot about their faith and they were very humble. Despite having to sit in the cold and rain, The Violet Burning may have been my favorite concert at Ichthus.
Extol - Deep End stage
I walked to the Deep End stage Saturday night expecting to see Haste the Day. When I got there, I was surprised to see Extol onstage. Their concert was rained out Friday night, but they were added to the lineup for Saturday night. The first time I heard Extol was several years ago and I described them as "sounding like aliens." However, their live show surprised me. The band had an extreme amount of energy and kept playing even when the guitar player fell through a hole in the stage. He quickly got out and continued rocking. Although I could not understand any of the lyrics, the lead singer had a great screaming and growling voice, and the crowd could not get enough. I found myself enjoying the concert and now consider the members of Extol to be great musicians. I have also never seen so much hair onstage. I left the show smiling. I highly recommend Extol to anyone who is a fan of harder music.
--
Laura Nunnery
, 5/5/05
Ichthus 2005: Saturday Photo Gallery
click on an image for a bigger size
Falling Up -- 11:00am Main Stage
The Insyderz -- 11:50am Deep End Stage
Sidewalk Slam -- 12:50pm The Edge Stage
Roper -- 3:45pm Deep End Stage
The Violet Burning
-- 8:10pm Worship Stage
Extol -- 8:55pm Deep End Stage
*all photos by
Laura Nunnery
, and are the property of
Jesusfreakhideout.com
Ichthus Festival 2005 Review: Main | Thursday | Friday | Saturday