Nalini Tranquim
is an Australian pianist, singer, and songwriter. Nalini has been hard at work developing her craft since the age of four. She is a classically trained pianist who has released a classic piano album, entitled
Piano
, as well as the worship album
Lay Me Down
. Nalini released her latest single, "As You Are," in July of 2013. On this DJ Jireh remix of "As You Are," Nalini sets the softer piano and subdued vocals of the original to a pop dance beat. The lyrics of the chorus are a plea from God for us to come to Him as we are. Nalini sings, "
Come as you are. Don't despise the way I made you; I gave you Me. So come as you are.
" While the original version plays out more like a worship song, the DJ Jireh remix adds a different twist altogether. And while the vocals and piano still sound as haunting as the original, DJ Jireh's addition gives the song a more modern feel. In actuality, when you listen to them each, the DJ Jireh version feels more like the original while the original itself seems like a stripped down recording. Although the track isn't necessarily original in sound, Nalini and DJ Jireh did a nice job of making this remix stand out in comparison to the original. The future looks like it could be bright for this talented pianist. - Review date: 1/27/14, written by
Michael Weaver
of Jesusfreakhideout.com

Record Label:
None

Album length:
3 tracks

Street Date:
December 18, 2013

Buy It:
AmazonMP3
As You Are (Melodic Original Version) (5:18)
As You Are (DJ Jireh Remix) [feat. Nalini Tranquim] (4:44)
As You Are (Instrumental) [DJ Jireh] (4:55)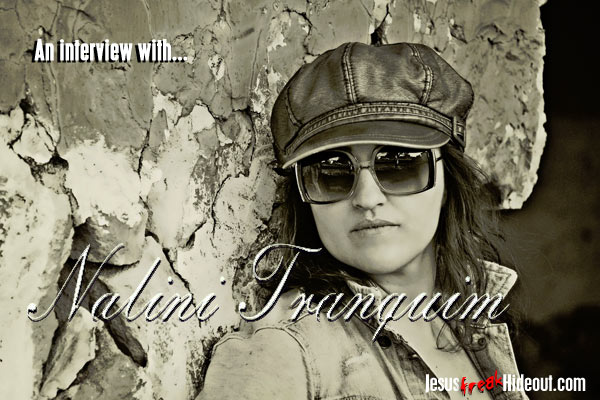 Jesus freak Hideout (Michael Weaver): How did you stay so disciplined at such a young age to become the pianist you are today?
Nalini Tranquim: Studying piano with The Associated Board Of The Royal Schools Of Music was the best demand on discipline for a young child. I had weekly lessons and my music teacher would send me home with a list of scales and arpeggios that "must be learned by next week"! But I must say, my fingers would literally itch if I'd missed a day of practice. I remember whenever we went away on holiday - that was the worst. We'd be pulling into the driveway after 2 weeks of no piano playing, and I would literally sprint into the house, straight to the piano and play for hours. I think, above all, the love of playing has been more of a discipline than any discipline itself could bring.
JFH (Michael): What musical influences do you have beyond pianist Tedd Smith?
Nalini: The legends of old! Beethoven, Chopin, Vivaldi, Bach, Handel and of course Sergei Rachmaninoff! Yes I know, bit of a classical kid. But I grew up on these boys! Their symphonies would ring throughout the house and would transport me to another world. I would sit in my bedroom cupboard (yes, love Narnia) with my eyes closed and just be immersed in their most magnificent sounds. And then to witness the Billy Graham Crusades and hear the tinker of a simple piano to that well-loved hymnal "Just As I Am" and see crowds of people standing up for Jesus? Even as a little girl it made me weep. I knew then that I wanted to play piano for Jesus.
JFH (Michael): How has the reception been for "As You Are" at this point?
Nalini: It's definitely been my best composition so far and from the feedback, it's because people can connect to it. I was in a pit when I wrote it. I had just walked away from a career of a lifetime to pursue a call in music with no guaranteed source of income whatsoever. I believed with every ounce of my being that I was taking a leap of faith in obedience to the Lord and then for the next two weeks experienced the worst doubt, fear and confusion that I'd ever experienced in my life. I was questioning who I was, what I had to bring… you know the whole "who do you think you are"… and I remember waking up one morning feeling as if I'd been sucked into a black hole when I heard the soft whisper of the Holy Spirit say to me "just come as you are". Well, I was on the floor and the lyrics were written there and then. The melody didn't come too far after that. And it ministered to me. I knew it would minister to others too and had to get it out.
JFH (Michael): Which version (original or remix) do you think has been better received?
Nalini: That's a tricky one. I personally LOVE the remix! Of course, I love the piano in the original, especially the solo where you get the little classical girl coming out! But I've had mixed responses. Some have been totally blown away by the remix and others have been emphatic that the remix is okay but the original is 100 times better. Must be a personal preference thing!
JFH (Michael): Did you meet DJ Jireh from your time in South Africa, or did you come in contact with him by another means?
Nalini: DJ Jireh and I met and ministered together in London. I was Music Director for an Inner City Church and he joined my team as a Drummer. We served together for many years, our friendship grew and now we are both on different sides of the world and still working together! Just brilliant.
JFH (Michael): Do you yourself listen to pop or club music, or is the remix something a little out of your norm?
Nalini: Music has always been a major (excuse the pun) factor in my life and I am open to most genres with a good message. I've always liked the get-up-and-dance effect that club music has, and to be able to work with people who can marry the sounds of club music to words that will edify and build up, I'm totally for that! In fact, I'd love to do more remixes in the future, with a little added classical piano in the mix!
JFH (Michael): You've been in ministry work at a church most of your life. What kind of work are you doing currently?
Nalini: Well, this leap of faith into music full-time has opened doors that I know wouldn't have otherwise opened, had I not have leapt! It's not even been a year yet and my family and I have just launched a fund raising campaign for the production of my album titled Today | Tomorrow which is taking place with a team in Nashville! I continue to write and compose, I'm working on several projects with other artists and my husband and I have recently launched the Enhancing Worship Workshop which has been set up to assist worship teams right from technical setup to vocal & mic technique and is a platform to address issues that worship teams around the world are faced with. We also minister in worship alongside the teams at their church services, which is always an amazing privilege.
JFH (Michael): What kind of lesson(s) has God been teaching you of late?
Nalini: The Conductor of an Orchestra can be the best, most qualified, have the tightest of ears, be able to intricately decipher the composer's writings – but without an Orchestra whose violinists have bow to hand and whose ensemble is willing and ready in wait of his timing – he is left without sound.

What God has been teaching me of late is that I must be willing and ready with my eyes fixed firmly, but not on the on-lookers from a distance (audience) or co-musicians (ones closest to me) and murmurings from the crowd (people) with whom I share, do and experience life. Rather, my eyes are to be fixed firmly on Him, my One and Only Composer, in fact, the Composer of life and breath itself, and wait on His timing alone. For His timing is perfect and together we create the most magnificent tapestry of music. Praise be to His holy and glorious Name!