Brittany Glenn
is an aspiring L.A. based pop singer in the musical vein and with the vocal chops of similar artists Francesca Battistelli, Natalie Grant, and Tasha Layton. With the release of her previous EP,
Freedom
, in the summer of 2019, Glenn shined bright with sunny-pop sensibilities that immediately hook you in. Now, in 2020, she releases her newest single, and precursor to an album to be based around well-known Psalm 46:10 with an apropos song title, "Be Still." Taking a more subdued and worshipful approach this time around, Brittany authentically bares her soul with relatable lines like, "
why do I doubt You in the silence?/it's all so quiet/this world's about the instantly gratifying/drop to my knees/I'm trying to hear You/Lord, speak up! it's hard to listen through the noise
." Musically, she takes the slow burn approach with ambient guitars floating around behind her vocals, in addition to acoustic guitar and piano flourishes adding further support. A gentle percussion kicks in mid-song to slightly up the tempo as she builds tension toward God's response for those in a hurry or stuck in worry, that we need to, "
be still and know that I am God/I will be exalted among the nations
." Overall, it's a solid song, and a good setup for more music like it to come in the near future. With her strong vocals, developing songwriting chops, and vision for new music, Brittany Glenn seems to be well on her way. - Review date: 11/27/20, written by
Josh Balogh
of Jesusfreakhideout.com

Record Label:
None

Album length:
1 track: 5 minutes, 35 seconds

Street Date:
November 26, 2020

Get It:
iTunes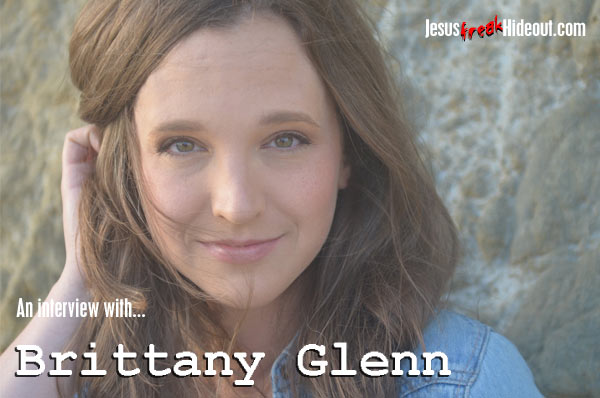 Jesus freak Hideout (Josh Balogh): By way of introduction for our readers...who is Brittany Glenn?
Brittany Glenn: I am an "up-and-coming singer-songwriter" according to Yahoo Style :-) formerly known as Brittany Davis before I was married in 2016. I have been working in the music industry since I was 21 when I won the Country Music Television's national singing competition in partnership with Sony Nashville Records to promote the movie "Country Strong" with Gwyneth Paltrow and Tim McGraw. Since then, I have moved to LA, released two EP albums, a few singles (including "I Promise This" which I performed and played on the ukulele during my wedding ceremony), and following last year's summer tour, I released my brand new single "Be Still"! Oh and somewhere between releasing my first album and getting married, I filmed a commercial with Pantene Pro-V that has garnered two million views on YouTube with my song "Today" featured in their national campaign!
JFH (Josh): What has been the coolest musical experience as an artist in L.A., and conversely the most frustrating?
Brittany: Singing in front of 20,000 fans at the Staples Center for the Clippers... and then again for the Lakers! Also performing a sold out show at The Hotel Cafe. Most frusterating... 1000% the traffic.
JFH (Josh): Who would you peg as your 3-5 biggest musical influences?
Brittany: Lauren Daigle, Sara Bareilles, Colbie Caillat.
JFH (Josh): Why Psalm 46:10? What has this passage meant to you personally?
Brittany: This verse has always been one of my favorites. I even ordered a mural of it for my husband and I's first apartment years ago. It popped into my head again while I was driving through Colorado last summer on our way to the next show of our tour and the line "You see me differently than I see myself" just sort of fell out of me. And that became the first line of the song. Little did I know that "being still" was going to be a theme of 2020 for alot of us with the pandemic and shut downs.
JFH (Josh): What do you hope to communicate to listeners through your new song "Be Still?"
Brittany: The bridge is my favorite bridge I have ever written. It repeats the verse Psalm 46:10 (NIV) four times and builds melodically each time - which is done for a reason. The meaning behind that verse, to me, is to find beauty and grace in the silence and stillness of this year. Anxiety can creep in in the stillness, but our God is with us through it all. Be still and know that He is in control.
JFH (Josh): How is the upcoming project based around the aforementioned Psalm coming along, and when can listeners expect it to drop?
Brittany: It actually just dropped on Thanksgiving Day last week! We spent almost six months working on this song - the producer (Seth of The Velvet Year) and I - and we did it 100% virtually! I set up a home studio in my guest closet and it turned out pretty great!
JFH (Josh): Where do you hope to be in three years, and what would you love to be working on?
Brittany: I would love to go on tour again. That was an amazing experience! Maybe next time opening up for Lauren Daigle!
JFH (Josh): What is currently been in high rotation for you musically of late?
Brittany: Tori Kelly's new Christmas album! Isn't she incredible?! I remember hearing her voice on America's Most Talented Kid in 2003 and have been following her music ever since. Honestly, anything Christmas-related is my jam right now. I am one of those people who will put it on in the summer for an afternoon pick-me-up!
JFH (Josh): Have you picked up any new hobbies, read anything impactful, or grown a deeper appreciation for a previously loved album/song during the pandemic? If so, what?
Brittany: I am currently sponsored by Lanikai Ukuleles and they just sent me a Guitelele (yup, it's a hybrid guitar and ukulele!) so I have been learning new chords on that. Otherwise, I've been getting alot of orders on my Etsy shop "Calligcrafty" where I sell pretty crafts.
JFH (Josh): Any last things you would want our readers to know about you or your work?
Brittany: Be sure to check out the lyric video for "Be Still" and check out the rest of my music videos on www.brittanyglennmusic.com :-)