The name
Carli Elizabeth
may not be familiar to listeners, but with her new single, "Blessed Redeemer," the young singer/songwriter displays the kind of talent that can make her a household name. In the same vein as artists like Hillsong United and Brooke Fraser, "Blessed Redeemer" is a modern indie pop track with a soft rhythm and low BPM. A light drum loop repeats throughout the song, with a few sparse piano chords to guide it. Additionally, if you listen real close, there's a crackling sound underneath it all, as if you're listening to this song on vinyl. It's not a constant thing, for some reason, but it's a nice touch, especially paired with Elizabeth's smooth and soulful voice. Her register is toward the lower end of the vocal spectrum, and it's just what this kind of chill music calls for. One of my favorite things about this song is that it carries a sort of hymn-esque cadence, from the melody to the verse structure, and the lyrics (though more modern in style) are just as worshipful and reverent: "
Blessed Redeemer and Lord of all peace, crowned in Your majesty, holiest King, ruler of man and the stars in the sky, glory to God the Almighty, Most High
." It's an endearingly wonderful worship song, with Elizabeth clearly displaying an awe and love for Jesus. Now, as enjoyable as many of the aspects of this song are, there is one thing that really holds it back from having a more prominent place in my worship music catalog: it's really long. At nearly seven minutes, it certainly falls short of what some bigger name worship bands have been known to release. But the reason the length is a problem here is that the song doesn't really change at all during its runtime. The same slow melody and rhythm, the same piano chords, the same drum beat; as good as the song is, it's not interesting enough to go on as long as it does. However, that being said, "Blessed Redeemer" does have me genuinely interested in whatever music Carli Elizabeth will be releasing in the future. Despite its one glaring setback, this song is worth diving into. - Review date: 4/9/18, written by
Scott Fryberger
of Jesusfreakhideout.com

Record Label:
None

Album length:
1 track: 6 minutes, 47 seconds

Street Date:
January 31, 2018

Buy It:
iTunes

Buy It:
AmazonMP3
| | | |
| --- | --- | --- |
| Blessed Redeemer (6:47) | | |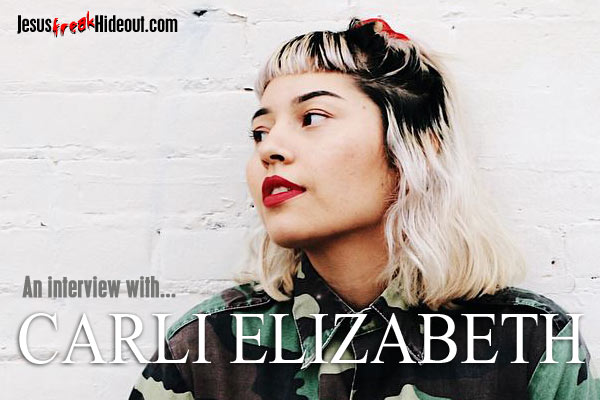 Jesus Freak Hideout (Scott Fryberger): When did you first recognize your musical talent, and how long was it before you started pursuing something more with it?
Carli Elizabeth: I remember being a kid, about 7 or 8 years old, listening over and over again to ďOpen ArmsĒ by Journey. I didn't know why, let alone explain why I liked it; it just sounded "right." I loved the way this note fit with that note and my little ears couldnít get enough. Little did I know I was developing a love for beautiful melodies through this song. I didn't grow up in a musical family - in fact the opposite: I grew up playing sports. I was so jealous of the kids whose parents were making them take piano lessons. When I asked for a guitar for my 14th birthday, my parents were stunned. Regardless, my whole family pitched in money to buy me my first guitar, a Yamaha from Costco! I taught myself some chords and eventually got guitar and singing lessons. I began leading worship in church and at my school. After high school I had a rough couple of years and had to be really honest with myself. I knew I had no desire to attend college and thatís when I began to pursue music as a career.
JFH (Scott): Not counting your Christmas album in 2016, is "Blessed Redeemer" your first attempt at being a recording artist?
Carli: Yes. It's a huge step for me and honestly a scary one. I'm working against my insecurities everyday, but hopeful that, with each song release, it gets better!
JFH (Scott): Your bio indicates that the sound of "Blessed Redeemer" is a stylistic shift for you. What inspired you to tackle a more electronic-based sound?
Carli: I'm completely and utterly obsessed with '80s music. I love the bass, I love the synth, I love the hair, I love the outfits...I just love the craziness of the '80s. So I always knew that I wanted to create music that made you dance and move your feet. Iím taking my love for acoustic songs and translating them into a music style thatís completely me. For a long time I felt misunderstood because people knew me only as the acoustic guitar girl, that being my main instrument. I've ventured out of that a little and this song is a transition into the songs I will be sharing in the future with more bass and synth.
JFH (Scott): Are you currently working on an EP or full-length album?
Carli: I'm currently working on songwriting and building my EP content. My goal right now is to become the best songwriter that I can and to share honest, well-written songs with people.
JFH (Scott): Are you seeking the attention of a major record label, or do you want to stay independent for now?
Carli: I'm looking to stay independent for now. I believe there's never been a better time to be an independent artist than right now! I love the simple DIY feel and the authenticity that comes along with it. Iíd love for people to be able to experience this journey with me and for me to be able to welcome them into my life. Itís almost like the small business movement happening, everyone plays a part! Thatís what I love about being an independent artist: the community.
JFH (Scott): What are some of your non-musical hobbies?
Carli: When Iím not playing music I enjoy playing fetch with my bulldog Petunia, sitting at coffee shops for countless hours, baseball, watching I Love Lucy, and reading about the Enneagram. I also include watching the local news as a hobby of mine; I really enjoy it!
JFH (Scott): If you could have dinner with any of the Bible's authors, who would it be and why?
Carli: I would have dinner with David and Solomon. I love the sincere heart of David and the wise words of Solomon. I would definitely need to be taking notes at this dinner. I would also take the liberty of cooking them Mexican food then proceed to watch their minds and taste buds explode!
JFH (Scott): Is there anything else you'd like to add?
Carli: Thank you for taking the time to listen! It really means the world to me that someone out there that I donít know has listened to my song. Connect with me, especially if youíre a songwriter. Weíre all in this together!