Music can serve many purposes. While some bands and artists are out to make a living, others exist to write truly great pieces of music simply for the love of it. And still others do it as a means of coping with tragedy.
CorbansDad
is the name of one such artist - a stand-up comedian by trade, but a country singer at heart. After 21-year-old Corban lost his life in an accident, CorbansDad wrote a tribute to his late son called "Gonna Leave." The song is partially a coming-of-age story of Corban's life, with the singer looking back on his son's adventures as he grows more and more independent. "
I'm gonna leave
" is the key phrase, coming up with each new milestone that Corban hits. It's also highlighted as his final words to the EMTs who tried to save his life before he passed, tying the whole story together. And although it's a tragic story, the singer acknowledges the mysterious role God plays in all of it, as he sings, "
We believe that there must be a plan that we can't see
," following it up with the knowledge that he's in Heaven now and that they'll meet again someday. The story of Corban's life and death is made all the more touching by the country pop ballad style of music chosen; there's just something about that genre that, even if you don't like the sound of it, really accentuates this type of story-driven lyricism. So while the song isn't particularly musically impressive or groundbreaking, it is effective in what the singer wants to accomplish. That is to say, "Gonna Leave" is a sweet tribute song from a loving father to his son, and it will hopefully serve as a source of encouragement for other parents facing the weight of such grief. - Review date: 7/23/23, written by
Scott Fryberger
of Jesusfreakhideout.com

Record Label:
BirdCat Records

Album length:
1 track: 4 minutes, 49 seconds

Street Date:
June 16, 2023
Buy It:
iTunes
| | | |
| --- | --- | --- |
| Gonna Leave (4:49) | | |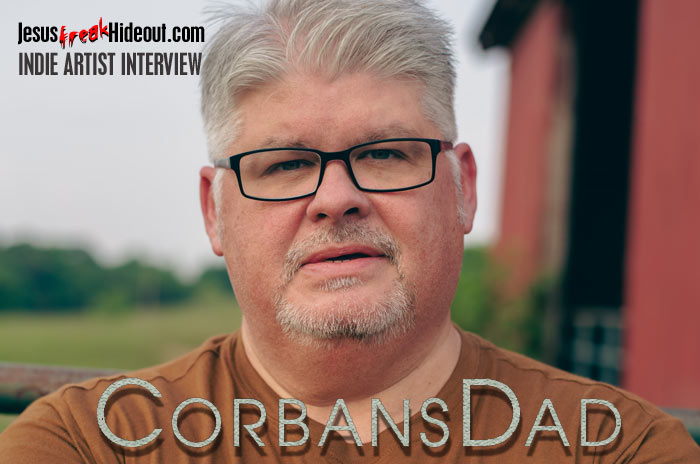 Jesus Freak Hideout (Scott Fryberger): Was "CorbansDad" always the name you wanted to use when writing "Gonna Leave," or did you consider any other names too?
CorbansDad: I knew I would release "Gonna Leave" or any songs I write related to my son or to grief as "CorbansDad" for two reasons. First, it was an honor to be Corban's dad, and second, I learned quickly that in the grief community, most parents love to be referred to as their kids' mom or dad, and there's so much pain among that community that it's sort of a nod of solidarity with them to say, ya know, "I see you." It's permission to open the door and talk about this person we love who's no longer here with us.
JFH (Scott): Do you anticipate releasing any other music under this or any other name?
CorbansDad: I actually do expect to release more songs as CorbansDad. Right now I'm feeling there are lots of stories to tell related to grief and hope, maybe some country songs, but also maybe some worship songs. There are so many songs related to love and life, there's a lot of pain in grief, but there's also a lot of joy in knowing you'll see someone you love again someday. I love when a DJ says, "This next song, is Gonna Leave by CorbansDad". There's definitely some joy in hearing that. I'm also a stand-up comic and I make sure when I leave the stage to thank crowd and say "I'm ChesterG, and I'm also CorbansDad". I'm so proud of him and who he was.
JFH (Scott): Did you write and perform the song all on your own?
CorbansDad: I knew that to move it from inside my head to radio, I needed someone I trusted to co-write with. My buddy Erskin Anavitarte, introduced me to my co-writer David Delgado from Oklahoma, and then I met Sam Hart, a brilliant producer out of Nashville who produces Aaron Shust, Bethel, and Todd Smith (Selah) and he took "Gonna Leave" over the finish line. So it was a team effort. I'm thankful for those guys.
JFH (Scott): Obviously, the story behind "Gonna Leave" is a heavy one. How did you approach writing such a song?
CorbansDad: A couple of weeks after my son's accident, I was at lunch and I was sitting across from a counter and stools where my son used to sit. I remembered one day I saw him eating lunch there at the counter, and he waved at me and kept eating. A very simple moment. Then a flood of life memories came back. I realized our lives are a series of every day moments and everyday conversations. I grabbed a pen from my pocket and the lyrics poured out on a napkin. "Gonna Leave" is inspired by my son's last words with First Responders. And that's heavy for sure, but it's also joy filled-I know I'll see my son one day and I'm pumped about that-there's also a lot of peace there.
JFH (Scott): Has this opened the door to minister to others with similar stories?
CorbansDad: Absolutely. I have received hundreds of messages, voicemails, texts, and social media messages. I think everyone can relate to love, life, and death, first days, last days, daycare, and college, and sadly there are many who have experienced loss of their children. Honestly, it breaks my heart when people tell me they know or they understand-I wish no one had to endure that. Being there for other people in all this, in the midst of pain, or reminding people of hope in Jesus or that Jesus loves them is an honor.
JFH (Scott): What do you hope to accomplish with the release of this song?
CorbansDad: I'm hoping when people hear "Gonna Leave", they'll want to take in those everyday moments, really look at the people they love and be thankful for every minute. I'm also hoping when they hear "CorbansDad" sing they'll realize that's a real dad, and real pain behind the mic and that there's a lot of parents out there grieving and they want to talk about their kids. And you know it'd be nice to know people are singing it, maybe on repeat and thinking of their own families.
JFH (Scott): If you could share one thing with our readers, what would it be?
CorbansDad: I think that great hope and great pain can co-exist---I'm here to testify about that. Isaiah 61:3 tells us to "put on a garment of praise in a spirit of heaviness". That's what I hope I've done with this song.
JFH (Scott): Where can people find you online?
CorbansDad: They can learn more about me at www.corbansdad.com and they can find "Gonna Leave" anywhere music is streamed. This all happened so fast that I haven't really had time to build separate socials but they can find me on TikTok @CorbansDad, or follow along at Twitter @chesterwgoad.
JFH (Scott): Would you like to add anything else?
CorbansDad: I think music is a very therapeutic way to tell a story. We all have stories to tell. I've got alot more and I hope that they're not just therapeutic for me because it's even more therapeutic to know you've helped somebody or made someone smile.