Echoboy's three-song Kingdoms EP drew positive reviews from Jesusfreakhideout last year and now the band is back with their five-track follow-up, Not Alone. The pop-rockers (with a heavy emphasis on the pop) have released another collection of songs ready for today's CCM radio. Catchy hooks and near flawless production have them primed for a major breakout. While the title track and "Livin For Love" are a nice start, "Shine On" is absolutely screaming for play on K-LOVE and local stations alike. Not only is it the most versatile track musically, but it's the best one on the album. In the chorus, they proclaim, "Hallelujah, let your heart sing a new song. Hallelujah, let your light shine on. Hallelujah, there is hope for this sinner. Hallelujah, let your light shine on," before going into a rendition of "This Little Light of Mine" on the bridge. It's a super fun song with the ability to appeal to listeners across multiple genres. "Believe" follows as a slower and more introspective pop number asking for God's guidance in expanding faith and removing doubt in one's life. The EP ends with another slower song in "Wasteland." The track is the biggest risk on the album when it comes to structure, sound, and effects used. It stands out from the previous four tracks quite a bit and is the type of song that could cause listeners to fall in love with the diversity, or to be turned off by the lack of consistency with the rest of the EP. Not Alone isn't the perfect EP, but there aren't many of those floating around. Echoboy has, however, released another enjoyable EP that should highly resonate with pop music fans. As stated before, the production is top notch and the hooks should keep you coming back for subsequent listens. Look for Echoboy to be making an impact in the CCM community in the near future.

- Review date: 8/22/17, written by Michael Weaver of Jesusfreakhideout.com


Pop band Echoboy hasn't been around long, getting the band together just last year, but they are already showing an eagerness for their trade not often shared by their contemporaries. About half a year after their debut EP, Kingdoms (which showed a lot of promise), Echoboy's Not Alone EP tells us that it wasn't just a fluke. The title track takes some cues from late '80s/early '90s pop with a catchy sound to get things started. The EP flows smoothly into "Livin For Love," which features an infectious chorus that declares that Jesus' love is more than enough for us. "Shine On" would make a fantastic radio single; it's extremely singable, easy to learn, and very encouraging. Echoboy shows their softer side with the tender "Believe." With a good deal of humility, the singer talks to God about self-examination and needing help to keep believing. It's a relatable song that would be good for the weary Christian to reflect on. "Wasteland" closes the EP, and though it almost feels a bit out of place stylistically, with its slightly heavier - though still relatively tame - rock sound, it shows that Echoboy is willing to try something that's not necessarly in their wheelhouse. The rock sound works well for them, and I'd love to see further experimentation with it on future releases. Echoboy is a surprising group of guys with a lot more chemistry than most bands this new. One can only wonder how long it will be before they're picked up by a major label and introduced to a wider audience. - Review date: 8/23/17, written by Scott Fryberger of Jesusfreakhideout.com


Record Label: None


Album length: 5 tracks: 16 minutes, 17 seconds


Street Date: May 28, 2017


Buy It:
iTunes

Buy It:
AmazonMP3
Not Alone (3:43)
Livin' for Love (2:53)
Shine On (3:02)
Believe (3:34)
Wasteland (3:05)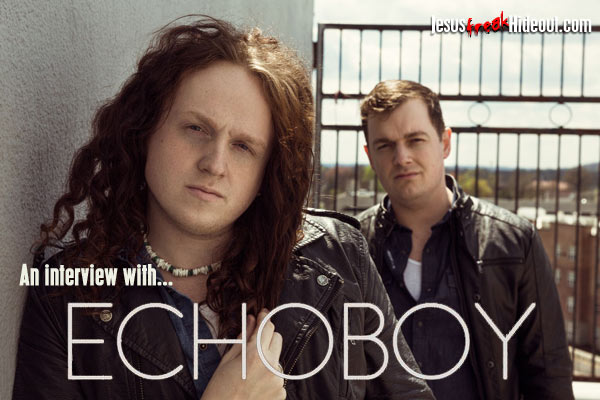 Jesus Freak Hideout (Michael Weaver): What has been going on with Echoboy in the year between Kingdoms and Not Alone?
Jonathan Jackson: Well, we spent the year working on the Not Alone EP as well as writing a lot. I think we got close to 50 songs in that span in between EP's. We also began playing shows over the past 10 months, including playing with CCM artist Danny Gokey and NBC's "The Voice" star Matthew Schuler from season 5 this summer. It was definitely a busy 10 months!
JFH (Michael): So far you've released two EPs. What's the appeal of releasing EPs versus recording a full-length? Is it more about getting music out to listeners a little faster, or is it more of a "quality over quantity" type of thing?
Jonathan: I think there's appeal for getting music out to fans and letting that music be the highest quality possible. When you release an EP, you can really focus on 5 of your best songs that you can get out to fans a lot more quickly than a regular 10-12 song project. It's also really expensive to make a full-length record these days. If you know any labels who would want to help, we would be more than happy to make one. ;)
JFH (Michael): The production on Not Alone is excellent. Was the EP self-produced, or did band bring someone else in to produce?
Jonathan: We had several of our friends help out with the production on this project! Riley Friesen (Family Force 5, Jordan Feliz, Building 429) was on J. Hall (Young The Giant, Abandon Kansas) and our good friend Michael Sanders (formerly of Full Circle Music). These guys are all killer and we loved working with them on this project.
JFH (Michael): My favorite track is easily "Shine On" -- for several reasons. Did the song circle around the idea of using "This Little Light of Mine," or was using that song as the bridge a result of the song's direction thematically?
Jonathan: Glad you dig the tune! Yeah, the bridge came after everything else was written; it kinda just flowed and made a lot of sense for the song!
JFH (Michael): I believe "Wasteland" was actually released last year. I think the song has a very different vibe from the any of the other four tracks on the EP. What led to the decision to go ahead and include it on this release versus leaving it as a single?
Jonathan: "Wasteland" definitely has a different vibe from the rest of the songs. It's one of our favorites from the EP and we feel like it speaks to where our culture is at in so many different ways: negativity on Social media, brokenness in our world -- it really feels like a wasteland sometimes, and without Jesus it really is. We felt like the song was an appropriate and accurate part of any Christian's story. Life is full of ups and downs and we didn't wanted to exclude the "down" in our story from the EP.
JFH (Michael): Does Echoboy have any upcoming tour plans?
Jonathan: We've been playing all spring and summer and we'll see what the future holds for this fall!
JFH (Michael): In a world where so many "Christian" artists have been trying to distance themselves from the industry, what's the driving force behind Echoboy's decision to write songs with a Christ-centered message?
Jonathan: Our goal with these songs was to give people hope and a clear picture of The Gospel as well as the ups and downs of the Christian life. Songs like "Wasteland" and "Believe" deal with the harder questions in life that many people wrestle with: Is God really there? Do I really believe? And songs like "Living for Love" and "Shine On" look at the lighter side of life and are an expression of the joy that we have as believers. The Christian life isn't all up or all down, it's both: hills and valleys, light and dark. We wanted to deal with both for this project.
JFH (Michael): Are there any final thoughts you'd like to leave the readers?
Jonathan: We love this EP. It represents a lot of hard work, deep conversations about life, faith, and the hope that we have in Jesus. I think that because there is so much "music" available today that we can take music for granted and tend to forget that no matter how big or small, good or bad, music is an expression of and a reflection of our hearts, our story, and our lives. Whether we like it all or not, I think we can still appreciate the honesty, hard work, and heart that goes in to making any album. We're thankful and grateful for the opportunity to have been able to put this project out!