After six EPs of worship cover songs, one Christmas EP, and one EP of original songs, pop rock band
Mercy Worship
is using its momentum to offer up another EP of new, original material.
Search Party
features six songs that sound inspired by bands like Matchbox 20 and The Fray. In fact, lead singer Sam Shin's vocals bear a striking resemblance to those of The Fray's Isaac Slade - most notably in the opening track, "The Only Truth" - as they not only
sound
alike, but also have similar melodies and enunciate their words in a similar way. "The Only Truth" is the highlight of the EP, with the rest of the songs falling a bit flat. "Roses" is not a worship song, which makes it feel out of place; it's also just a little vague with some curious imagery ("
I know you never meant to hurt me, so I hold these roses to my face and take them in, I'll fall into this moment now, I fix my eyes up to the skies and take them in, as everything else begins to fade
"). "Refuge (Psalm 23)" is a pretty solid closing track, however; a gentle acoustic ballad that praises the Lord using the titular Psalm as inspiration for the lyrics, it's not a word-for-word recital of the Psalm, but rather a song based on it. It also prominently features bandmember Josephine Kim sharing lead vocals with Shin. The most tender song of the bunch, it leaves us in a place of worship and intimacy with Jesus. Overall, Mercy Worship does have some areas that could use a little improvement, such as an emphasis on clearer singing and more focused songwriting, but otherwise, they're a sound band with good chemistry. I'm interested to see where they go next. - Review date: 12/4/16, written by
Scott Fryberger
of Jesusfreakhideout.com

Record Label:
None

Album length:
6 tracks: 21 minutes, 12 seconds

Street Date:
November 1, 2016

Buy It:
Bandcamp
The Only Truth (3:24)
Roses (3:39)
Firefight (3:29)
My Everything (2:32)
Father's Heart (3:52)
Refuge (Psalm 23) (4:16)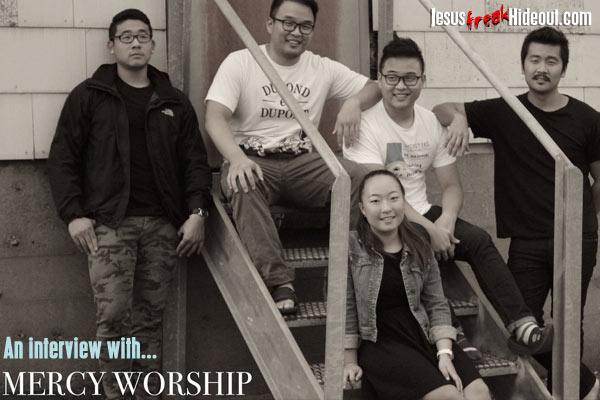 Jesus Freak Hideout (Scott Fryberger): Tell us about how Mercy Worship came to be.
Samuel Shin: We started playing together as our church's worship team several years ago and we came to really enjoy playing together over the years. So since we had the time and resources, we decided to record covers of our favorite songs to share with our friends and family. The band was originally Danny, Isaac, Alex, and Sam. At that point, we had all the basics (guitars, bass, and drums), but we really wanted a female vocalist who would be down to put up with four obnoxious dudes. We met Josephine at a benefit concert a few years ago and knew she was the one!
JFH (Scott): In the past couple of years, you've released multiple worship covers albums. Do you choose to cover all the radio hits or just anything you guys want?
Samuel: One of our goals was to cover the lesser-known, older songs that we couldn't find good recordings of, to sort of pass down to the next generation. We definitely love and appreciate all the amazing new songs, but we've found a lot of joy in the challenge of finding ways to come up with contemporary renditions of older songs that our congregation has come to cherish over the years.
JFH (Scott): What do you like most about playing in a band? And what do you like least about it?
Samuel: I think it's definitely the sense of community. The sum of many parts coming together is powerful and the outcome of seeing and joining people in bringing worship to God is beyond words. But to try...it's humbling, a great privilege, a taste of Heaven, and refreshing! I really dislike changing strings. And all the tangling of cords! Someone told me that, one day, everything will be completely wireless. I mean, we have wireless mics and stuff, but we're talking wireless pedals, amps, etc. Can't wait!
JFH (Scott): Who are some of your favorite bands/artists?
Samuel: Brooke Fraser! I appreciate her newer electro stuff, but her album Albertine is my favorite. As a band, I think we have a very eclectic taste in music, so it'll probably include a little bit of everything!
JFH (Scott): What do you like to do in your spare time?
Samuel: We enjoy going on the Pacific Northwest's amazing hikes to take in the beauty of God's creation. And eating. We definitely love to try new restaurants.
JFH (Scott): Are you studying anything specific in the Bible right now?
Samuel: At the moment, we've begun to study Matthew. Since we're in the Advent season, we've been focusing on the coming of Christ and how that reflects our awaiting of Christ today.
JFH (Scott): What inspired the album title?
Samuel: We kinda saw it as a metaphor for the Gospel and evangelizing. Jesus came to seek the lost, and now we who are saved are given the Great Commission to also search for the lost and to share the love of God with them. And with a search party, there's usually a group of people (the Church in our case) who are sort of on a journey with a lifegiving/saving purpose. And we liked how the word "party" lends to a sense of joy and excitement, too. Scripture tells us that when even one soul is saved that there is a great celebration in Heaven. We believe that music is one of God's gifts to us that we can use to bring praise and glory to Him, and to inspire and perhaps even urge the heart of an unbeliever to turn and receive God's great truth and grace.
JFH (Scott): Anything else you'd like to add?
Samuel: We're actually planning to get more into original music, so please stay tuned! Maranatha!