It's been nearly five years since Christian pop/contemporary artist
Mike Westendorf
released his last studio album,
Undefined
(not counting a 2012 Christmas album). Of course, if you read his official biography, you'll see that the man keeps himself quite busy with other prospects and jobs, but in the past five years, he's also found time to record a brand new album.
Songs We Carry
is Westendorf's latest musical endeavor, and it follows in the footsteps of its predecessor quite nicely; it doesn't stray too far from the path
Undefined
laid out, but it's more than a carbon copy. That being said, Westendorf's style still stays pretty safely inside the borders of Christian radio pop, even sounding rather similar to specific songs at times. For instance, the vocal melody in the chorus of "Climb the Mountain" bears a striking resemblance to Bebo Norman's "Nothing Without You." For the most part, however,
Songs We Carry
works with influences from artists instead of borrowing from them. It's filled nearly to the brim with Casting Crowns and MercyMe influence, with little bits of southern inspiration, a la Third Day, in songs like "You Are" and "Safely Home." The highlight of
Songs We Carry
comes in the single "In the Garden," which is based on an old hymn called "Go To Dark Gethsemane." "In the Garden" uses much of the hymn, changes a few words, and adds a chorus, but the heart of the hymn remains faithful to the message. Mike Westendorf's latest work is one that will surely fit into the album collection of pop/contemporary fans, and may even be better than a lot of what could be in that collection. If that's your preferred genre, make sure to check out
Songs We Carry
. - Review date: 6/27/15, written by
Scott Fryberger
of Jesusfreakhideout.com

Record Label:
None

Album length:
11 tracks: 51 minutes, 33 seconds

Street Date:
May 26, 2015

Buy It:
iTunes

Buy It:
AmazonMP3
I Will Sing (4:22)
My Own Best Friend (4:42)
You Are (4:02)
Coming Soon (5:48)
In the Garden (4:00)
Worthy (All Glory to Your Name) (4:43)
Climb the Mountain (4:53)
Safely Home (5:34)
At a Time (4:46)
You Are (Live) (4:02)
Worthy (Live) (4:41)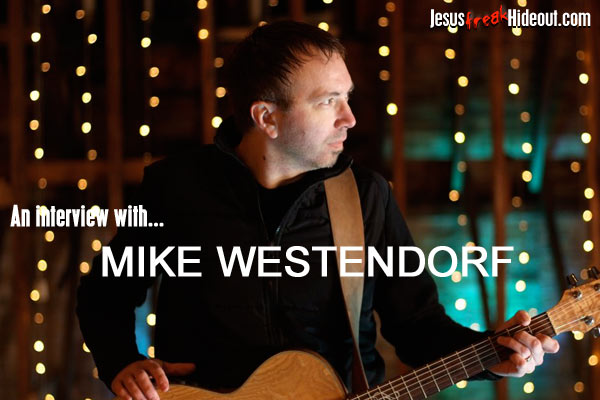 JFH (Scott Fryberger): How long did you spend working on your latest album, Songs We Carry?
Mike Westendorf: The first single that we did was for a compilation with my record label Creative Soul Records for their 15th anniversary. The project was produced by Phil Naish and my single was the song "You Are." That was going to be the starting point for the next album, so it makes the overall length of this project about 3 years.
JFH (Scott): What was the inspiration for the title of the album?
Mike: I am more of a storyteller than I am a songwriter and so, for me, I catch a sound or a Bible passage or a phrase and I will just hold onto it for sometimes years at a time before the song comes out. Some of the songs on this album I have been carrying in some form for almost 10 years. The other part of it is that we all have songs that become a sort of soundtrack for our lives. These thoughts, melodies and moments are things I have carried with me for some time and thus the title "Songs We Carry".
JFH (Scott): You released a Christmas album a few years back. Was this your first Christmas album, and was this a different experience than recording a non-holiday album?
Mike: This was actually my second Christmas type album. The first was a project that got me started as an artist and it was just a little thing called Christmas Is that I made for my family, a sort of musical narrative. "Emmanuel Has Come" took the same storytelling concept from "The Fall" to Eternity" with the Christmas Story laid out in the middle. For that album, I recorded locally with local musicians and moved toward a folk/acoustic/bluegrass type sound, just expermenting with sounds and styles. For this album, we went back to working with Creative Soul Records and some fantastic session players to work through these songs with me. So it is a very different road, so to speak.
JFH (Scott): Songs We Carry features some accompaniment tracks, as did your last album, Undefined. Did you see a positive response from this last time?
Mike: A number of churches used the track from "You Are Amazing" for choir arrangements and we wanted it to be a resource for soloists who wanted a new song to sing, but didn't have a band to accompany it. It gave people the push to go from "that's an interesting idea" to "we can do this!" I am hopeful that the tracks can do something similar for "Worthy" and "You Are" on this album.
JFH (Scott): If you could pick one song from Songs We Carry to introduce a new listener to your music, which song would you pick and why?
Mike: Honestly, it depends on the listener. If it was an older person, I would suggest "Safely Home." If it was a person who loves worship music, I would suggest "Worthy (All Glory To Your Name)." If it was a younger person, I would suggest "I Will Sing." In general, "I Will Sing" is my ministry song and it summarizes Ephesians 2:1-10 and Psalm 89:1-4 so well. It's the song I always wanted to write and it came out with the passion and intensity that I hoped to sing it with.
JFH (Scott): How much time do you typically spend touring after a new album?
Mike: I would say that I intentionally push the album for about 6 months, but overall my concert style is to create events and an overarching theme within the line up of songs. So my concerts are often more about the theme of the event rather than an actual push of a specific album. I feel that these songs will provide a lot of different ministry moments as we tell the story of God's redemption for sinners and the joy we find in our identity in Christ.
JFH (Scott): What bands have you been listening to lately?
Mike: I move around a lot, but Red's new album "Of Beauty and Rage" has been on repeat. Lecrae's new album "Anomaly" is something I've been enjoying quite a bit. The Passion album "Even So Come," Matt Maher's latest album and then I would have to add The Hobbit soundtrack as well.
JFH (Scott): What has God been teaching you lately?
Mike: Of what it means to believe. It has 3 key parts; to know something (information), to accept that information to be true and to trust it for your life. I consider the evidences of the things I believe in my own life and I can see that I don't believe and trust God's Word perfectly for my life, but I keep coming back to the story of Grace. That GOD believed some things about me. That I am unholy and helpless and needed to be saved. God accepted that to be true and God trusted it for his life. The evidence is Jesus, the cross and the empty tomb, the risen and reigning Savior. The translation is that GOD believes I am--you are--worth something to him, worth forgiving, worth blessing, worth saving, worth dying for. This has been the big idea that I've been wrestling to get my head around and I love it.
JFH (Scott): Any final comments?
Mike: I just want to call the older generation to make known the stories of God's faithfulness to the younger generations and to call the church to walking with the 18-25 generation. If we want to understand the changes in the culture and how we as "the church" can understand that culture better, [we need to] walk with a young person in the college era and time of life. Take this seriously, pray over them, pray over and support the ministries serving them, get involved and help make a difference by loving these young people enough to get over the fears and just share some life with them. And to a younger generation to not overlook one of the greatest resources of Christian mentorship in this older generation. The ones who are spiritually alive will share stories of God's faithfulness that would surprise you and be an inspiration to you second only to scripture. Make the time for each other!