In late 2009, Canadian worshippers
Daylight
got together and recorded a seven-song EP called
Behold The King
, which they released October of that year. It wasn't great, but the guys in the band displayed their passion for worship and ministry through their songs well. This year, they have a new set of songs for everyone to hear, and it's their first full-length album, which they've titled
We are Weak//He Is Strong
. The biggest positive aspect of the album, as well as Daylight's music in general, is their passion. It's very clear that not only are they fervent about worshipping the Lord and bringing people into a state of worship with them, they're also passionate about the music that they make. You can hear it in Jeremy King's singing, as well as in each part of the music. The opening track, "We Arise," may be the album's strongest track. It serves well as an opening song, and the music and lyrics are fairly well-written. "Christ Is Risen" is alright overall, but the quality of the music and lyrics starts to drop slightly from there on out. Songs like "Mighty God" and "He Alone" are typical corporate worship songs that are great for a live setting, but for an album, they don't work quite the same way. "We Set Our Hearts," however, is rather enjoyable, bearing a sound that resembles The Fray's piano-based pop rock, with a little bit of synth mixed in as well. Along with "We Arise," it makes for a highlight of the eleven tracks. The album ends with a live rendition of their song "Our Rock." I found it a little odd to include a live track at the end of an otherwise non-live album, but it actually works pretty well for Daylight to include the very worshipful song in its live format. Maybe it's the fact that it's not blatantly obvious that it's a live version when you're listening (other than some of the vocal work sounding off key once or twice), but it's a nice addition.
We are Weak//He Is Strong
is a step in the right direction for Daylight, both musically and lyrically. It's not a great album, but it has plenty of enjoyable factors that tell me that Daylight has a lot of potential to create something very good. Worship music fans will be delighted at what
We are Weak//He Is Strong
offers. - Review date: 9/1/11, written by
Scott Fryberger
of Jesusfreakhideout.com
We Arise
Christ Is Risen
Return
All My Hope
Mighty God
We Live For You
He Alone
Our Rock
All We Are Is Yours
We Set Our Hearts
Our Rock (Live)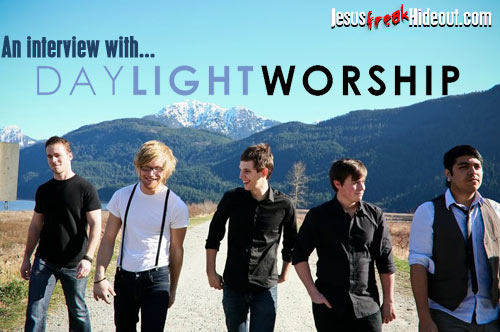 Jesus freak Hideout (Scott Fryberger): What inspired the name Daylight Worship?
Jeremy King: The name Daylight was inspired by 1 Thessalonians 5:5-11 where it starts by saying You are all children of the light and children of the day. These verses sum up a lot of the message that we hope to proclaim through our songs. In the opening track from We are Weak//He Is Strong, we sing "Children of the light flee the things of darkness and follow Christ." That's our prayer.
JFH (Scott): What artists do you listen to that have influence on your sound?
Jeremy: We all like Leeland. we love their sound and really appreciate the heart that comes through in their lyrics. We also enjoy Phil Wickham, Matt Redman, Gungor, John Mark McMillan and Chris Tomlin. (to name a few)
JFH (Scott): What are your favorite verses of the Bible?
Jeremy: Ephesians 5:8-11
1 John 2:15-17
Hebrews 12:1-3
Phillipians 3:7-9
JFH (Scott): Tell us about a time when God really moved while you were leading worship.
Jeremy: One summer we were leading worship at a camp near Vancouver BC. I think we led 13-14 chapels in 1 week and so my voice was getting tired, but during the Thursday morning chapel the speaker said this phrase while speaking: "the curtain has been torn down" and something jumped in my spirit. I just knew I needed to immediately write a song declaring the victory of the cross. There were a ton of hurting and broken teens at camp that week and I remember knowing that God was just wanting to speak truths about His healing power over the campers through this song.

In one afternoon, this song "The Curtain" had come together and that night at chapel it was as if chains were breaking off people's lives as we sang it out. In 1 Corinthians 1:18, it says that the message of the cross is foolishness to those who are perishing but to those of us who are being saved it is the power of God. We experienced God's power as we declared the message of the cross that night. It was so awesome.

So often, it's the stories that we hear from students after worship sets that are so encouraging. God gives us songs and then we get to witness lives being changed and impacted by His word through what we write. It's pretty cool.
JFH (Scott): How often does Daylight perform outside of Sunday morning services?
Jeremy: Between five of us, we go to four different churches and we are all really involved at our local churches, but we usually play at 2-3 events per month (depending on the month). Some seasons we do more than others as opportunities come up.
JFH (Scott): Were all the songs on We are Weak//He Is Strong written after Behold The King?
Jeremy: Yeah, they all came afterward
JFH (Scott): What's your favorite song from We are Weak//He Is Strong?
Jeremy: Personally, I think "Our Rock" is my favourite song from the album. It stands out to me because it was a song that I wrote out of a place of brokenness. I wrote it after a friend encouraged me with a few verses found in Hosea 6. The song has been the cry of my heart over this last year. "Let us press on to know the Lord"
JFH (Scott): Does Daylight have any desire to sign to a record label?
Jeremy: Yeah, we would love to if it was the right record label and contract. We are all really involved with youth and young adults at our local churches and so it would be hard to be gone a lot of the time but if someone was excited to get behind our vision than we would love to have that support. It's our hope to continue encouraging the body of Christ through writing and playing music. The more people reached the better.  (Since we've released our album on noise trade, I've been reminded again the reason why I'm doing this. 5,720 people own the album now and we've only played at like 4 events this summer. It's a cool thing knowing God is using our music to encourage a ton of people. Hearing feedback has also encouraged me to keep doing this...)
JFH (Scott): What has God been teaching you lately?
Jeremy: Most recently, God has been reminding me that His kingdom is an actual reality. It's becoming my prayer more and more that God's kingdom would come in our midst. God's kingdom is one of love, peace and joy in the Holy Spirit. It's a kingdom where people can actually live free.