Still a young band, having only formed about four years ago, pop rock quartet
Flood the Stone
is taking every possible stride to make waves in the industry and bring the good news of Jesus wherever they can. Their latest offering is a solid ten songs, collectively titled
When The World's On Fire
. The album gets off to its start with a song called "Tripped;" a song about mistakes and loss ("
Goodbye my friend, it has been a long time, eleven years now to the day, goodbye, we all know we can't stay the same, but you can't see for looking that I'm missing you, where have you gone, you've torn us apart, I don't know what you tripped on
"), "Tripped" is a rather emotional song, but it's an appropriate intro, musically speaking. The album follows a rather basic, Christian pop rock formula, the likes of which you might expect from The Afters, or a more electronic Phil Joel. And, speaking of which, the former Newsboy (and current frontman of the band Zealand) has endorsed Flood the Stone, and even makes a couple of appearances on
When The World's On Fire
. Joel provides some vocals on the upbeat, radio-ready "Only Love," as well as the soft and tender "In My Arms Tonight." Despite the somewhat sadder lyrics that opened up the album, Flood the Stone spends most of their album singing about more encouraging things; "Something Beautiful" is an uplifting song, as vocalist Steven Fazakerley sings, "
Here in the night, something beautiful, even when I hear I'm unusable, it doesn't matter who I was before, when You see something beautiful in me
." The end result is a decent pop rock album (with more emphasis on the "pop") that is sure to broaden the band's fanbase and lift up some downtrodden spirits with its message of hope and redemption. If the radio world ever catches wind of the independent music scene, I wouldn't be surprised to hear Flood the Stone on the airwaves. Until then, if this album sounds intriguing to you, do yourself a favor and give it a listen. - Review date: 6/10/15, written by
Scott Fryberger
of Jesusfreakhideout.com

Record Label:
None

Album length:
10 tracks: 34 minutes, 20 seconds

Street Date:
April 7, 2015

Buy It:
iTunes

Buy It:
AmazonMP3
Tripped (3:43)
Only Love (feat. Phil Joel) (3:06)
Holding You (3:25)
Discover Life (2:55)
In My Arms Tonight (feat. Phil Joel) (3:20)
Something Beautiful (3:42)
Reflection (3:21)
Pieces of Your Heart (3:28)
Build It Up (3:12)
Wallflower (4:08)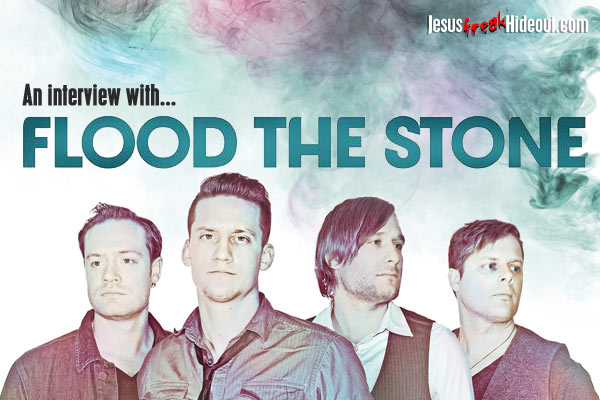 JFH (Scott Fryberger): First, the obligatory question: what does "Flood the Stone" mean?
Tim: Flood the Stone is a play off of the home towns in which the band originated from. Springside, and Ebenezer Saskatchewan. Springside prompted the water theme and Ebenezer meaning stone of the help. Thus, Flood the Stone was born. Over time the name has taken on different meanings to different people. Honestly, we enjoy hearing all the interpretations that fans come up with.
JFH (Scott): The band hasn't existed all that long; has the line-up remained the same?
Tim: Like any growing organization/ministry, change is normal. Bandmates have shifted over the last 4 years as the stages have grown. It launched as a 4-piece, as represented in our music video "Made For You," then toured as a 3-piece for a year and a half. Last year, as we prepped for a whole new record and sound, we went back to a 4-piece when we added our new frontman Steven Fazakerley.
JFH (Scott): Phil Joel shows up on a couple of songs. How did you meet him?
Tim: Lucky enough, our bass player happens to be cousins with Phil. Phil used to rock him to sleep as a baby in the afternoon New Zealand sun while singing "Entertaining Angels" as a fresh oceanic wind whispered through his long blonde locks. But seriously, he is family but apart form that, he was the executive producer on When the World's On Fire.
JFH (Scott): Have you toured/played shows with any noteworthy bands?
Tim: The summer of 2015 looks very exciting for us as we are sharing venues with For King and Country, Switchfoot, Peter Furler, We As Human, and more.
JFH (Scott): "Tripped" starts things off on a very personal note. Care to talk about the song's meaning?
Tim: The song was written in a way to display God's heart toward people finding their way. Each of us have had family, friends and even ourselves that deal with struggling through life's challenges. The four of us have personally found that Jesus was always for us in the midst of our questioning and struggles. (Romans 5:8) Just like the prodigal son, we trip over many things while in the dark, but no matter what, true love always leaves the light on for our moment of coming back home.
JFH (Scott): The industry today is seeing a lot of bands either stay independent or leave a label for the independent status. Does Flood the Stone aim to sign to a label?
Tim: At this stage of the game being an independent band does pay more, but, honestly it's super exhausting doing everything ourselves. We are open to whatever option builds the Kingdom of God the most in His timing.
JFH (Scott): What bands/artists inspire you personally as a musician. Who/what inspires you outside of music?
Tim: Each of us have our personal favorites that inspire us musically. It's a variety of U2, Our Lady Peace to Imagine Dragons and Royal Tailor. That's a hard question to answer cause we are inspired by many artists across stylistic boundaries. Outside of music, as a band, we've got to give ultimate credit to God. His hand has played a part in every good thing that has impacted our lives worth writing about or living for.
JFH (Scott): What has God been teaching you lately?
Tim: As a band, we are always learning the lesson of being teachable, trusting and patient. We will never "arrive" in music or in life, and always have room to grow. There's always someone better than you at what you do so there's never a reason to have a big head. Stepping out in faith with this band is always a daily discipline. It's one thing when you're touring as a single guy, but we are all married with kids that like to eat actual food. Thus the tension of chasing a God sized dream and being a provider demands the need for practicing patience. We are taking on the impossible. But lucky for us, if He has called us, He has also equipped us. Basically, now more than ever exemplifying the fruit of the spirit is a must in our endeavors. We can't afford not to live it out or Flood the Stone won't work nor be effective.