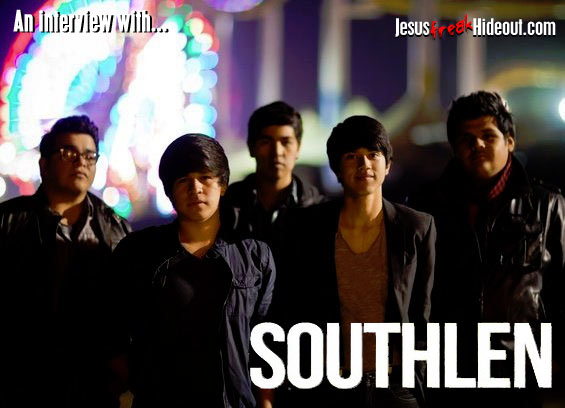 On the heels of their sophomore album release,
XVII
, Southern California pop rock band
Southlen
took some time to speak with Jesus Freak Hideout's Scott Fryberger about the album, their influences, and more...
This interview took place in April, 2013.
Jesus freak Hideout (Scott Fryberger): Let's start with the obligatory question: Where does the name Southlen come from?
Jared Barbosa: I just want to say that Iím glad this is finally going on the record! We get that question at almost every show and we usually make up an absurd story or turn it into a joke or something.
Matt Barbosa: One day me and our former lead singer, Josh [Cisneros], were on our way to youth camp and I had just seen Southland, the TV show, and I really liked how it described L.A. and how "The Southland" often refers to SoCal so I shot him the idea and he liked it, but thought we should do something to make it a little different so we changed the spelling.
JFH (Scott): Tell us a little about the origins of the band.
Matt: It kind of started when we played Luke's 13th birthday. After that, we did a few local youth events.
Luke Barbosa: Well, us three Barbosa Bros. had been gigging around, covering songs, leading worship, etc., for about a year or two with our cousin Jon [AcuŮa]. At the same time, Josh was starting his own musical endeavor. Since we were all from the same church, our two musical groups kinda collided pretty naturally and became one. A little while after, Jon left aux keys and migrated to bass. We really became a band when we wrote "Move the Night," our first song.
JFH (Scott): What do you do outside of Southlen?
Matt: We're very involved in ministry at our local church. We're youth leaders, we lead home fellowship groups, give Bible studies, Luke leads worship on Sundays, and every other Friday we distribute food through L.A. Food Bank at our church.
Jared: As far as making our livings, Iím a classroom supervisor at a private Christian academy and I dabble in graphic design. Jon does ministry and hand-crafts chicken coops/enclosures. Luke and Matt are full-time studio engineers, writers, session players, and producers and Matt mixes and masters as well. He actually mixed and mastered both of our records.
JFH (Scott): What artists influence the musical direction of Southlen?
Luke: Personally, I'm a big fan of composers. I love the genius of many composers such as Hans Zimmer, Michael Giacchino, John Williams, Alan Menken, Randy Newman, and Thomas Newman. I would say these guys influenced a lot of XVII musically. As far as artists, I would go for The Rocket Summer, Owl City, OneRepublic, Hillsong United, Abandon, and a couple more I can't remember.
Matt: Wow, it's tough to say because, as we've gotten older, our musical palette has changed. Like we were all raised on Gospel: Commissioned, Kirk Franklin, Fred Hammond, Tye Tribett, and now it's like The Rocket Summer, Hillsong United, OneRepublic, Rend Collective [Experiment], The Royal Royal, so I'd say a little bit of all of them, even if it doesn't sound like any of that.
Jon AcuŮa: For me it's Switchfoot, OneRepublic and Hillsong.
Jared: The young 'uns hate on me because I still listen to '90s [Tooth & Nail] bands like Plankeye, Supertones, Bleach, and Bon Voyage. But I listen to pretty much everything the guys already said. Did anyone say Underoath yet? We listen to the Aaron Gillespie-era Underoath records a lot.
JFH (Scott): How long did you spend writing your new album, XVII?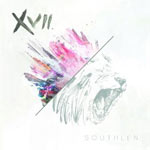 Luke: It took a little over a year. Pretty much the whole time between Loving Life, Living Love and XVII was spent writing the latter.
Matt: Pretty much the time from the end of our first record to XVII, literally. We tossed a song in there like a week and a half before it came out on iTunes.
JFH (Scott): What does the number 17 (XVII) represent?
Matt: It represents victory. Not to all Biblical scholars, but some have interpreted it to mean victory so we just took it like that. lol
JFH (Scott): In what ways do you feel that you have grown as a band between Loving Life, Living Love and XVII?
Luke: Oh man, I feel we grew so much! Loving Life... was an innocent time for us. Barely getting our feet wet, and trying to get used to our skin musically. We had no idea what we were getting ourselves into. The journey of XVII was totally different. We were more focused and confident of who we were as a band. Our mission was clearer and our message was stronger. Spiritual trials made us mature a LOT as individuals and as a whole, which I think is why the feel of XVII is sonically & lyrically way more mature. I think in all ways, we had matured. Loving Life... was more innocent. XVII has more purpose.
Jon: I feel we've matured both musically and spiritually since LLLL. And you can feel that in XVII.
Matt: I feel we've grown a lot in ministry and in our purpose as a band and as individuals since then. We're more aware that at any given event/show there could be someone hurting, confused without salvation, broken, etc. Also, although we're still learning, we're more prepared to minister to these people rather than just play some Christian songs and make noise.
Jared: I can also see a progression in our live performances. We used to just go on stage and jump around everywhere and act really hyper and we had cheap gear. Now we focus on ministry, connecting with the crowd, playing our parts properly, and having good tone.
JFH (Scott): Tell me the story behind the song "Paint the Town."
Luke: We wanted "Paint the Town" to be like "the anthem" for our generation - really singable, and all rock. We wanted almost a punk feel to it. Like a rebel army of kids, willing to do what's right in the face of conformity and unholiness which is seriously devastating our generation, if that makes sense. Lyrically we wanted to paint a picture in the minds of listeners. Very descriptive as to get our point across. We wrote it for people who are serious about calling themselves Christians.
JFH (Scott): Is "Love Is On The Run" written about anybody in particular?
Luke: Anybody in particular, no. For a particular type of person, yes.
JFH (Scott): You have a couple of guest vocalists on XVII; who are these young ladies?
Matt: Brooke Hernandez is our younger cousin and we love her voice. Since the conception of XVII we knew we wanted her on there. Lily Cruz is an awesome worship leader that we've known for years and we've always respected and admired her in ministry and vocally. They're both killer vocalists. They're actually really holding back on both tracks!
JFH (Scott): Before the album's release, you put out "Maps" and "Push" as singles. Why/how did you pick these songs as the singles?
Matt: We thought both songs would represent our new record the best. "Push" was actually the second song we finished for the record so that's another reason "Push" came out as a single.
JFH (Scott): Has XVII released to a positive response from listeners and fans?
Jon: I believe so.
Matt: We hope so! Hopefully people aren't just being overly nice when they say they like it to make us feel good. We had a missionary from Cambodia say that "Push" really ministered to her so that was really encouraging.
Jared: Our parents love it, but they still get the lyrics all wrong, so I donít know. Hahaha!
JFH (Scott): Is there anything you'd like to add?
Jared: Iíve been regularly logging onto JFH since I was a kid. I love you guys and what you do for Christian music!
Luke: We love JFH. And thank you.
Matt: Jesus loves you.
Southlen's album XVII is available now!