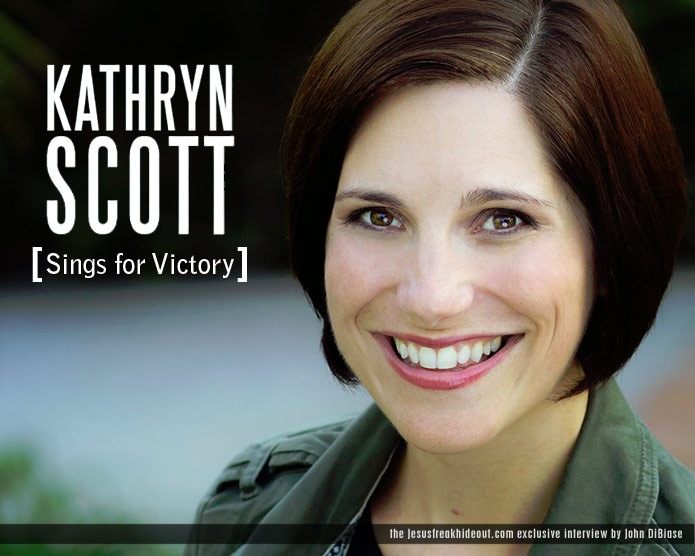 Worship leader Kathryn Scott has made waves with her inspirational worship song "Sing On The Battlefield," the title track from her 2014 EP. Jesusfreakhideout.com caught up with Kathryn to discuss the project and what inspires her most...
This interview took place on: 9/9/14.
JFH (John DiBiase): Where did the idea for the song "Sing on the Battlefield" come from? What inspired it?
Kathryn Scott: Fifteen years ago, my husband Alan and I planted the Causeway Coast Vineyard Church. They are such a courageous community of people, committed to living their faith out loud! We regularly pray for healing on the streets of our town and are seeing a remarkable number of people coming to faith (As I write, there have been around 2,000 since February 2014). This is a church committed to risk. And yet, reaching for the impossible with this kind of resolve also brings with it the agony of the place "between the dreaming and the coming true." There are times when what we've longed to see simply doesn't come. That's when it becomes our responsibility to lean into the goodness of God and dare to risk again... and again. We live in a battle. "Sing on the Battlefield" and the picture from which it took shape in my mind's eye was a cry from one weary heart to another not to give up in the struggle; to remember to look up - for right there with us, in the midst of the chaos and crisis, is the King who has so totally won us, gracing us to believe again.
JFH (John): The story behind "We Still Believe" is a really powerful one. As someone who has personally experienced the loss of a child through miscarriage (which is still puzzling as a believer, wondering what God is up to), I know trials like these that we go through can quite literally make or break us. What do you hope the listener can take from that song?
Kathryn: The longer I know Jesus, the more convinced I am of two things - life is brutally hard; God is always good. Before my sister, Janet, and her husband, Neil, lost their beautiful baby girl in May 2010, I knew I believed in the goodness of God, but this was new territory. This was the territory of the broken heart and crushed spirit. We knew since the 20-week scan that all was not well, so we prayed our best prayers, fasted, longed, believed, waited. Nothing changed.

Cara was born with a rare brain disorder and died 16 days later. Well-meaning people said things like, "It was just this little one's time" or "It's God's will," but none of that sat well with me. I needed to know the Father I have known and loved since I was a child was still trustworthy and steady; that I could run into His mercy with the depths of brokenness I felt and find solace there. As I read the Scripture again, I saw that, from Creation all the way through, the miracle of redemption and setting the Kingdom loose among us (as seen in the ministry of Jesus), until the consummation of all things - when all will be set right and brought back into its original design - ALL is life and fullness. Everything else - death, decay, disaster and devastation - is the work of the enemy. Although God steps in and rescues us in the middle of lack and loss, it doesn't mean He dreamt it up or sent it. And the truth of His goodness settled like a "deep knowing" at the core of who I am.

"We Still Believe" was written as a declaration of truth for everyone "from the thankful heart to the battle scarred, from the comforted to those who grieve…" Even though life is desperately hard, the goodness of God is still the safe place we can position our hearts deep inside and the light by which we can navigate the journey home.
JFH (John): How did you approach this project differently than previous ones (if at all)?
Kathryn: The only thing I did differently on this project was to think of it as a worship set rather than an album. It's actually been a joy recording an EP rather than a full-length project for me.
JFH (John): What song was the most challenging to write and record?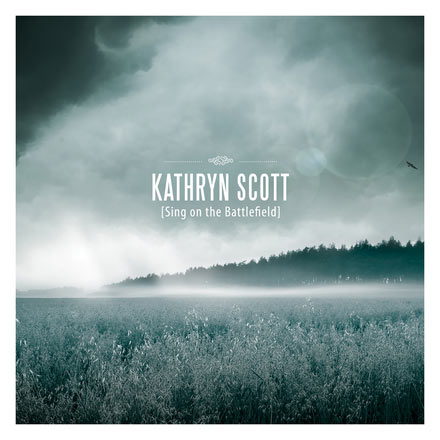 Kathryn: "Father (Generous and Kind)" was the most challenging to write - not in the way that it finally came about, but in the lead up. I have been trying to write a "Father" song for years, but never could settle on the right lyrics. I had disparate lyric ideas on the character of God that I loved the sound of, and were close to what I wanted to convey, but nothing resembling an actual song.

When we went into the studio to record, I sat down at the piano during one of the breaks, and all of a sudden, there it was - this song started to pour out. That never happens to me!

Sometimes it's the "being OK" with the unfinished; allowing it to ruminate for as long it needs in the melting pot of your heart, that allows you to bring something to the writing table when you need it the most.
JFH (John): Do you have a favorite song on your album?
Kathryn: I think it has to be "Sing on the Battlefield." That was the catalyst for the whole recording. And I love "I Will Stay" - it's the intimacy of connecting with Jesus; treasuring His presence above everything else that has me.
JFH (John): What artists inspire you most?
Kathryn: Paul Baloche, Rend Collective, Brenton Brown. I love passionate worshippers who have the gift of leading others with the way they sing and the way they write.
JFH (John): What album(s) have you been listening to lately?
Kathryn: I've been listening to The Art of Celebration by Rend Collective. I love their music and that they're the real deal. They love Jesus completely; He is the total focus of the way they live, the way they write and the way they perform.
JFH (John): Do you have a specific place where you like to write music?
Kathryn: I love writing at home with the piano or in the studio. I also get loads of ideas when I'm out walking or during conversations over a good cup of tea. The trick is to notice when you stumble upon a lyric idea or melody, and take note quickly so you can come back to it when you have some time to really tease it out.
JFH (John): The title track is actually on the compilation, Reverence: An Offering. How did that come about?
Kathryn: I'm delighted to be working with The Fuel Music, and this compilation album just happened to coincide closely with the release of my EP, so I was thrilled to be able to have "Sing on the Battlefield" included on it as well.
JFH (John): What has God been teaching you lately?
Kathryn: God has been teaching me to keep reaching for the Kingdom; not to get content with last month or last week's stories, but to remember that He has given us authority on purpose. We are constantly coming into contact with people who desperately need the hope we carry.
JFH (John): Sticking with the battle theme, do you have a favorite or inspiring action or war film?
Kathryn: Well, I am married to a Scots man, so it has to be Braveheart. :)
Kathryn Scott's latest album, Sing On The Battlefield is available at all digital retailers!