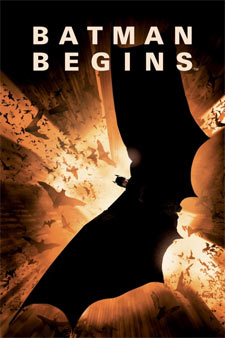 Batman Begins


- for intense action violence, disturbing images and some thematic elements.
Director:
Christopher Nolan
Starring:
Christian Bale, Liam Neeson, Morgan Freeman
Running Time:
2 hours, 21 minutes
Theatrical Release Date:
June 15, 2005
Official Site
Plot Summary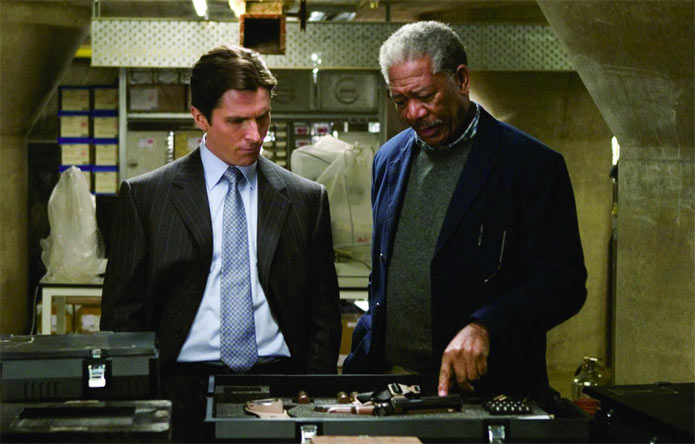 Christopher Nolan's Batman Begins explores the origins of the Batman legend and the Dark Knight's emergence as a force for good in Gotham. In the wake of his parents' murder, disillusioned industrial heir Bruce Wayne (Christian Bale) travels the world seeking the means to fight injustice and turn fear against those who prey on the fearful. He returns to Gotham and unveils his alter-ego: Batman, a masked crusader who uses his strength, intellect and an array of high tech deceptions to fight the sinister forces that threaten the city... (from BatmanBegins.com)
Film Review
I vividly recalll seeing Tim Burton's first Batman film in the theaters in 1989. While I was rather terrified being a nine year old watching Jack Nicholson's Joker fry a man with a hand buzzer till nothing but a skeleton remained, I found myself a new fan of the Caped Crusader. Burton's world of Batman captured a sense of realism within a fully realized comic book style realm. Sequels inevitably followed the hit film, with each arguably declining in quality, suffering from a director change, and shuffling through new cast members. The absymal fourth and final sequel that placed an uninspired George Clooney in the bat suit, drove a nail into the coffin of the franchise, laying it to rest on a bitter note. With the recent smash successes of superhero films for Spider-Man, X-Men, and even Daredevil and Hulk to a degree, it seemed only inevitable that an attempt at revitalizing the Batman series would come together. Thankfully, extensive thought and planning went into casting and selecting a director for the films, giving fans hope. Indie film director Christopher Nolan, who had made a name for himself with his previous works Memento and Insomnia, assumed the director's chair. The end result? Well, dare I call Batman Begins easily one of the best comic book films ever made. Ah, I believe I do.
Batman Begins starts over from scratch. Reaching back into the beloved hero's childhood, we get to see what has driven billionaire Bruce Wayne to don the suit. While we saw a similar past fleshed out in the 1989 film, this edition really digs into the situation and what drives Bruce's decision to fight injustice and crime. A major plot element this time around is dealing with fears, facing them, and overcoming them. With this, the film takes another twist that it hasn't before by offering some genuinely creepy, and even scary, moments. In the past films, we merely root for the Caped Crusader but never quite feel the fear his villainous prey do. Nolan successfully creates that mystery and terror for the audience, especially felt in one of the first scenes Batman appears, lurking in the shadows.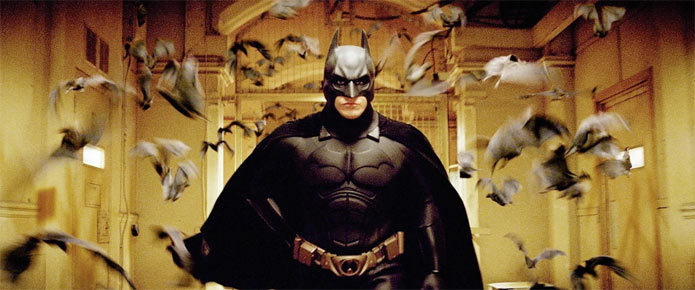 Begins forsakes the campy, cheesy elements many comic movies go for and the other Batman films relied upon. Nolan and crew opt for a more serious, dark, but realistic setting. You actually feel like Gotham could be a real city existing in our world. While the other films portrayed most of the characters as one-dimensional caricatures, most of the cast of Batman Begins are realistic and believable. Thanks to a wonderful casting job, the always reliable Gary Oldman brings heart and sensitivity to the will-be commissioner, Jim Gordon. It was nice to see Oldman, who is known for being an intense actor and for portraying villains you love to hate, play a good guy for a change. Morgan Freeman ranks up there with Oldman as a fantastic, charismatic actor who always brings a lot to his roles. Michael Caine rounded out the inspired casting as the butler Alfred. Thematically, I appreciated the faith and loyalty Alfred brought to the story, never leaving Bruce or ever giving up on him. I found an exchange between them all too familiar and essential even to the Christian walk when Alfred addresses a battered Bruce, "Why do we fall, sir? So that we might better learn to pick ourselves up." It's the humanity that Nolan and the producers breathed into this film and its characters that makes it so strong. I found there was actually plenty to take from it than merely its entertainment value.
The characters of Bruce Wayne and Batman were the most significant. I never would have or could have pictured Christian Bale in the famous role, but after seeing the film, I found him to be a successful choice. While Christian may not have the right "Batman chin" or even talk in the manner one might expect, he embodied Bruce Wayne brilliantly and faired well as the Dark Knight. And one can only watch the film and thank God it's not George Clooney up there again!
Due to its more realistic approach, some elements of the story come out very heavy, especially for younger viewers. With that said, please note that this is NOT a film for children. While none of the violence is all that graphic, some disturbing scenes are included that involve some characters suffering from hallucinations. One of the main villainous plots of the film involves a toxin being released on the city of Gotham that would wipe out the population. This toxin causes severe hallucinations and in several scenes, we see rather frightening images. This includes the villain Scarecrow's mask distorted with all kinds of worms crawling around it. Another intense sequence involves us seeing what a character who is hallucinating sees Batman's face as, which appears as somewhat demonic with his entire face being black and oozing some kind of dark goo. We see other creepy images several times throughout the film as well, which, coupled with some violent actions sequences, adds up to a film way too intense for the young ones. It's definitely one more suitable for adults and longtime Batman fans.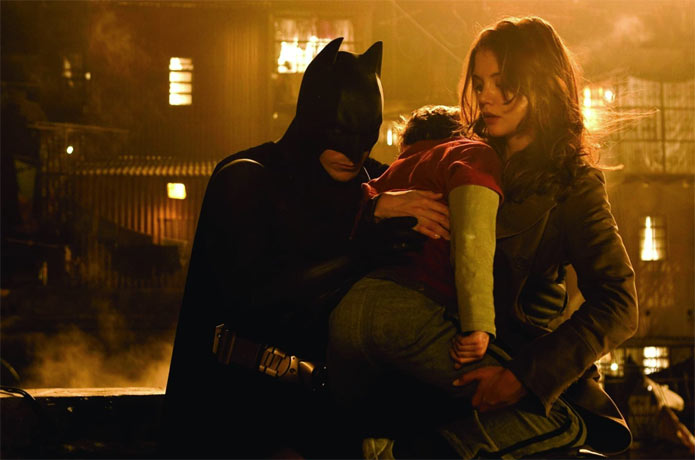 While the creepy factor could have been toned-down, it still wouldn't pass as a family film. Some random language was unnecessary and felt out of place, including one usage each of "J-sus" and "g*dd*mn," and a couple of other colorful words. Another very minor gripe I had is the beginning sequences of Bruce Wayne's physical and mental training felt somewhat abbreviated and occasionally choppy. It felt as though Nolan knew he had too much story to squeeze into too short a time frame, so he knew quick cuts would have to be done. All in all, it still turned out amazing, but perhaps with more time it would have flowed a little smoother. Finally, the action was a little too close-up and cropped-in at times. It didn't particularly hinder any scenes all too much, but the film could have benefited from the camera pulling back a bit so the audience could get a clear view of what was happening.
Overall, I wasn't just satisfied or impressed with Batman Begins, I was blown away. It exceeded any and all of my expectations. The film ended with so many tiny details colliding to get the ball rolling for the new Batman world. And the final sequences set up the inevitable sequel quite beautifully. I can earnestly say I'm highly anticipating the series' next installment!
-
John DiBiase
,
(reviewed: 6/15/05)
Parental Guide: Content Summary

Sex/Nudity
: None.

Vulgarity/Language
: 4 "d*mn," 1 "J-sus," 1 "g*dd*mn," 1 "a**h*le," 2 "h*ll"

Alcohol/Drugs
: Bruce is told to breathe in a flower that was burned to ash and it causes him some hallucinations. Scarecrow gives people a drug that causes hallucinations; some people have drinks during the film (and Bruce pretends to be drunk to save party guests)

Blood/Gore
: We see some blood on Bruce's mouth after being hit by Ducard; Bruce has a bloody cut on his arm from a sword. We then see similar marks on surrounding ninjas when he cuts them; Bruce has some serious bruises on his arm and rib area; The side of a man's shirt is soaked with blood from an injury (briefly seen).

Violence
: Comic-book style violence. Many characters suffer from a poisonous gas that causes creepy and distorted hallucinations; Lots of gunfire, sword fighting, explosions, buildings burning down and collapsing, etc...
Disclaimer: All reviews are based solely on the opinions of the reviewer. Most reviews are rated on how the reviewer enjoyed the film overall, not exclusively on content. However, if the content really affects the reviewer's opinion and experience of the film, it will definitely affect the reviewer's overall rating.
To find out why we don't typically review R-rated movies,
click here