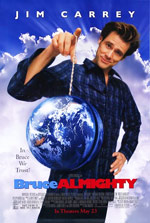 Bruce Almighty


- for language, sexual content and some crude humor.
Director:
Tom Shadyac
Starring:
Jim Carrey, Jennifer Aniston, Morgan Freeman
Running Time:
1 hour, 45 minutes
Related Links
Plot Summary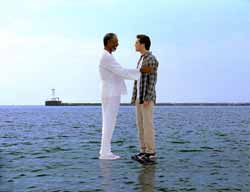 Bruce Nolan (Jim Carrey) is a local Eyewitness News TV reporter in Buffalo, New York, best known for doing humorous, homespun, human interest stories that make everyone happy but him! Bruce would much rather be anchorman, or at the very least, reporting significant news. Essentially, Bruce is discontented with nearly everything in his life, and rarely misses an opportunity to complain about it. He has a loving girlfriend, Grace (Jennifer Aniston), who runs a day care center, is happy with her life, and adores Bruce in spite of his negativity. One day his frustration with life peaks and he vents his rage to God unaware that He really could be listening. With that, God (Morgan Freeman) answers his call and summons him to a meeting where he offers Bruce the chance to see if he could run the world any better. What results is mayhem in Bruce's life as he tries using his new godly powers to seek revenge on those he felt has wronged him and to improve life the way he wants it. The result of his selfish desires? ...unfathomable consequences.
Film Review
Bruce Almighty has buzzed with controversy since its first ad was seen on TV. Jim Carrey plays God and mocks him?! Yeah, I admit it could be perceived that way, but simply put, the end result ain't nothing we'd expect.
In the May 2003 issue of CCM Magazine, the magazine interviewed Bruce Almighty director Tom Shadyac asking about the movie and the message behind it. In it, it was revealed that Shadyac (who also directed 1997's Liar Liar, the Ace Ventura films, and Patch Adams) was in fact a Christian himself. Through his question and answer session, it was determined that Bruce Almighty borders on being a modern-day parable of sorts. The story takes the carnal and self-centered Bruce Nolan, who feels alienated by God, and endows him with godly abilities to see if he could do any better. In turn, the message relates the fact that humans cannot do God's job and in fact will only screw it up. Bruce used his newfound abilities for his own gain, for his own benefit and own selfish desires and each had their consequences. Shadyac used humor as the first and foremost element to convey this message, but the story does a 180 and turns more sentimental and emotional before its close. By the way, many critics found this to be a problem, but I found a certain charm from its ability to be emotional and serious at times. In fact, that's what helped redeem the often vulgar but often hysterical Liar Liar. The messages are huge without beating your mind to death. But Bruce Almighty tastefully drives home the message of how important it is to not be so focused on ourselves and our own wills but to live out our lives more others-centered and sensitive to God's direction. It was a b-e-a-utiful (couldn't resist) thing to watch Bruce's transformation to surrender himself to God and even offer up some non-generic prayers before the film's close.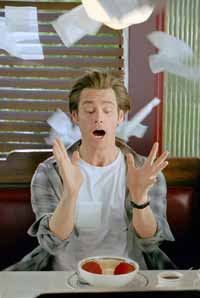 Content-wise, the film falls flat on its face in a couple moments. Towards the beginning of the film, Bruce flips out on some coworkers and goes as far as uttering the "f" word at them (Some other profanity is used, but in surprised moderation). In another scene, Bruce blows a woman's dress up to reveal her panties and later uses his godly talents to arouse his girlfriend in a scene that implies sex (but isn't shown). The director excuses the profanity and the fact Bruce and Grace live together before marriage as the fact that they are two imperfect people before the film begins. In a way, without condoning it, I understand where he's coming from as it gives Bruce plenty of room to improve his life and transform with God's intervention, but I would have enjoyed the film much more without it (and would have resulted in a 5 star rating).
As for being a Jim Carrey comedy vehicle, Bruce Almighty could be his best yet. Carrey was more than comfortable in his role and made it a blast to watch from beginning to end. While he may have had moments of typical Carrey over-acting (which is usually quite a joy to behold), he is more or less just your average guy with a loopy sense of humor. Morgan Freeman embodies God quite well and fleshes out the character in quite a detailed way. Shadyac gave God a sense of humor but never took Him off His throne or belittled his supremacy. While we all wouldn't automatically think "Ooo! Morgan Freeman reminds me of God!" when we think of our Savior, Freeman is just about perfect in the role and I suppose I couldn't think of anyone who could have done it better. Lastly, Jennifer Aniston fits nicely as Bruce's girlfriend Grace (and even offers some suprisingly spiritual encouragement to Bruce which feels odd for characters Aniston is known for playing), but she isn't really give a whole lot to do here and often takes a back seat to Carrey's strong presence.
So while Bruce Almighty showcases God entirely in a positive light delivering a vital message without it feeling like a Sunday School lesson, Almighty keeps the spirituality plenty far from too sensitive waters and never addresses issues of sin or salvation. In a way, this might be best as if those subjects had been introduced, it may have spread itself too thin in the message department and have lost the foremost comedic focus the film was primarily made to possess in the first place.
Overall, Bruce Almighty surprised me. Yes, I'm quite the Jim Carrey fan so this was especially great to see, but director Tom Shadyac did an excellent job creating an almost-modern day parable with this film. It's got a pretty solid message without leaving a hand print across the side of your face but also offers some materials that will either be enough to leave the kids home for or cause you to wait till it's on DVD to watch it edited with the ClearPlay program or something similar to omit the offensive material.
-
John DiBiase
(reviewed: 5/25/03)
Parental Guide: Content Summary

Sex/Nudity
: Bruce lives with his girlfriend before they are married; Bruce finds a picture of Grace presumably nude from one of their previous vacations and he teases her that it should be submitted to Playboy (we do not see the photo). Once given powers, Bruce makes the wind blow to raise a woman's dress (exposing her in her panties), to which he grunts as if scriptural "...and then he saw that it was good!" Bruce uses his godly abilities to pull the moon closer to provide a romantic setting for him and Grace. He plays some Barry White music and after Grace is impressed by the moon, she runs to the bathroom to slip into some lingerie and Bruce strips his own clothes off in one swipe (down to his underwear). He then proceeds to use his powers to arouse her in the bathroom from the other room (we see her pleasured reaction and it's played for laughs). He repeatedly utters the word "pleasurable" before she enters the bedroom looking completely frazzled. He then flips her onto the bed and the scene ends, implying they have sex. The next morning they describe the night as "heavenly" and Grace proceeds to insist her breasts are now larger for some reason (we see her adjust them while clothed, but nothing is explicit). Susan comes on to Bruce and kisses him as he tries to stop her.

Vulgarity/Language
: 1 "f" word, 6 "s" words, 5 possible uses of "J-sus", 1 "pr*ck", 5 "a" words, 2 "a**hole", 3 "h*ll", 2 "cr*p", 2 "d*mn", 11 uses of "G-d". (also, an Avril song plays that offers the lyric "a d*mn cold night" several times) In one scene, Bruce repeatedly gives "the finger" to a coworker.

Alcohol/Drugs
: Some reporters are found with hundreds of pounds of pot in their van and are arrested (played for laughs as Bruce used his powers to plant it there); People drink at a party; (it appears that Bruce turned water into wind);

Blood/Gore
: Bruce has some marks on his face after being beaten up. Bruce has some abrasions on the side of his face and arm towards the end of the film.

Violence
: Some street gang beats up Bruce & vandalize his car; Bruce accidentally crashes his car into a pole; Bruce hits an object across a room in anger; we see a riot in the streets with buildings and cars on fire, etc; a character is hit by a truck (and apparently dies); etc...
Links for the Movie
Official Site
ChristianAnswers.net Interview with Director Tom Shadyac

Disclaimer: All reviews are based solely on the opinions of the reviewer. Most reviews are rated on how the reviewer enjoyed the film overall, not exclusively on content. However, if the content really affects the reviewer's opinion and experience of the film, it will definitely affect the reviewer's overall rating.

To find out why we don't typically review R-rated movies, click here