Season Review
If you're an avid TV watcher -- of any show, not just TV in general -- you know it's impressive for any series to make it to seven full seasons. So with ABC's Castle coming up on its eighth season this fall, ABC is celebrating with this past seventh season coming to DVD. (Editor's note: While we reviewed seasons 4 & 5 on this site, we weren't able to obtain a review copy of season 6, but we did receive season 7. So that's why there is no coverage for season 6 here.) With the latest 5 discs, fans can expect to receive all 23 of Season 7's episodes with two cast & crew commentaries, a couple behind-the-scenes features, bloopers, and a handful of (very brief) deleted scenes. While I remain in awe that ABC still hasn't gotten Castle on the Blu-Ray release wagon, I have to admit that the DVD quality is pretty good.
At the close of Season 6, our leads Kate Beckett and Richard Castle (played by Stana Katic and Nathan Fillion, respectively) were just about to tie the knot when Castle was on his way to the ceremony when he disappears and Beckett finds his car on the side of the road engulfed in flames. Yeah, that's how the showrunners left the fans for a summer. Of course, Castle has had its fair share of cliffhangers before. Beckett was shot and potentially fatally wounded at the end of Season 3, for one; Beckett and Castle admit their feelings for each other at the end of Season 4 and he proposes at the end of Season 5 with the answer not being given till the beginning of Season 6. But seven seasons into this beloved show, you'd think the showrunners would be a little bit kinder to the fans. And if you thought having Castle get abducted on their wedding day and leaving fans to wonder what's up was harsh enough (not to mention robbing the characters AND the fans of a wedding episode), Season 7 opener "Driven" kicks things off with the hunt for Castle being on, and a downright frustrating reveal that Castle was missing for TWO MONTHS and has amnesia, not being able to remember any of it. And thus, the main story arch for Season 7 has been set up.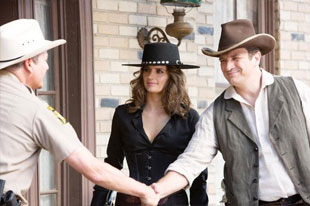 To be honest, when I first watched this storyline unfolding week to week while this season was on the air, I hated it. It felt a little like maybe this show had run its course and that the showrunners were desperate for anything to keep people tuned in. It left me feeling like they don't know their fans at all. Those who'd followed it for six seasons (that's 128 episodes, friends)--through cliffhanger big and small--deserved these characters catching a break and getting a legit wedding, instead of damaging their relationship and shrouding it in mystery via the old amnesia ploy. But, after my sour receipt of "Driven," as the mystery began to unfold and then get shelved to let the show do what it does best (which was bittersweet; we want it to be what makes it great, but answering those "Where WAS Castle all this time??" type questions also felt pressing. And we needed to know he didn't do anything bad either), it reminded me why I like the show so much. The season kept finding new and fresh stories and new and exciting murder mysteries to keep it worth watching each week.
Revisiting "Driven" on DVD, it's actually a great episode with some great moments from the NYPD team and some solid tension offered up from director Rob Bowman. Its successor, "Montreal," is also great as Castle heads to Canada to follow a lead and gets a little more insight into his whereabouts. "Kill Switch" is one of the highlights of the season as it centers around Jon Huertas' Detective Esposito as he gets held hostage on a subway with a potential suicide bomber. But possibly my favorite story of the season is the two-parter "Resurrection" and "Reckoning," where a man who looks like the killer dubbed 3XK (who appeared in several episodes earlier in the series) shows up and insists he's not the notorious murderer, despite Castle's misgivings. "In Plane Sight" takes place entirely on an airplane with Castle and Alexis (as they fly on Oceanic Air, which is an awesome LOST reference!), and "Sleeper" (episode 20) finally answers some of the questions as to what Castle did during those two months. The big reveal is kind of disappointing, but there's talk that the story will be explored more in Season 8, so I'm curious to see what might come out about it next. Some other cool episodes include "Hollander's Woods," which explores what inspired Castle to become a murder mystery writer, "At Close Range" sees Detective Ryan getting mixed up in a murder case, "The Wrong Stuff" takes a sci-fi turn, "Castle, P.I." has Castle becoming a private investigator, and "Once Upon a Time in the West" finds Castle and Beckett investigating a murder on an Arizona dude ranch. One of the bigger episodes in the season, "The Time of Our Lives," is a bit of a bittersweet one as it finally has Beckett and Castle tie the knot, but they use a really bizarre other-dimensional plot device to have Castle see what life would have been like if the couple had never met. It sort of plays out a little like a MacGyver surreal dream-sequence episode, but there's enough of a "magical talisman" plot element to leave the viewer wondering if he really travelled to an alternate dimension, or if he'd dreamt the whole thing instead. It's not the ideal way of seeing the two finally get married, and the alternate dimension idea (while funny at times), is kind of hokey.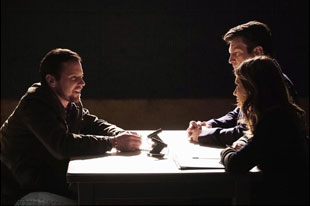 The content of the show is of the PG-13 variety. Anyone who watches at least a few different kinds of shows knows that not every show is the same or holds to the same kind of standards, so while a show like Castle can be rough and kind of gruesome at times, it's not usually nearly as sadistic or graphic as a show like The Blacklist might be, but it's far more disturbing and dark than a show like Psych or Monk. Some examples of the violence include "The Time of Our Lives," where a man's hand gets severed off-screen but then we see it a couple other times laying next to a dead body with blood on their clothes and on the ground; "Kill Switch" and "Sleeper" show people with bloody bullet holes in their foreheads; "Sleeper" also shows a close-up of blood coming out of a wound in a dream sequence; "Resurrection" shows flashbacks of some of the murders from previous episodes involving 3XK; "Clear and Present Danger" shows a man impaled with a pool stick; "Reckoning" has a psych-out scene where we think a main character who's tied up is shot and killed, but we find out it's a decoy. During this scene, there's blood splattered when a person is shot; "Hollander's Woods" shows some pretty gruesome serial killings; "Meme is Murder," which tackles the topic of web celebrities, shows a dead girl with blood all over her body and close-ups of the stab wounds, etc. The gruesomeness definitely varies from episode to episode, and I must warn that it isn't a show for the faint of heart. Other content includes some sensuality, but nothing usually too intense or vulgar, and some mild profanity that is usually the occasional "h*ll" and "d*mn" with the strongest being the more rare use of "S.O.B."

Although Castle: The Complete Seventh Season is not without its bumps and bruises, the show is still one of my favorites on the air currently and is still a fun and entertaining murder mystery/comedy/drama. If you haven't kept up with the show, it's worth catching up on, and if you've never seen the show but would like to start, the Seventh Season isn't the best place to hop on, as you'd miss a great deal of history with these characters, but it also isn't the worst place to start. Either way, fans of the genre shouldn't miss Castle.

- John DiBiase (reviewed: 8/31/15)

DVD Special Features Review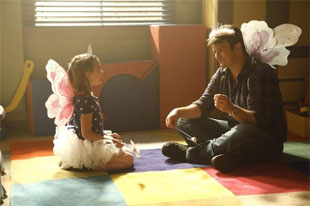 Castle: Season 7 is available in a 5-disc DVD set or from your usual digital video providers. In addition to 23 episodes spread across 5 discs are the following bonus features:

Raging Heat Webmercial (1:07) - The viral version of Rick's Raging Heat book web commercial is featured here alone in all its auto-tuned glory. This video was featured in the episode "Meme Is Murder."

Deleted Scenes - There are deleted scenes on four of the five discs, and they're separate from the episodes, presented in small bursts. Disc One has four scenes, with three of them being from "Driven." The first shows Kate, Martha and Alexis riding in the car in silence after Rick was abducted. The next shows Beckett, Ryan and Esposito working at the precinct and they look over and notice Castle's empty chair. A scene titled "No Place Like Home" is a piece from the scene at the end of "Driven" when Rick is back home with his family and he makes a "too soon" joke. The last one is from "Montreal" and it shows the captain handing Castle a bill for all of the resources they spent on looking for him. Disc Three has two scenes; "Man in the Mirror" is from "Private Eye Caramba!" where Castle meets his client backstage, and the second one shows Castle peering at a house through binoculars in "Reckoning." Disc Four has one deleted scene from "Sleeper" where the NYPD team find a gun rack in a victim's apartment. Lastly, Disc Five has five more deleted scenes. The first is from "In Plane Sight" which is just a snippet of dialog between Castle and Alexis. The other four are from "Hollander's Woods," starting with a snippet of Castle saying his instincts are "mystery bones" (like "I can feel it in my mystery bones"), the next just showing Esposito in the station saying they found the guy, the third showing Castle saying he'll have to be committed if the killer walks free, and the last having Beckett warning Castle to run because he's in danger. Sadly, pretty much every deleted scene is super short and rather disposable.

Audio Commentary - There are two audio commentary tracks for two full episodes. The first is on Disc One and it's for the season opener, "Driven." This commentary features director Rob Bowman, actors Jon Huertas and Seamus Dever (Esposito and Ryan), and writer David Amann. It's a fun commentary where they talk about the show, the story progression, props, the story arch about Castle having gone missing, etc. On Disc 3, we have a commentary for "Reckoning" which features Bowman again, actors Nathan Fillion (Castle) and Michael Mosley (3XK) and writer Andrew W. Marlowe. This one is super great too as they talk about the story, the tension, the filmmaking process, working together, stunts, etc. Both commentaries are a must to listen to for fans of the show.

"Definition of Love" Performed by Shay-Jean (5:01) - This is a fun, goofy spoof music video starring Esposito and Ryan as they sing a pop/hip hop song they wrote for Castle and Beckett's wedding. At first, it plays out like they're rehearsing at work after hours, and then it turns into an all-out music video.

The Cast Behind The Cast (15:55) - This is a first for me; I've seen lots of behind-the-scenes featurettes but this is the first I can recall ever seeing that's entirely devoted to stand-ins and extras that populate the NYPD pecinct week to week (Well, aside from the 9-or-so hours of extras on the Lord of the Rings or Hobbit extended sets). It's literally about the cast of characters in the backgrounds of scenes--some of which who have been on the show since the start. It's pretty cool and very classy of the show to highlight these unsung heroes.

Bloopers (6:44) is a standard gag reel, but it's got some fun and cute moments from the set where the cast is just goofing off and having fun. However, most of it is just the cast messing up their lines and breaking character on set. It's fun! (and any strong profanity is bleeped out)

Disclaimer: All reviews are based solely on the opinions of the reviewer. Most reviews are rated on how the reviewer enjoyed the film overall, not exclusively on content. However, if the content really affects the reviewer's opinion and experience of the film, it will definitely affect the reviewer's overall rating.

To find out why we don't review R-rated movies, click here