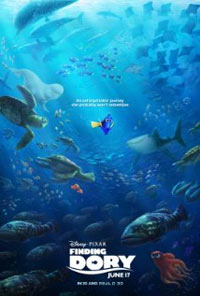 Finding Dory


- for mild thematic elements.
Director:
Andrew Stanton, Angus MacLane
Starring:
voices of Ellen DeGeneres, Albert Brooks, Ed O'Neill, Kaitlin Olson, Diane Keaton, Idris Elba, Sigourney Weaver, Ty Burrell
Running Time:
1 hour, 37 minutes
Theatrical Release Date:
June 17, 2016
Digital Release Date:
October 25, 2016
Blu-Ray Release Date:
November 15, 2016 (
Amazon.com
)
Plot Summary
The friendly-but-forgetful blue tang fish begins a search for her long-lost parents, and everyone learns a few things about the real meaning of family along the way. (from IMDB)
Film Review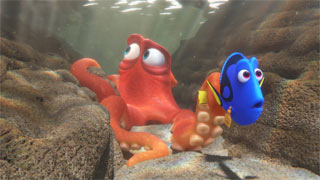 In an age of sequels, threequels, reboots, "requels" (Google it) and more, it's more evident than ever that there's nothing new under the sun. But it seems that when Pixar wants to revisit a beloved franchise of theirs, they handle it creatively and uniquely, building on a world we already love to create something familiar yet fresh. While their success on this is more often great than not -- like the two Toy Story sequels or Monsters University, and less like the just-OK Cars 2 -- it's still nerve-racking to see a beloved film get added on to.
Finding Dory builds on the idea of Finding Nemo; a fish gets separated from its loved ones and said loved ones must embark on a journey to find them, but it also runs the risk of being a retread in the process. Sequels to a movie with a very unique situation tend to feel stale or lazy when a mummy is being awoken by the same people time and again, an ex-special forces guy has his family taken again and again, or one person finds themselves in a situation where they're on a vehicle that must maintain a certain speed in order to survive... for a second time. Finding Nemo, however, introduced us to the perfect supporting character to find themselves in a situation where they're lost and need to be found again. The short-term memory challenged fish Dory ran into Marlin after his little son Nemo had gone missing. Dory then helped Marlin on his journey to get his son back. The story also revolved around the tight father/son bond and a theme of loss (Marlin's wife and children were eaten by a predator fish, leaving only one little egg behind, which turned out to be Nemo). Finding Dory takes us back to the titular character's humble beginnings as a child who suffers from a short-term memory while living with her parents. We're then brought up to the moment she meets Marlin and then fast-forwarded a year to when Dory has been living with Nemo, Marlin and their friends. However, when Dory suddenly recalls a memory of her parents, she feels compelled to venture out into the wide open ocean to try to find her family and where she came from.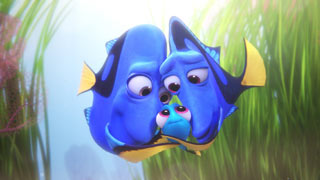 Finding Dory gets off to a little bit of a slow start, but once she heads out on the journey to find her folks, the story really comes to life and finds its own footing. In the same way that Monsters University was a completely different take on the characters we already know, Dory is given center stage here and we get to see life through her perspective. Also, Marlin heads out on a search to find her, but this time has Nemo in tow. And instead of Dory having Marlin as a "straight man" to her spastic personality, she meets an octopus named Hank who ends up being a reluctant travel companion for her.
Making a secondary character become a central character is a tricky thing to pull off. It didn't really work for the Cars franchise when Lightning McQueen took a backseat to Mater. Sure, new characters get introduced in the process, but usually characters like Mater are used sparingly for good reason, and making them the focal point can be too much of a good thing, or in Mater's case, just too much. It does work for Dory, however. Aside from Ellen Degeneres' performance being endearing yet again, the character is just really lovable. It's hard not to feel for her. And once we're introduced to baby Dory and see how her memory loss was something she's battled from the beginning, it's even easier to feel close to the film's main character.
The only thing that seemed to unravel a bit as Finding Dory progressed, was its grand finale. Granted, we're dealing with a world here that involves fish who have human personalities and such, but Finding Nemo did a pretty good job at striking a balance between realism and the cartoon world. Finding Dory does have this too as well, but when you have an octopus driving a truck through traffic, it's tough to not feel like they may have "jumped the shark" a little TOO much. But then again, we are trying to find logic and grounding in a film about a memory-impaired fish trying to find its way home to an aquarium.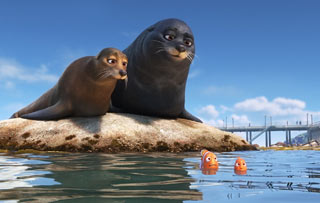 Still, the film does try to strike a healthy balance between serious themes and humorous situations and jokes. Watching Dory struggle with trying to remember her past and her family is heart-wrenching, but gags like the territorial seals or a running joke about a real-life celebrity doing voiceover for the Marine Life Institute help to keep things light. Hank the octopus is also a great addition to the cast, while a friendly whale and whale shark also help round out the cast.
Fans of the original film should love what Finding Dory has to offer. It's not perfect, and as I said before, the finale is a bit excessive, but overall, it's a blast and a good example of a great sequel. Have fun Finding Dory this summer!
-
John DiBiase
(reviewed: 6/27/16)
iTunes / Digital Copy Bonus Features Review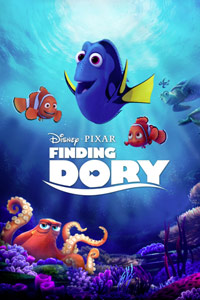 With the Blu-Ray / DVD of Pixar's
Finding Dory
just around the corner, we were asked to spotlight the digital release of the film. The Disney Movie Rewards code that unlocks the digital copy for the film includes the Disney Movies Anywhere copy, which also includes access to the iTunes copy. And the iTunes copy--good golly!--comes just plain loaded with extras. Admittedly, I don't typically peruse the digital copy extras (and just like to access the feature film), but there sure seemed to be more features than usual accompanying
Finding Dory
.
Shorts - To start off, there are two shorts. The first, Marine Life Interviews (2:03), features new animated footage of the aquatic animals in the marina who are interviewed about their interactions with Dory. The second one is the new Pixar animated short that preceded the film in theaters. Titled Piper (6:04), this story is about an adorable baby sandpiper bird overcoming its fear of water to help feed others. The hyperrealistic animation is just gorgeous. It's not only on par with Wall-E, but it probably bests it.
Extras There are a load of extras, including a feature-length filmmaker Audio Commentary (1:37:03), and the following featurettes:
The Octopus That Nearly Broke Pixar (9:04) - As an artist myself, animation fascinates me, as does the genius of Pixar. Here, the team talk about how hard it was to animate Hank the octopus. Where Toy Story's Woody has 700 controls to animate him, Hank has 4,000! It was so complex, they weren't sure how to do it, but thankfully, they figured it out. To prepare for creating Hank, the animators studied real octopuses, and we see them interacting with some.
What Were We Talking About? (4:26) is all about graduating Dory from side character to main character, and the challenges that caused.
Skating and Sketching with Jason Deamer (4:14) - Artist Jason Deamer got his start with Pixar back in 1997 and was known for riding his skateboard around the Pixar campus. He'd doodle faces on coffee cups and his work eventually got him recognized for his talents and bumped up to animator!
In Casual Carpool (3:46), director Andrew Stanton drives around picking up various voice acting talent--Albert Brooks, Ed O'Neill, Eugene Levy and Ty Burrell--and it's rather lighthearted and silly. There really isn't any point to it, but it's relatively entertaining.
Animation and Acting (6:56) - Here, we get a peek at Stanton in the studio with Ty Burell as he records his vocals. We then see some other footage of the main voice cast recording their lines and talking about it. This is a really fun featurette.
Deep in the Kelp (3:19) - This is one of the little featurettes completely geared towards the youngsters. Disney Channel's Jenna Ortega, from Stuck in the Middle, talks about Pixar's research with marine life, especially the octopus, and we see her interact with a real one.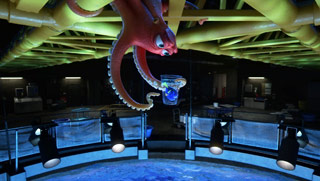 Creature Features (3:02) - This segment focuses on the marine animal and the voice actor it is performed by. It starts with the clown fish, where Albert Brooks (kind of inappropriately) feels the need to highlight how the clown fish has the ability to change its own sex as needed. Eugene Levy then talks about blue tangs, Kaitlin Olson talks about whale sharks, Ty Burell talks about the beluga whale and "echo location," and Ed O'Neill talks about the octopus.
Dory's Theme (4:56) - Composer Thomas Newman talks about scoring the follow-up to Finding Nemo and creating a bigger theme for Dory.
Rough Day on the Reef (1:10) is a short montage of errors and goofs made by the computers during the animation process.
Finding Nemo as Told by Emoji (2:46) - This one is pretty random but still kind of amusing, featuring animated custom emojis.
Hidden Secrets of Finding Dory (3:00) - Pixar fans know that the studio likes to hide lots of Easter eggs in all of their films -- like the Toy Story Pizza Planet truck in EACH Pixar film (Yup, it's even in the period fantasy film, Brave, as a little wooden carving). Here, we find that it's hidden on the bottom of the ocean in one scene! Other Easter eggs include license plate number meanings, references to the "Lava" short before Inside Out, Riley from Inside Out hiding in a crowd, etc.
Fish Schticks (3:34) is a montage of promotional animated pieces of the characters doing random things.
Deleted Scenes - There is no "Play All" option on the digital copy, but there's an overwhelming amount of bonus footage. (Yes, the times on these are correct.) "Introduction" (0:53) is the first intro from director Andrew Stanton (he introduces each deleted scene) where he talks about how the movie's creation process yielded a lot of great ideas that ended up getting deleted for one reason or another. Most of these are in storyboard animation form, unless noted otherwise. "Losing Nemo" (5:03) features Dory looking after Nemo at one point, but then losing track of him for a brief moment. "Sleep Swimming" (3:00) is completely finished animation that is even scored to be used in the final film. It was even shown in one of the trailers. They had made the hard decision of cutting it because they found it redundant for the story. In it, Nemo and Marlin try to stop Dory from wandering off while "sleep swimming." "Little Tension in Clown Town" (7:31) is an alternate story device where Dory was drawn to where her parents were located, strictly by her biological instinct. They decided to scrap the idea to make it less automatic and more of a choice of hers. "Meeting Hank" (3:25) is an alternate take on Dory meeting Hank in the story. Also, it utilizes a deleted idea that Hank is addicted to hot sauce (?!). "The Pig" (2:05) is about a real-life tool called "the pig" that is a plug that's used to clean pipes. This story point was intended to be like a horror moment where the fish are terrified of it coming down the pipes at them. "Dory Dumped" (5:47) is a deleted idea of having Dory's parents ALSO have short term memories, but the director felt it was more annoying than endearing or funny. With "Starting Over" (22:16), Stanton talks about how he's been involved in all 17 Pixar movies, and how the way a movie starts is the last thing they finalize. This section is 20 minutes of alternate prologues from 2 years of film production. Some of them drop us into Finding Nemo and then spin off from there, others show Dory's parents who also have short term memory loss, some start with Dory as a baby, etc. "Tank Gang" (15:55) is an entire deleted subplot where Marlin and Nemo run into the fish from Finding Nemo who were in the dentist's office fishtank with Nemo. They're now some kind of A-Team who offer their assistance to help Nemo and Marlin find Dory. It would have been cool to see them again, but I think it's farfetched to think they'd just bump into them again like this.
Living Aquariums - Like on the original Finding Nemo DVD that had fishtank themed screen savers, there are four "Living Aquariums" you can choose from that are 2-hour loops of things like "Sea Grass," the "Open Ocean," "Stingrays" and "Swim to the Surface." They're pretty short pieces of animation that loop over and over, so it might get dull pretty fast, but they're still neat bonus items.
Overall, I'd say there's a really impressive batch of extras here that you can watch on iTunes alone. I typically prefer disc releases (for better picture clarity, not needing an internet connection and just because I'm old school in that I enjoy displaying the physical products), but Disney is clearly taking impressive strides to make their Digital Copies stack up with the disc-based releases.
- John DiBiase, (reviewed: 11/2/16)
Parental Guide: Content Summary

Sex/Nudity
: Dory misunderstands the intentions of a class being taught to the children and thinks she's supposed to explain "the birds and the bees" and says something about when a mommy fish and a daddy fish love each other, but she's then interrupted before saying anything else.

Vulgarity/Language
: None.

Alcohol/Drugs
: None.

Blood/Gore
: We see a bucket of dead fish with their eyes wide open as they bob up and down in the water.

Violence
: A large, scary and glowing squid attacks Dory, Marlin and Nemo; Dory is put in a bucket of dead fish with their eyes wide open as they bob up and down in the water (it's played for laughs, though); There are some other action scenes where the lives of Dory, Marlin and Nemo are threatened, but it isn't too harrowing; The themes of loss, memory loss, and death can be a bit heavy for some viewers, however.
Disclaimer: All reviews are based solely on the opinions of the reviewer. Most reviews are rated on how the reviewer enjoyed the film overall, not exclusively on content. However, if the content really affects the reviewer's opinion and experience of the film, it will definitely affect the reviewer's overall rating.
To find out why we don't typically review R-rated movies,
click here