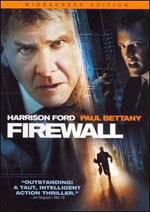 Firewall


- for some intense sequences of violence.
Director:
Richard Loncraine
Starring:
Harrison Ford, Paul Bettany, Virginia Madsen
Running Time:
1 hour, 40 minutes
Theatrical Release Date:
February 10, 2006
Official Site
Plot Summary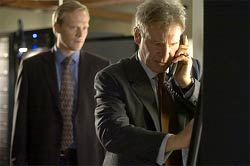 Computer security specialist Jack Stanfield (Harrison Ford) works for the Seattle-based Landrock Pacific Bank. A trusted top-ranking executive, he has built his career and reputation on designing the most effective anti-theft computer systems in the industry, protecting the bank's financial holdings from the constant threat of increasingly sophisticated internet hackers with his complex network of tracers, access codes and firewalls. \But there's a vulnerability in Jack's system that he has not accounted for: himself. It's a vulnerability that one very ruthless and resourceful thief is poised to exploit. Bill Cox (Paul Bettany) has been studying Jack and his family for many months; monitoring their online activity, listening to their calls and learning their daily routines with an arsenal of digital and video recorders and parabolic microphones that tap into the most personal of information. Leading a tight team of mercenary accomplices, he seizes control of the Stanfield house, making Beth and the kids terrified hostages in their own home and Jack his unwilling pawn in a scheme to steal $100 million from the Landrock Pacific Bank. Under constant surveillance, he has only hours to accomplish the risky transactions while desperately hunting for a loophole in the thief's own impenetrable wall of subterfuge and false identities to save his family and beat Cox at his own game.
(from MovieWeb.com)
Film Review
Being a child of the 80's and a fan of such film series as Star Wars and Indiana Jones, it's easy to get attached to actor Harrison Ford for creating such memorable characters as Han Solo and Indy. Since those films, Harrison has gone on to star in several action films including The Fugitive, Patriot Games, Clear And Present Danger, and Air Force One. Ford has become known for performing many of his own stunts which has added to the realism of a lot of his films. And, as he's aged, Ford's become easily associated with roles that place him in a situation where he needs to protect his family... even to near superhuman efforts from his character. Ford, now 63 years old, takes on a similar family-protecting role as he did in Air Force One for his latest film, Firewall.
Instead of serving as the president of the United States, this time Harrison Ford is more of your everyday man being forced to protect his wife and children as he plays a bank network security specialist in Firewall. Versatile actor Paul Bettany plays the villain set on forcing Ford's Jack Stanfield to do whatever he asks, using Ford's family as bait to pull Jack's strings. Those who know Ford's performances in the earlier-mentioned action vehicles (Air Force One is one recommended for edited viewing) know Ford can be a force to be reckoned with when his family's concerned. He's proven that he can wallop terrorists and men decades younger, and Firewall offers no less.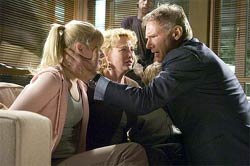 Off the bat, Firewall has a few problems. For one, the premise isn't anything especially new. In fact, just from watching the trailer, it feels like it should be a rehash of Air Force One. While, after watching the film, it's clear the films are drastically dissimilar, Ford doesn't play the characters much differently. Some of the film has that been-there-done-that feel at various parts, stealing some potential weight the premise could have held. However, looking past that, the film standing alone, is a tight thriller that is well acted and well delivered, even if things start to unravel a little too much for it's somewhat cliche, and rather abrupt, conclusion. Minor complaints would be Cox's team of hoodlums are pretty thin and stereotypical. A lot of the material here is unimaginative and tired, which dumbs down a few scenes more than it should. But a film like this begs for a suspension of reality... especially when we find our hero and one of his colleague's surfing the web on a laptop while driving in the middle of virtually nowhere. Finally, while many critics have been coming down on Ford for his age, it doesn't seem to be a propose much of a problem in this film. He performs most of his own stunts (with some being pretty physically demanding), and holds his own pretty well. Harrison can't help getting older and I'd rather see him making films than not... especially when Indiana Jones 4 is still being seriously considered at this point.
Content is Firewall's biggest red flag. Language is rather heavy, consisting of 1 "f" word and a couple handfuls of blasphemy, which brings the film down. Violence doesn't permeate the film, but when it's included, it can be pretty brutal. In one sequence, Jack beats a man in the face with the class cup from a blender, causing plenty of blood to cover the thug's face. Several characters are also executed by gun shots to the head (we don't see the impact, but do see a little bit of blood after the fact). The final confrontation at the film's climax involves quite a bit of fighting with varying bloody results. Finally, the abuse the kidnappers put Stanfield's wife and kids through is pretty harrowing. The end mix of all these elements makes for a pretty heavy PG-13 thriller that is anything but family friendly.
Junk aside, the redeemable things about the film is its interesting story, strong performances from Ford and Bettany, and an emphasis on family. However, is this enough to warrant recommendation? Not as is, unfortunately. With the violence and language toned down (which an edited version would help with), it'd be a much better film.
-
John DiBiase
,
(reviewed: 2/13/06)
Parental Guide: Content Summary

Sex/Nudity
: None.

Vulgarity/Language
: At least 1 "f" word, 6 "J-sus," 4 "g*dd*mn," 11 "s" words, 7 "d*mn," 1 "d*cking," 7 "G-d," 3 "a" words, 1 "a**hole," 5 "h*ll" (also, a man gives Jack the middle finger)

Alcohol/Drugs
: Some people have casual drinks during the film.

Blood/Gore
: We briefly see an image on TV from a horror film the children are watching that appears to show maggots pouring out of a person's mouth; Cox shoots a man in the back, and once lying face down on the ground, we see a little blood around him on the floor; Although not bloody or gory, we see a dead man in a body bag in the back of a car (which startles the children); Jack takes the cylinder cup from a blender and repeatedly hits a man in the face with it. After the first hit, some blood begins trickling down the man's face. After repeated hits, nearly his entire face is covered in blood; We don't see it, but Cox shoots a man in the back (or back of the head) and we see a little bit of blood on the body when Jack runs over to check on them; Cox strikes Beth (she has a little bit of blood on her face following this) and shoots a man dead when he tries to help her; Cox and Jack beat each other up and we see quite a bit of blood on their faces; We briefly see a pick axe sticking out of a person's back

Violence
: Several people are shot and killed (mostly off screen); There's quite a bit of physical violence - we see the Stanfield family wrestled to the ground, tied up, and having their mouths taped shut; Cox strikes Jack in the head with the butt of a gun; Cox threatens to break the boy's knee (but doesn't); Jack forcefully holds a woman down to calm her; Cox's thugs push Beth and the kids around; A man is hit by a car and is killed (the car then crashes into a building and catches on fire); Jack kills a man by repeatedly striking him in the head with a glass blender cup; Cox and Jack beat each other up; A man kills a man by hitting him in the back with a pick axe, etc...
Disclaimer: All reviews are based solely on the opinions of the reviewer. Most reviews are rated on how the reviewer enjoyed the film overall, not exclusively on content. However, if the content really affects the reviewer's opinion and experience of the film, it will definitely affect the reviewer's overall rating.
To find out why we don't typically review R-rated movies,
click here