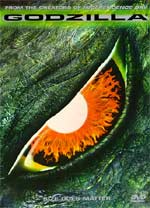 Godzilla


- for sci-fi monster action/violence.
Director:
Roland Emmerich & Dean Devlin
Starring:
Matthew Broderick, Jean Reno, Hank Azaria, Michael Lerner
Running Time:
2 hour, 20 minutes
Plot Summary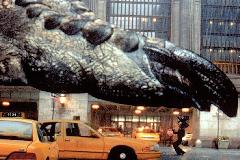 Dr. Nick Tatopoulos (Matthew Broderick) is a biologist from the U.S. Nuclear Regulatory Commission who's studying the effects of nuclear radiation on earthworms near Chernobyl. When a several-hundred-foot-tall mutated lizard is discovered sinking Japanese ships for fish, Nick is pulled from his worm project & placed on a new one. A hysterical survivor of one of the wrecks names the monster "Godzilla." The oversized-reptile makes his way to New York City, where he decides to reek havoc & cause some major destruction. Nick's ex-girlfriend, now a reporter wanna-be, Audrey Timmonds (Maria Pitillo), feels she's found her big story to get onto the news. When Nick discovers that Mr. Zilla me be ready to lay some eggs (or may have already), she airs the top secret info on the news & Nick gets kicked off the case. Soon after, Philippe Roache (Jean Reno), a French secret service agent who's working undercover as an insurance company representative, kidnaps Nick & they team up to find Godzilla's nest. When Audrey feels remorse for ruining Nick, she takes along her cameraman, Victor "Animal" Palotti (Hank Azaria), to help her find the nest & prove that Nick's assumption was right. Meanwhile, the army battles Godzilla & tries to stop him from destroying the city.
Film Review
This particular film has received a lot of bad, mediocre reviews and I found out why first-hand. Although I don't think the movie was a total loss, it is a major disappointment. Hyped up to no end, Godzilla was expected to be more than it was. So what was in actuality, you ask? A rip off. No, I'm not saying I wasted my $4.25 matinee ticket, I'm saying that you will see nothing new. You will sit there and say, "Hey! wasn't that in Jurassic Park? Wasn't that in...?" To make matters worse, the acting was just terrible. By the end of the film, you wish that Godzilla would eat Maria Pitillo's character, Audrey, and all the other poor actors. But, like the movie, the casting wasn't a total loss. Jean Reno did a good job as the French secret service agent and comedian Hank Azaria did a fine job as Audrey's personal cameraman. I still have mixed feelings about Matthew Broderick as the lead, though. I like Broderick as an actor, but i don't think he was right for this role. Aside from each character being completely under-developed and at times, campy, they just all fell short of being credible characters. How do the French fit into all of this? I like Jean Reno from his role in Mission Impossible, though. I also thought Hank Azaria added some good humor without being annoying, too. Godzilla, himself, was done very well. The special effects were astonishing! Although Godzilla apparently has been working out at Bally's over the years, he has made a greater impact as a big, mean-looking sucker, who, believe it or not, isn't interested in eating humans at all--but fish! So he isn't exactly a blood-thirsty, man-eating beast, but a fish-eating city-wrecker.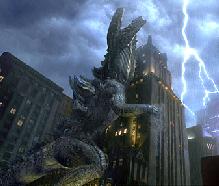 Now, don't read the rest of this paragraph if you don't want to know the end, because I'm going to comment on it: At the end, we find out that Godzilla has laid a nest of eggs. The baby Godzillas then hatch in Madison Square Garden and chase our heroes around the wrecked building. Let me paint a picture: take a velociraptor from Jurassic Park and make it a foot or 2 taller and make it look like a mini Godzilla. It makes the same noise, and acts just like a velociraptor. Haven't we seen this before... twice?! Of course, I liked that part in Jurassic Park, and it was neat having, instead of 3 raptors, 200 mini Godzillas running around the Garden chasing the characters here. But here is where even less credibility comes into play: 200 minizillas are chasing them and they still manage to get away. In fact, they even run right through a huge crowd of these little killers. But I must commend them on a really cool idea: since Godzilla eats only fish, why do the babies chase these guys? Well, when they found the eggs in Madison Square Garden, there were millions of fish there for when the eggs hatched, so the characters reeked of fish. So the babies naturally mistook them for a meal. Bummer. But there are so many, "Oh, come on!" scenes with instances where the characters get away with their lives by the skin of their teeth--including driving out of Godzilla's mouth after he catches them, running through a crowd of over 100 Godzilla babies and not being scratched, and just barely making out of the Garden before it blows up; those are just a few.
As far as the content goes... violence, violence, and more violence. Take Jurassic Park and multiply it by 10 and you have Godzilla. It's basically the end of The Lost World where the T-Rex runs through the city, just amplified. There's tons of building destruction, car destruction, boats, planes, you name it-- it gets destroyed! Say goodbye to the Chrysler building, too. As far as language goes, there are no "F" words, no "S" words, and no "S.O.B.'s" BUT, there are 21 uses of blasphemy as exclamations! So if you feel convicted by hearing too much blasphemy, don't do see this film. Plus, there are many frightening scenes, people dying, etc... There's surprisingly very little blood and gore for a movie like this. The only real instances of blood are when Godzilla is hit with missiles, and even then there isn't really much at all -- just some wounds. The only other single instance is in the beginning where Matthew Broderick's character, Nick, picks some weird fleshly material off the side of a gutted freighter. But there are numerous implied deaths that are off-screen. They're what I've always called, "The Jurassic Park deaths." Numerous minigodzillas pounce on some Frenchman and kill them off-screen... just like in Jurassic Park. But no blood is shown at all. There is also no sex or nudity at all and only about 3 lines of innuendo.
You may be wondering if there was anything good about the film? It's still pretty fun. If you want an action movie you don't need to think about or you don't mind unoriginality, this movie's fine. But if you see it, at least rent it or catch a matinee and lower your expectations considerably.
-
John DiBiase
(reviewed: 5/23/98)
Parental Guide: Content Summary

Sex/Nudity
: None. Three minor sexual comments.

Vulgarity/Language
: 15 "h*ll," 2 "g*dd*mn," 11 "d*mn," 2 "a" words, 1 "cr*p," 10 "Oh my G-d," 4 "J-sus," 1 "J-sus Chr-st," 1 "Holy Chr-st," 5 "G-d"

Alcohol/Drugs
: Some homeless people or guys on the street have liquor, fishermen drinking beer.

Blood/Gore
: Extemely little. Some fleshy material Nick removes from the freighter's hole. Some bloody injuries on Godzilla from missiles.

Violence
: Extreme! Godzilla destroys many ships, many buildings, steps on things, people, etc. Baby Godzillas kill some people in the old "Jurassic Park" fashion. (see above review for details).
Disclaimer: All reviews are based solely on the opinions of the reviewer. Most reviews are rated on how the reviewer enjoyed the film overall, not exclusively on content. However, if the content really affects the reviewer's opinion and experience of the film, it will definitely affect the reviewer's overall rating.
To find out why we don't typically review R-rated movies,
click here