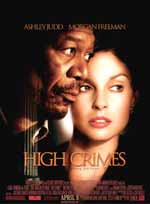 High Crimes


- for violence, sexual content and language.
Director:
Carl Franklin
Starring:
Ashley Judd, Morgan Freeman, Jim Caviezel
Running Time:
1 hour, 55 minutes
Plot Summary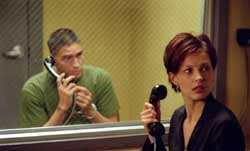 When attorney Claire Kubik's husband Tom is suddenly accused of a military offense from his past, Claire's life with Tom is questioned as she realizes she really didn't know him. With his real name being Ron Chapman, the military tries to pin a series of murders on him. Claire takes on the case, but realizes she will need the expertise of someone with experience in military law. When she enlists the aid of Charles Grimes, the duo begin uncovering truths that only put their lives in danger... Is Ron guilty or is he being framed?

Film Review
Have you ever seen a movie that enrages you? Have you ever been so mad that you wanted to just get up and leave. Not even because the content was bad, but just because something in the plot goes so horribly awry that you feel like your intelligence was insulted? High Crimes did that for me.
As my fiance and I sat and watched High Crimes on opening night, we watched a decent typical thriller unfold. From what I've seen from watching A Time to Kill on TV, this film appeared to have several similarities to that -- the typical lawyer determined to save a person they strongly believe is innocent, risking their life when the opposing group tries to stop them (usually at any cost). Aside from that the characters of Ashley Judd and Morgan Freeman are brilliantly acted out. Freeman played his usual likable character, and the storyline this time around actually gave him a chance to flesh out his character more than some previous roles. Judd seemed to deliver the same role she's been handed for years. She plays it well, but it reminds me of how Tommy Lee Jones keeps getting cop-chasing-fugitive roles. Of course he plays it well (hence why he keeps getting those), but it's getting a little old.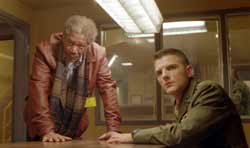 Content-wise, the film had a lot left to be desired. Sexual content was heavy in some respects with some being dialog-related, and some sequences involving hookers in very revealing clothing (not to mention scenes in a strip club showing some scantily clad women). Language was also heavy with the above mentioned as well at least 16 "s" words and other colorful phrases. As far as violence, there's quite a bit, with some being a little bloody, but not especially gory. None of this aided the movie, and all could have been done without.
The real kicker is the ending. While the rest of the storyline was pretty interesting and the acting performances engaging, the ending tossed the rest of the film away at did its best to fool the audience. Well, I felt like a fool alright. What was landed in my lap was the stupidest ending I have ever seen on film. Now, I've seen stupid movies with bad endings (although I liked Jurassic Park 3, the ending's dumb, but forgivable, this is unforgivable). They messed with the characters, the story... it was a high crime if you ask me. With the content and the ending, I'd say skip this film. It's a "twist ending" that is merely for the sake of having a "twist ending." I can just imagine the filmmakers sitting at a conference table sipping chai trying to come up with a startling ending. What they had was a decent but ordinary film in their hands. So one of them, who most likely could care less about the film, and must have been suffering from sleep deprivation or his favorite sports team losing an important game, probably thought it'd be grand to tack on a ludicrous, moronic ending that only the simplest of minds could accept.
The first half was decent, but suffered from some crummy content, but the film went all to waste with the worst ending possible. Skip it. Skip it. Skip it. Please read all the content details carefully.
-
John DiBiase
,
(reviewed: 4/6/02)
Parental Guide: Content Summary

Sex/Nudity
: The film opens with Claire testing herself to see if she's at a fertile time to get pregnant. Realizing she is, she goes to Tom and they make their way to the sofa to have sex and try for a baby, and the scene soon ends before we see anything. A hooker - one of Charlie's clients - walks into his office, and makes a few blunt sexually-related comments. When Tom realizes he and Claire are in a "secure" room, he hints to her that he wants to fool around and the scene ends before we see anything. Claire arrives at Embry's who answers the door shirtless. We soon find that Jackie is there and she's only wearing Embry's uniform jacket which allows several views of parts of her bare chest, but nothing really explicit. Several comments of innuendo are made. At a strip club, we see some of the dancers in very skimpy outfits. While Charlie tries to get information from a soldier, we the man with two prostitutes. We briefly see the two of them start caressing him and begin doing sensuous things before the sequence ends and we see them after supposedly having sex (we don't know for sure what happened), and the hookers are scantily clad with one wearing just a towel around her.

Vulgarity/Language
: 16 "s" words, 14 h*lls, 4 "g*dd*mn," 4 "a" words, 3 d*mns, 3 references for sex ("b*ng," "did someone," "scr*wing"), 1 S.O.B., 1 "J-sus," 5 "Oh my G-d," 1 "Oh G-d"

Alcohol/Drugs
: Charlie has had a drinking problem in the past. Charlie drinks some and gets drunk. Other characters have drinks during the film too.

Blood/Gore
: Throughout the film, we're shown flashbacks, in color or black and white, of an incident overseas where we see some dead bodies on the ground with some blood on their clothes. After being attacked, Claire suffers a black eye. After checking out a local bar, Charlie is attacked and has some blood on his shirt and face as a result. We see some dead bodies in the rubble of a cafe' bombing flashback scene. When a person is shot, we see the slightly bloody bullet hole in their clothing. Later we see them lying on the floor with some blood running from their mouth.

Violence
: We see flashbacks of the murders several times; we see several flashbacks of a café bombing; two men fight in a room; we see a man get beat up outside a bar; Claire gets struck on the head; while a person is driving, another car hits them and poors oil on the road resulting in the other car veering down a hill; a person ties another person up before another person shoots the attacker and then those two people fight.
Disclaimer: All reviews are based solely on the opinions of the reviewer. Most reviews are rated on how the reviewer enjoyed the film overall, not exclusively on content. However, if the content really affects the reviewer's opinion and experience of the film, it will definitely affect the reviewer's overall rating.
To find out why we don't typically review R-rated movies,
click here