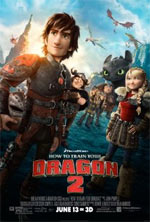 How To Train Your Dragon 2
(Review #1)


- for adventure action and some mild rude humor.
Director:
Dean DeBlois
Starring:
voices of Jay Baruchel, Cate Blanchett, Gerard Butler, Craig Ferguson, America Ferrera, Christopher Mintz-Plasse, Jonah Hill, Kristen Wiig, T.J. Miller, Djimon Hounsou, Kit Harington
Running Time:
1 hour, 42 minutes
Theatrical Release Date:
June 13, 2014
Official Site
Plot Summary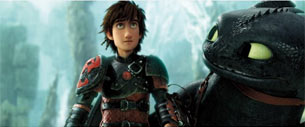 It's been five years since Hiccup and Toothless successfully united dragons and vikings on the island of Berk. While Astrid, Snotlout and the rest of the gang are challenging each other to dragon races (the island's new favorite contact sport), the now inseparable pair journey through the skies, charting unmapped territories and exploring new worlds. When one of their adventures leads to the discovery of a secret ice cave that is home to hundreds of new wild dragons and the mysterious Dragon Rider, the two friends find themselves at the center of a battle to protect the peace. Now, Hiccup and Toothless must unite to stand up for what they believe while recognizing that only together do they have the power to change the future of both men and dragons. (From IMDB.com; Written by Twentieth Century Fox Film Corporation)
Film Review
It's really no secret that DreamWorks Animation has continued to step up their game over the years. Even 2010's How To Train Your Dragon shocked audiences abroad with this unexpected hit about a kid viking who breaks the mold of what everyone expects from a budding warrior-to-be and turns out to befriend the very beast his kind have always fought. Now, four years later, How To Train Your Dragon 2 takes place in the same world of vikings and dragons five years after the first film. The teenager, Hiccup, is now 20 years old and we actually see an aged animated character growing up before our eyes (Much like Andy in Toy Story 3). And with Hiccup's maturity comes a vastly more mature film. The world of Berk is a far cry from what it was at the start of 2010's How To Train Your Dragon, and How To Train Your Dragon 2 really feels like a natural progression of the tale. We now see that the vikings of Berk have changed their ways of life to include dragons in their town as coinhabitants rather than enemies. Hiccup is attempting to dodge the idea of taking over his father's reign as chief of their tribe while exploring new territory with his faithful dragon companion, Toothless, a dreaded Night Fury.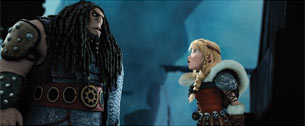 How To Train Your Dragon 2 takes the franchise to new heights in the same way that DreamWorks did with Shrek 2. There's a bit of a darker tone to How To Train Your Dragon 2, but it comes out of the matured aspect of the plot line, not so much an intentional tone for the film; in other words, it never feels like the filmmakers made a conscious decision to make the film "darker." The film opens with a lighthearted dragon race and then we're reintroduced to Hiccup and Toothless who are joyriding and trying out new inventions of Hiccup's that just beautifully illustrate how incredible the bond is between these two characters. We saw the film in 2D and some of the flight scenes were still breathtaking. I was afraid the majestic and epic feel of the original would be worn out with a sequel, but I was dead wrong; Dragon 2 is a huge film with more than just a handful of touching moments, lots of action, and incredible visuals. It wins on nearly every level.
If you've seen the trailer for the film, this won't really be a spoiler, but it's common knowledge, as established with the first movie, that Hiccup's mom had died when he was very young. However, in this film, he has a run-in with a mysterious masked warrior that we soon learn is actually his mom who's been lost for 20 years. From the trailer, it seemed hokey, and even the explanation as to why she's been out of the picture for two decades remains to be anything but water tight, but once we meet Valka, voiced by Cate Blanchett, she's irresistible and you just want her to stay a part of the story. There are some great plot developments and comic relief that help keep the film moving forward, including introducing a brutal, ruthless new villain named Drago (voiced by Djimon Hounsou) who just wants to rid the world of dragons and any of their allies. Things get intense when he's brought into the picture, and it does end up costing the life of a main character that is handled in one of the most heartbreaking ways possible (for these characters). It changes the direction of the franchise and story even more than maturing the characters past their teenage years or introducing Hiccup's mother does, and as sad as the moment is, it's intriguing to see where DreamWorks takes the world of Dragons from here.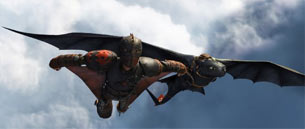 It's truly rare when a sequel exceeds expectations. And maybe it's just as rare when a sequel bests the original. However, one could argue that How To Train Your Dragon 2 really does improve upon the 2010 entry, and director/co-writer Dean DeBlois is near-brilliant in his handling of character and story. His ability to develop his characters in heartwarming and tangible ways is a gift and Dragon 2 is better for it. He also does his best not to repeat the first film too much, and introducing Hiccup's experimentation with flying solo, without a dragon, is exciting as well. But there are plenty of surprises and treats along with way, and it keeps How To Train Your Dragon 2 exciting until the credits roll.
The content is a bit more violent this time around. We see the usual slapstick violence with the dragons being playful or destructive and ultimately kind of cute, but there's also a huge battle involving hundreds of dragons and an army of Drago's vikings that fight Hiccup's gang. During the battle, a major character falls and it's pretty intense. Also, we see an Alpha dragon that changes its pupils to be a creepy, similar to cat eyes, turning the dragons into zombie-like slaves or drones to do the beast's will. This leads to some particularly intense scenes. Some of the dragons will be scary for kids, while the gigantic Bewilderbeasts are especially intimidating. We let our three-and-a-half-year-old see the first 2010 film about a week before the sequel released and he absolutely loved it. Nothing about it seemed to scare him (much to his parents' surprise). He seemed to not mind the creepier or intense scenes in Dragon 2, but it's possible that he might with repeat viewings. There's no language, but Astrid does say "Oh my gods" (yes, in plural form... because they're vikings, remember?) at least once. And there's some brief kissing between Astrid and Hiccup, but nothing inappropriate.
How To Train Your Dragon 2 is a wonderful follow-up to a great animated film and a great summer movie. While it might not be for all ages, it's an excellent sequel for the dragon (and monster) lover in the family. With fantastic music, beautiful visuals, great characters and a good story, How To Train Your Dragon 2 soars.
-
John DiBiase
(reviewed: 6/16/14)
Parental Guide: Content Summary

Sex/Nudity
: Astrid and Hiccup kiss briefly twice. The second time, Gobber shields the eyes of a little boy watching (which wasn't necessary and, therefore, played for laughs); Ruffnut lusts a little after Eret's body and the camera focuses on his muscles a few times as she acts dreamy about his looks.

Vulgarity/Language
: At least 1 use of "Oh my gods" (Plural because of the viking beliefs in multiple "gods")

Alcohol/Drugs
: None.

Blood/Gore
: We see a little scar on Hiccup's chin and then a flashback of a dragon accidentally scraping a small bloody cut on an infant Hiccup's chin; We see a dragon vomit up a pile of half-eaten fish parts, which Toothless then slurps up; We see that Drago is missing one arm and we see the healed-over shoulder stump a few times, which he otherwise covers up with a fake armored arm.

Violence
: Lots of action violence; We see some dragons being destructive while being playful, including Toothless dangling Hiccup over the side of a cliff in order to encourage him to apologize to him; We see dragon races in which they capture and hurl sheep like basketballs; Ruffnut and Tuffnut still beat on each other a little bit; A group of vikings shoot down Astrid's dragon with a net and try to capture it; Hiccup wields a fire sword that he waves around; We see many dragons netted and shot down with tranquilizers several times; A Bewilderbeast spears another one with its tusks. We see it motion them toward the other one (with its body blocking our view) and the camera cuts away before we see the impact and we just see the horrified reaction of onlookers as we realize it killed the other one; We see an alpha dragon entrance many others and cause them to wreak havoc; A dragon fires on a viking while another viking pushes them out of the way. We then learn that the viking that was hit has died; We see a viking funeral in which vikings set a dead body adrift on the water and shoot flaming arrows at it, burning up the vessel; A Bewilderbeast shoots icy breath from its mouth; Drago is a rough, loud, angry viking who hopes to rid the world of dragons and anyone who supports them. He's missing one arm and we see the healed-over shoulder stump a few times, which he otherwise covers up with a fake armored arm; Drago wields a hook-ended spear which he uses to hit/attack some people (including Valka) and bully dragons; A viking goes to kill another viking but a dragon jumps between them to save the victim; Hiccup (and sometimes an actual dragon) sprays a green mist that can be ignited to cause an explosion; Dragons shoot fireballs at a much larger dragon; And other action/fantasy violence.
Disclaimer: All reviews are based solely on the opinions of the reviewer. Most reviews are rated on how the reviewer enjoyed the film overall, not exclusively on content. However, if the content really affects the reviewer's opinion and experience of the film, it will definitely affect the reviewer's overall rating.
To find out why we don't typically review R-rated movies,
click here