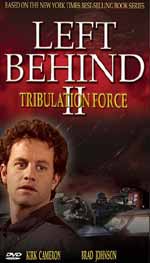 Left Behind II: The Tribulation Force

**Not Rated**
Director:
Bill Corcoran
Starring:
Kirk Cameron, Brad Johnson, Janaya Stephens
Running Time:
1 hour, 34 minutes
Buy It:
FamilyChristian.com
Official Site
Christian Film Database Page
Plot Summary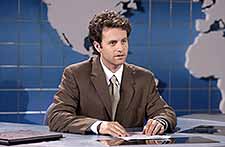 It's a week after the rapture and the millions of people who disappeared into thin air are still missing. Chaos rules the world as panic and grief stricken survivors continue to search for their lost loved-ones. A desperate world looks to the leadership and guidance of UN President Nicolae Carpathia, the only person offering any answers, hope, and plans to restore peace and order. While Carpathia has the world's adoration and trust, he is seemingly unaware of four rebels spreading the truth that he is in fact the prophesied Antichrist of the Bible. Can Buck, Rayford, Chloe, and Bruce help stop Carpathia's evil plans?
Film Review
The inevitable sequel to 2000's underground release of the popular book series, Left Behind: The Movie hit shelves and (very) limited theaters. Christian films have a very bad reputation for low quality and bad production. While Hollywood releases countless filthy and unwatchable feature films, the Christian industry attempts to release replacement films and often fails. While they have their full of faults, the Left Behind movies are among the better of Christian films these days. One can only hope for and anticipate growth in this department. After the wretched outcome of projects like Omega Code 2: Megiddo, projects like The Tribulation Force are triumphs in the Christian film genre.
Compared to its predecessor, The Tribulation Force improves on the film's plot, character development, and most importantly -- acting. Unfortunately, the sometimes cheesy script takes away from scenes that would have greatly benefited from much smarter writing. Occasionally a few witty comments slip in, but it isn't often enough. The supporting cast often either tries too hard or reduces a scene to near laughability. For example, during a church service sequence where Clarence Gilyard offers a powerful performance as the redeemed preacher Bruce, a unreceptive congregation offer overly exaggerated eye-rolls, ridiculous thoughtful expressions and looks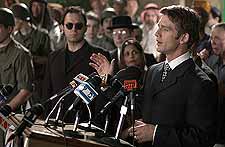 of discontent. It takes a potentially emotional scene and lessens it with poor acting on behalf of the extras. Brad Johnson offers several memorable and powerful sequences the second time around as left behind pilot Rayford Steele while the Antichrist Nicolae is as shrewd and powerful as he was in the first film. Cameron seems more comfortable in his role as Buck Williams in his second try at the part. It was better seeing all of the main characters as Christians throughout the whole film this time around while last time they were struggling inside most of the time.
A few other gripes I had were with the "angelic woman" character that made little sense and was more irritating than a help to the film. Her presence was unexplained and offered a much less realistic tone to the picture. The scene where she is introduced and dumbfoundedly gazes into the face of Rayford is goofy and may have seemed better in concept and not executed as well as it could have been. Another problem was the sequence in Israel offered clearly poor special effects and an almost all-white audience that was supposed to represent natives to Israel. Finally, when the film does close, you're likely to think "That's it??" as the film clocks in at just over and hour and a half. However, it's often a good sign that a movie moves swiftly enough in pace that it seems to end prematurely (unless of course the ending feels unfinished, which here it does not).
So amidst all of these drawbacks, is there anything good about the film? Of course. The film has an extremely strong and unashamedly bold Christian message without being too overbearing or corny. There's plenty of heart here, and that's what redeems the film from its occasional drawbacks.
Overall, the movie was a step above the first one, despite notable flaws. It makes for a good rental and is an encouragement that Christian filmmaking may finally be heading in the right direction. A wholesome film like the original with less violence and a stronger message, you may want to share this one with your family or any fan of the novels. I look forward to the next installment in the Left Behind film series.
-
John DiBiase
,
(reviewed: 1/2/03)
Parental Guide: Content Summary

Sex/Nudity
: None.

Vulgarity/Language
: None.

Alcohol/Drugs
: None.

Blood/Gore
: We see an injured fireman several times who has some dried blood on his face.

Violence
: Some kids who were stealing are shot by police; A man threatens to kill himself and another man with a gun but doesn't; Some guards shoot at some characters but no one is hurt; Some guards catch on fire; a man throws some objects around a room in anger.
Disclaimer: All reviews are based solely on the opinions of the reviewer. Most reviews are rated on how the reviewer enjoyed the film overall, not exclusively on content. However, if the content really affects the reviewer's opinion and experience of the film, it will definitely affect the reviewer's overall rating.
To find out why we don't typically review R-rated movies,
click here