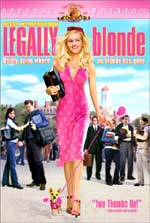 Legally Blonde


- for language and sexual references.
Director:
Robert Luketic
Starring:
Reese Witherspoon, Luke Wilson
Running Time:
1 hour, 36 minutes
Plot Summary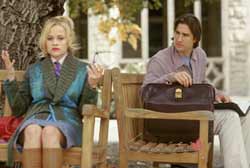 Elle Woods isn't your typical flaky blonde. She may seem materialistic and shallow, but she actually knows more than you'd think. But what she didn't see coming was her law-studying sweetheart, Warner, to dump her the night she expected him to propose. He claims he needs a serious girlfriend if he's going into law school. Elle then goes to desperate measures to win him back-- she enrolls into Harvard along with Warner to try to win him back. So how does a popular, flighty fashion design major fit into the stuffy, straight law school?
This movie surprised me. I went in not expecting too much, and came out uplifted and feeling I spent the 100 minutes in the theater with my fiance wisely. The film wasn't something to write home about, but was certainly an enjoyable viewing. Reese Witherspoon brilliantly plays the ditzy blonde Elle Woods chasing after her stuck up law-studying boyfriend who dumps her for a more "serious" mate. The characters are likable and you certainly end up caring about Elle, how she feels, and what she does. There are a lot of funny and cute moments and the cast is well-rounded.
But not all good comedies these days rated PG-13 can get away scott-free. Legally Blonde is tainted here and there by unnecessary innuendo or crude sexually-related humor. While another court/law-centered comedy, Liar Liar was a lot more blatantly and bluntly crude, Legally Blonde thankfully doesn't cross the line as often as one might expect it to. In fact at times it's so out of left field, you wonder why they even had to include that. The major court case in the film involves a woman accused of murder and the subject of why she would do it brought up many references to a possible affair she was having. This created several jokes and conversation that is unsuitable for a younger crowd, and did nothing but hurt the film rather than help in any way.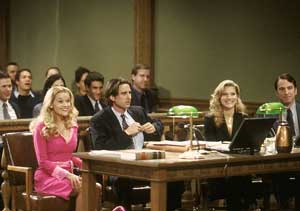 Luke Wilson's character was another plus to the film. Although I admit I'm a fan of his brother Owen Wilson and Luke reminds me of him, Luke does have his own subdued personality that I find to be pretty cool. He did an excellent job as one of Elle's teachers' assistants. The rest of the cast is great even Elle's pet chihuahua, "Bruiser." The movie is funny, cute, and has a lot of heart, but fails to keep the bedroom humor out of the film. With that excluded, we could have one of the best comedies of the year here.
Overall, I thought the movie was good. It should have and could have been a lot cleaner, but it also could have been worse (that's not justification for the objectionable material that is present). Regardless, I found the movie enjoyable (with those objectionable moments disappointing). But I must grant Legally Blonde 3.5 stars. Please read all the content details carefully.
-
John DiBiase
,
(reviewed: 7/20/01)
Parental Guide: Content Summary

Sex/Nudity
: We see some sorority girls in their bra and underwear in one scene and during the film we see some girls wearing mildly revealing clothing but nothing explicit. Comments are briefly made in reference to the male and female anatomy in different instances. A case discussed in a law class involves a "sperm donor." Elle mentions an encounter to Warner they once had in front of Vivian to make him jealous. Later she makes a sexual encounter up to help out a guy who is being turned down by two snobby women. In a court scene it is revealed that a man is gay and after he denies it, his boyfriend storms out of the room. A man makes a pass at Elle. There are a few other sexual references, but nothing all too explicit.

Vulgarity/Language
: 2 "s" words (1 in subtitles), 1 "g*dd*mn," 1 "d*ck," 1 "p*cker," 1 "pr*ck", 4 "b*tch," 2 "t*t," 1 "a-h*le," 9 "a" words, 7 "h*ll," 10 "Oh my G-d," 5 "Oh G-d"

Alcohol/Drugs
: Some people do drink during the course of the film.

Blood/Gore
: None.

Violence
: A murder case is discussed in case, but nothing is scene. Paulette accidentally breaks a man's nose.
Disclaimer: All reviews are based solely on the opinions of the reviewer. Most reviews are rated on how the reviewer enjoyed the film overall, not exclusively on content. However, if the content really affects the reviewer's opinion and experience of the film, it will definitely affect the reviewer's overall rating.
To find out why we don't typically review R-rated movies,
click here