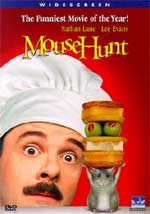 Mouse Hunt


- for language, comic sensuality and mayhem.
Director:
Gore Verbinski
Starring:
Nathan Lane, Lee Evans, Christopher Walken
Running Time:
1 hour, 39 minutes
Plot Summary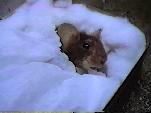 Two brothers, Ernie Smuntz (played by Nathan Lane) & Lars Smuntz (played by the British comedian Lee Evans) are down on their luck when their father (played by William Hickey) dies & leaves them with an old house. They discover that the house may have considerable value & plan to fix it up, but find a mouse living in the walls. They become determined to rid the house of the harmless rodent but the crafty, intelligent animal outsmarts them.
Film Review
The movie, was quite comical. It's compared quite a bit to Home Alone, but I believe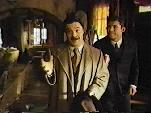 this movie is different and unique enough that it can stand by itself. Ernie & Lars characteristics remind me a lot of the old Laurel & Hardy comedians' similar slapstick humor. The chemistry between these two actors are great! But of course, Hollywood can't keep adult themes out of our movies, as well as unnecessary language (see below). I really enjoyed this film, and the mouse was so cute & lovable despite the havoc it wreaked. It's not really a kid's movie, due to the adult themes. But it is one of the best PG-rated flicks I've seen in years, and I recommend it to anyone who's looking for a bunch of silly, fun laughs.
-
John DiBiase
Parental Guide: Brief Summary of Content

Sex/Nudity
: As Lars is in the factory, part of his sweater is caught in the machinery and unravels all of his clothes. As he runs into his office with only a few balls of yarn covering his crotch, we see that his wife April is waiting for him there in just lingerie. Lars later comments to Ernie that they had sex. A mouse jumps down the front of a woman's shirt, to which Lars puts his hand down to try to get the mouse. Upon seeing Lars do this, another woman grabs Ernie's hand and puts it down the front of hers. Although no one else sees this, the mouse enters Lars' pants. Ernie then bends down at Lars' crotch and states that he will get it out (which sounds sexual to anyone who doesn't know what they're doing).

Vulgarity/Language
: 1 S.O.B., 1 d*mn, 1 h*ll, 1 b*stard, 3 "G-d," 1 "Oh my G-d," 1 "For G-d's sake"

Alcohol/Drugs
: People drink wine at Ernie's restaurant. People drink champagne and martinis at the auction.

Blood/Gore
: None. A guy eats a bug by accident & then they show part of it squirming, not gory, just gross.

Violence
: Lots of it. Mainly slapstick comedy. People getting hit with things, blown up (slapstick style- not dying), etc...
Disclaimer: All reviews are based solely on the opinions of the reviewer. Most reviews are rated on how the reviewer enjoyed the film overall, not exclusively on content. However, if the content really affects the reviewer's opinion and experience of the film, it will definitely affect the reviewer's overall rating.
To find out why we don't typically review R-rated movies,
click here