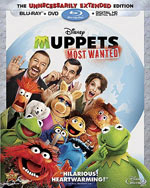 Muppets Most Wanted


- for some mild action.
Director:
James Bobin
Starring:
Ricky Gervais, Ty Burrell, Tina Fey, Ray Liotta, Jemaine Clement, Danny Trejo
Running Time:
1 hour, 58 minutes
Theatrical Release Date:
February 14, 2014
Official Site
Blu-Ray Release Date:
August 12, 2014 (
Amazon.com
)
Plot Summary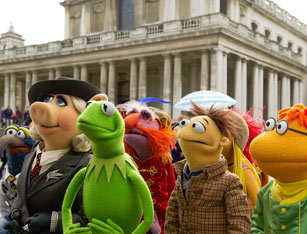 Two Frogs! One Pig! Intrigue! Music! Mayhem! Muppets! There's plenty of fun for the whole family as Kermit the Frog, Miss Piggy, Animal and the entire Muppets gang head out on a world tour. But mayhem follows the Muppets, as they find themselves unwittingly entangled in an international crime caper. Now Kermit is behind bars at the mercy of prison warden Nadya (Tina Fey), and the World's Number One Criminal, Constantine—a dead ringer for Kermit—has taken his place. As Constantine and his dastardly sidekick Dominic (Ricky Gervais) plot the robbery of the century, they are pursued by Sam Eagle and Interpol agent Jean Pierre Napoleon (Ty Burrell). Will Constantine get away with his nefarious scheme? Will Kermit escape in time to save the day? Packed with dozens of guest cameos, new songs and the most extended, most exclusive scenes not in theaters, Disney's Muppets Most Wanted is the most hilarious, most wanted Muppet movie ever! (from Walt Disney Pictures)
Film Review
With the 2011 reboot--or more accurately, continuation--of the big screen adventures of The Muppets, those famed puppets earned another sequel, in the form of this year's Muppets Most Wanted. This new story takes place mere seconds after the events of 2011's The Muppets, with the newly reunited team wondering what to do next. After a clever song and dance number about sequels, The Muppets meet Dominic Badguy (pronounced "Bad-gee," of course), a talent agent eager to take the lovable team on a world tour. But we soon learn that it's all a ruse to cover up a string of heists at each location, with the number one criminal in the world, Constantine--who's a dead ringer for Kermit The Frog--assuming the beloved Muppet's identity. The end result is one big, fun Muppet romp across the globe.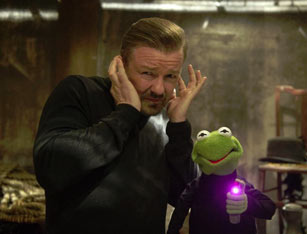 It's an interesting move to start the film immediately after the end of the first movie. When the camera pans down past the backside of stand-ins for Jason Segel and Amy Adams' characters from that movie, it feels really odd that the two main actors in the first film don't even make cameos here. What's also interesting, though, is while the first film focused on Segel's character and his "brother" Walter, who was a Muppet and a huge fan of The Muppet Show, this sequel is solely from the perspective of The Muppet gang, just like the original films used to be, making Muppets Most Wanted a more traditional Muppets movie. Ricky Gervais' Dominic Badguy is the foremost human role in the movie but certainly not the central one, while Ty Burrell plays a French inspector (simultaneously proving he would make a great Pink Panther) and Tina Fey is a guard at a Soviet Gulag. The rest of the human characters are excellent celebrity cameos, whether short or recurring (the latter being Gulag inmates like Danny Trejo, Ray Liotta and Jemaine Clement). The plot isn't as strong as the first one, as the mistaken identity bit has been done time and time again (it was even used in the Garfield sequel, A Tale of Two Kitties). But The Muppets keep it fun and fresh enough here, with excellent songs and the charm of The Muppets and the human players fueling the story. Fey, Gervais, and Burrell put 100% into their respective roles and it really shows. It certainly comes across on screen when the actors are having a blast.
I didn't get the chance to see the film in theaters, but when watching it on Blu-Ray, I chose "The Unnecessarily Extended Edition" to watch. The Extended Edition is only 12 minutes longer, and I can't pinpoint the differences since I didn't see the original cut, but while it did feel a bit long at times, there was never a scene that felt like it had to have been cut before and added in just for the extended. It all felt like it belonged in this movie. But even though it felt a little too long, it never really overstayed its welcome either. It's rare when a movie like this plays its cards just right, and the ingredients making up Most Wanted really benefited the film. Every Muppets venture is bound to be filled with silliness and big song moments and this entry is no different. "The Big House," with Tina Fey singing lead, and "I'll Get You What You Want (Cockatoo In Malibu)," a silly love song (Flight of the Conchords style) from Constantine are the real highlights of the movie. The first song, "We're Doing a Sequel," is a classic Muppets ensemble anthem that sets the tone of the movie just right. All in all, Muppets Most Wanted is just pure fun.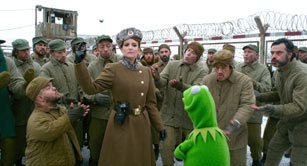 The content for the movie is pretty clean. There's some cartoony violence and such, but nothing really intense. However, the Gulag scenes and some very brief on-set WWII filming footage may be a little much for certain younger viewers (or just surprising at the least). For the most part, though, Muppets Most Wanted is pretty family friendly. One song has the Gulag prisoners starting out with the line "God, I hope I get it!" before a later line says, "Please God, I need this job," making the opening line sound less blasphemous and more like a prayer. While it's more likely the latter than the former, some viewers might find that on the fence, but I got the vibe it was more prayerful than offensive (especially when the rest of the movie went out of its way to use "Gosh" instead of anything offensive). There isn't really any sexual content besides Constantine's wooing of Miss Piggy that isn't explicit or vulgar, and some dance numbers showing women in non-revealing 1930's style outfits or the Gulag inmates in ballet outfits played for laughs. It's nice to see a family film set out and accomplish being just that. By the end of the film, there's an importance placed on the theme of family and friendship that is heartwarming.
Overall, Muppets Most Wanted may fall back on such a tired plot device as mistaken identity and then run a little too long, but for the most part, it's a really fun movie that is a good follow-up to the super fun 2011 film. If you love The Muppets or any of the main human cast, you'll definitely want to see this highly enjoyable globetrotting film.
-
John DiBiase
(reviewed: 8/10/14)
Blu-Ray Special Features Review
Muppets Most Wanted
is available in the usual digital formats to download or stream and in a Blu-Ray/DVD combo pack that includes a legit Digital Copy via iTunes. Along with three versions of the film are just a couple extras. While most people would easily give up bonus features for the chance of getting an extended film, it's still surprising how thin on the bonus content this is.
Three Cuts of Muppets Most Wanted: First off, don't get too excited at the idea of three cuts of the same movie. The theatrical cut is 1:47:20 while the Extended Cut is 1:59:13. The "Statler and Waldorf Cut" (the two film critic Muppets who heckle The Muppets) is literally 1 minute and 42 seconds, which includes a brief intro from them before their "cut" starts. Basically, they introduce their cut of the film, it shows the Disney logo and intro and then it fast forwards through the movie, stops at Statler and Waldorf making the "Die Muppets" play on words joke, and then ends the movie. Otherwise, I don't really know what was added into the "Extended Cut," but I did see some comments online from people who saw the theatrical version and complained about lines that were cut out of some songs, and I recognized those lines as being in the songs in the Extended Cut. So my guess is all or most of the material that fans noticed was missing was added back into the Extended version.
The Longer Longest Blooper Reel in Muppets History (9:45) features The Muppets and the human actors goofing off on set. Some of the best is seeing Ricky Gervais not being able to keep a straight face and just losing it with laughter. It's pretty hysterical. There's also some interview footage where the actors and Muppets goof up on that is not shown in any other feature on here (in other words, there are no bonus features with interviews in it). Overall, it's a pretty good blooper reel.
Rizzo's Biggest Fan (2:47) is kind of a throwaway extra. It shows Rizzo The Rat from our perspective through his computer monitor as he types a letter to the director. He's posing as Rizzo's biggest fan, asking the director to add more of Rizzo to the movie. While he types, he's reading his letter out loud.
"I'll Get You What You Want" Music Video Performed by Bret McKenzie (3:18) is the song portion from the film with Flight of the Conchords' Bret McKenzie singing the lead vocals. Between his white suit and gold necklace and the soulful feel of the song, it's a nice nod to the 80s pop videos of three decades ago.
Surprisingly, that's it for bonus content. The first movie even came with a free digital download of the whole movie soundtrack, but we don't get anything like that here. Still, it's a fun film worth checking out.
-
John DiBiase
,
(reviewed: 8/10/14)
Parental Guide: Content Summary

Sex/Nudity
: They're not really revealing, but we see some dancers during a song in 1930s style swimsuits; Nadya kisses a picture of Kermit passionately until she falls over; We see male prisoners in a Gulag during a dance number dressed in tutus and ballet dancing (played for laughs); At a wedding, while filled with joy, Zach Galifianakis kisses two male Muppets sitting on either side of him.

Vulgarity/Language
: 2 uses of "God" in a song as "God, I hope I get it" that is followed by "Please God, I need this job," making the first uses seem more prayerful.

Alcohol/Drugs
: We see a bar on train in the background of a scene where a human bartender tosses drinks around; During a song, we briefly see a champagne glass on a pillow; We see the Inspector holding a glass of wine while sitting in a theater seat, eating a sandwich.

Blood/Gore
: A skeleton falls throw a hole in a wall (which isn't focused on but may startle some viewers) and the hand comes off when Dominic pulls something out of its hand.

Violence
: During the opening song, The Muppets walk through a film stage where we briefly see some World War scene being filmed with explosions; During the song we see some Muppets shot out of a pair of cannons; Constantine kicks and knocks out several soldiers. We then see a roomful of soldiers that goes dark. We hear kicking and punching sounds and when the lights come back on, everyone is knocked out; We see Constantine flipping around and fighting and knocking out more soldiers. He then pushes a button and blows up a prison; Constantine gets off of a pay phone call and then clicks a button, blowing up the phone; A German sign says "Die Muppets" which means "The Muppets" in German, but The Muppets take it as literally meaning "die" Muppets; A cupcake explodes inside of Beaker's helmet; Constantine slaps Kermit in the face and jumps away. Kermit is then surrounded by law enforcement and thrown into the back of a van; Animal bites Constantine while posing as Kermit; Dominic gets hit in the face with the door; Muppets set off explosions on stage as Dominic bangs a hole in a wall in the theater basement with a sledgehammer; A Muppet is hit in the face as he drives a train with a sign, a hanging bag and a bird; We see Kermit gagged and tied up and then falls over on his face; A Gulag mob grabs Kermit with the intentions of hurting him, but they drop him when Nadya orders them to; Constantine karate chops wood block and throws a Muppet over his shoulder when he startles him; We see an explosion in a wall while bulls reek havoc on stage; Constantine and Dominic smashes multiple statues to find something inside them; A small Interpol car drives through a cafe and some people fall over out of the way of it; We see a song montage of scenes during an interrogation. One of the Muppets gleefully pushes down a lever and blows himself up (not killing himself); Nadya licks Kermit's back and throws him against a frozen wall where he sticks. She then pulls him down when he agrees to help her; We see Constantine karate-chopping more wood blocks; Constantine puts metal jaws in his mouth and chomps at the screen (which may startle some viewers); We see jackhammers on stage during a song whith an explosion under the stage; A skeleton falls throw a hole in a wall (which isn't focused on but may startle some viewers) and the hand comes off when Dominic pulls something out of its hand; Constantine knocks over a Muppet; Nadya tases Tom Hiddleston; Kermit hacks up a hair pin which he said he's had in his stomach for three months; Beaker gets thrown through a church window and lands in the river outside. A bomb explodes on him but he's okay due to the suit he's wearing; Constantine blows the door off a helicopter throwing Dominic out the side of it; Constantine stomps on Kermit's hand while he's hanging on off the side of the helicopter; Constantine holds a gun on Kermit. Miss Piggy then grabs Constantine and bashes him against the inside of the cockpit window repeatedly; We see some artillery explosions and fireworks during the finale at the Gulag.
Disclaimer: All reviews are based solely on the opinions of the reviewer. Most reviews are rated on how the reviewer enjoyed the film overall, not exclusively on content. However, if the content really affects the reviewer's opinion and experience of the film, it will definitely affect the reviewer's overall rating.
To find out why we don't typically review R-rated movies,
click here