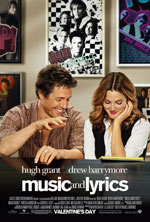 Music and Lyrics


- for some sexual content.
Director:
Marc Lawrence
Starring:
Hugh Grant, Drew Barrymore
Running Time:
1 hour, 36 minutes
Theatrical Release Date:
February 14, 2007
Official Site
Plot Summary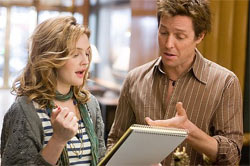 Music and Lyrics follows Alex Fletcher (Hugh Grant), a washed-up 80s pop star who's been reduced to working the nostalgia circuit at county fairs and amusement parks. The charismatic and talented musician gets a chance at a comeback when reigning diva Cora Corman invites him to write and record a duet with her, but there's a problem - Alex hasn't written a song in years, he's never written lyrics, and he has to come up with a hit in a matter of days. Enter Sophie Fisher (Drew Barrymore), Alex's beguilingly quirky plant lady, whose flair for words strikes a chord with the struggling songwriter. On the rebound from a bad relationship, Sophie is reluctant to collaborate with anyone, especially commitment-phobe Alex. As their chemistry heats up at the piano and under it, Alex and Sophie will have to face their fears - and the music - if they want to find the love and success they both deserve. (from MovieWeb.com)
Film Review
With being immersed in the music business, it's interesting when it crosses paths with the likes of the film world, like in the cases with comedies like Be Cool, or in this particular instance, a romantic comedy like Music And Lyrics. The "romantic comedy" is notorious for following an undying formula that is handed down from film to film over the decades that can be spotted from galaxies away. If there's one thing that Music And Lyrics has going against it from the beginning is that it succumbs to that very format.
If you're not sure what I mean, than you may not realize such a formula exists. But if you've seen at least two romantic comedies, you'll realize there's one basic plot structure that each follows and that is: man and woman meet and fall in love, man and woman fight and split, man and woman miss each other and reunite, the end. Sound familiar? It should. The distinctions from one film to the other in this genre is just in how they meet, where the romance takes place, why they break up, and how they get back together. If you're still reading this and feel like I've ruined any surprises for Music And Lyrics, then you haven't watched enough romantic films.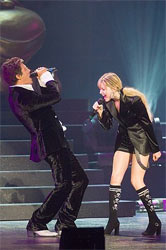 With the gripe over genre redundancy aside, Music And Lyrics is the first-time pairing of romantic comedy veterans Hugh Grant and Drew Barrymore, and I think it's safe to say that it's an inspired one. The two banter intelligently and Grant seems to have his character for these types of films down pat. This time Grant steps into the dancing shoes of has-been pop icon Alex Fletcher who was once part of a sensational 80's act called PoP!, and has since slipped into post-success obscurity. When he gets an opportunity to possibly write a song for, and perform with, the world's biggest pop star, Cora, he randomly meets Sophie Fisher who he believes to have a natural talent for songwriting and doesn't know it. Grant sort of plays the same kind of character he usually plays in this kind of film, but he does it convincingly as the charming once-was pop star. Barrymore's Fisher is slightly more harried and maybe even more human in a lot of ways than most of her characters in her other romantic comedy appearances, however I'm not sure Sophie was explored to her full potential. While we get some background on both Alex and Sophie, a tense and complex previous relationship for the latter is revealed as a subplot but seems to be given a quick resolution that seems a bit incomplete. Regardless, it's the relationship that blooms between Alex and Sophie that is the film's main point and it's developed quite properly, if not mercilessly near-painless - even when they inevitably hit the expected separation point later in the film, it is ultimately brief in comparison to other similar films.
One random fact entirely worthy of note as well is the fact that Grant and Barrymore sing all of their own vocals in the film and it's quite impressive and fitting for the film. While I can't say they deserve recording contracts, the fact the provide their own pipes makes their characters more real.
The film is as much a satire of the modern pop music world as it is a romantic comedy. In fact, I think I appreciated the digs at the shallow existences of Britney and Christina by morphing the two together - along with a heavy dose of Shakira - to form the world's biggest fictional pop star, Cora. The pop giant even has a naive attachment to the Buddist religion that is a near mockery of it and the linking of pop with religious exploration - much like Madonna's infamous dabblings in Kabbalah. Whether it means to or not, the film shines a spotlight on the downhill spiral of the pop music world as its transition from the fluffy and fun to the polluted and perverse. A scene in the film that is aimed for full-on comedy shows Cora taking a sensitive ballad and dirtying it up with rap verses and sexy dance moves, but is actually painfully true and reveals a clash of the old pop world and the current one. In a later scene where Sophie offers a motivational speech to a discouraged Alex about the joy pop music can bring to its listeners, it reveals just how terribly far the world's pop culture has strayed from its original intentions. Of course, that's not to say it was all perfect and rosy, but it's a safe bet to say that things have gone down hill drastically. The whole conflict between art versus album sales also comes to light with a sad but true remark from Alex about the music business still being just that - a business. It's a fact that sadly plagues all areas in the music industry.
The content of Music And Lyrics is quite surprising. There is a delightfully shocking lack of profanity in the film with the extent being just one usage of "b*tch" in a lyric and a few variations of "Oh my G-d." With most movies in the genre having swearing in either casual or confrontational settings, it was a breath of fresh air to find none of that to be included here. The only content that's worthy of caution is some of the sexual content. A few comments are made here and there that aren't too bad, but it is also made clear that Alex and Sophie sleep together (we see them kiss and fall out of the camera's view and wake up on the floor together the next morning). Finally, Cora is shown scantily clad on (and off) stage in several different instances as she dances seductively and in a sexy fashion with similarly dressed dancers on stage. A lot of it is exaggerated as it mocks the Christina's and Britney's, but it's still present nonetheless.
I found Music and Lyrics to be one of the better romantic comedies to come around in awhile, and one that focuses a lot more on story and humor than profanity and sexuality. There still remains enough to warrant a red flag in the latter's case, however. The film sticks to the predictable romantic story formula a bit too much which ultimately hurts its outcome, but the chemistry between Grant and Barrymore and the smart writing makes for an entertaining film regardless.
-
John DiBiase
(reviewed: 3/3/07)
Parental Guide: Content Summary

Sex/Nudity
: A few brief conversational references are made, but nothing especially explicit; We see Chris's date wearing a low cut dress and later see Sophie wearing the same cleavage-revealing dress; Sophie tells Alex she had an affair with an author who hadn't told her he had a fiance' and ditched her when the fiance' found out; Alex and Sophie passionately kiss and fall out of camera-view to the floor where the scene ends. The next morning we see them lying together under a piano where Alex is shirtless and Sophie has a blanket around her. Alex tells Chris they slept together which causes Chris to repeat the news aloud in shock (with people stopping and looking at him); Sophie tells her sister that she slept with Alex; A credit montage shows Alex's and Sophie's bare legs sticking out from under the piano as they lie next to each other; We see Cora in several scenes wearing cleavage-revealing attire and dancing seductively on and off stage, along with other dancers doing the same; A famous dance move the guys in PoP and Alex often does involves pelvic-thrusting, but it's all done played for laughs

Vulgarity/Language
: 1 "b*tch," 4 "Oh my G-d," 9 "G-d"

Alcohol/Drugs
: Some people are seen with casual drinks during the story.

Blood/Gore
: None.

Violence
: Alex and Sloan push each other and the latter pushes Alex's face onto a table
Disclaimer: All reviews are based solely on the opinions of the reviewer. Most reviews are rated on how the reviewer enjoyed the film overall, not exclusively on content. However, if the content really affects the reviewer's opinion and experience of the film, it will definitely affect the reviewer's overall rating.
To find out why we don't typically review R-rated movies,
click here