I was about two years old when the original TRON hit the big screen. I vaguely remember seeing it either on VHS or TV while growing up, but I think I played the video game spin-offs from the film more than actually seeing the film. In early 2010, I rewatched the original film in the convenience of my own home; I remembered pretty much nothing from seeing it before, so it felt like I was watching it for the first time. TRON, in 2010, felt almost painfully dated, but for the time it was made in, it's an incredible film and an accurate representation of the early 80s and what computer technology was like back then. It might be humorous to watch now but it was ahead of its time for how advanced computers would become. Just comparing the visuals between the two TRON films is a testament to that.

Jeff Bridges is great as the fun and spirited programmer Flynn. It's sad to see how Kevin ends up in Legacy (i.e. being trapped in the computer since 1989), but it makes for a decent story and for his legacy to carry on through his son. In TRON, the title character and Bruce Boxleitner's Alan have a much more central role. There's also more emphasis placed on the difference between "users" and "programs." The metaphor goes so far as to have the programs believing that their users created them, while the evil opposing forces try to debunk and discourage such beliefs. Tron himself takes on a sort of "savior" role as well, creating an even deeper God and creation likeness for the story.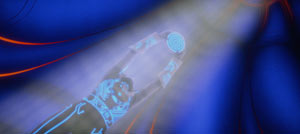 To anyone more accustomed to big blockbuster action movies with brilliant effects and almost no story, the original TRON is nothing they'll ever want to see. In comparison to such films, it's slower in pacing and more character-driven. Also, the effects, by today's standards, are like trying to get a kid who is accustomed to playing his Playstation 3 all day to drop it for an Atari system. You probably would have to have grown up with this style and imagery to fully appreciate it. Content-wise, the movie is pretty family friendly. There's just a little bit of language with about three uses of "d*mn," but that's the extent of any kind of profanity (one of the programs even says "Oh my user" at one point instead of "Oh my G-d").

In Blu-Ray high definition, the movie has really never looked better. The color is punched up and vibrant, which helps make the real-world scenes look less aged, while the digital world looks much more vibrant. It's a good sci-fi film, but viewers will really have to get past the dated visuals to enjoy it. Seeing both movies together creates a complete story, so if you really enjoyed Legacy, it's worth a watch to check out the original TRON -- just make sure you get your mind set on when this film was created. TRON truly was ahead of its time.

- John DiBiase, (reviewed: 4/2/11)

Blu-Ray Special Features Review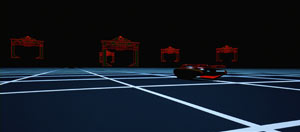 This is the very first time TRON is available in high definition and it's never looked so good. The Blu-Ray disc for the original TRON has its own array of bonus goodies, including everything that first appeared on the previous DVD release of the film (unfortunately, those special features are NOT in HD and look a little crummy on a nice TV, but it's great to have them included here at all).

The TRON Phenomenon (9:45) - This features the cast and crew from TRON: Legacy talking about the impact that the first film had on pop culture. Original writer/producer/director Steven Lisberger talks about what it was like to make the film back then in the early 80's and the "mystery" that computers were to people at the time. The featurette goes into how the original film was made and how much it has impacted the special effects world that we know of today. It's cool to see some archive footage of the process that was used to make the light suits in the original film -- and how primitive the computer animation was back then.

Photo Tronology (16:37) - Steven Lisberger takes his son Carl to the Disney movie archives where they break out some old binders that have a photo chronology of the making of the original TRON. Steven and Carl both reflect on the experience of making the film, and for Carl, growing up in his father's "legacy" of having created such an influential film.

Audio Commentary - There's a feature-length audio commentary from Steven Lisberger, Producer Donald Kushner, Associate Producer and Visual Effects Supervisor Harrison Ellenshaw and Visual Effects Supervisor Richard Taylor.

Original DVD Features - There are a slew of features from the original TRON DVD release, including "Development," "Digital Imagery," "The Making of TRON," "Music," "Publicity," "Deleted Scenes," "Design," "Storyboarding," and "Galleries." The downside to these is they're all in standard Definition and don't really look that great blown up on a nice-sized HD screen. The Deleted Scenes involve a deleted "love scene" between Tron and Yori. It's bizarre and probably a smart omission from the final film. The Making-of feature is just under an hour and a half and a pretty extensive behind-the-scenes look at the movie. I would have liked to have seen something like this made for Legacy.

- John DiBiase, (reviewed: 4/3/11)
Parental Guide: Content Summary

Sex/Nudity: Flynn sarcastically asks Alan if Lara still leaves her clothes on the floor (a reference to Kevin and Lara possibly living together before)


Vulgarity/Language: 3 "d*mn"


Alcohol/Drugs: None


Blood/Gore: A character is hit in the head with an identity disc and we see colored digital bits fall out (like pixel fragments)


Violence: When players fight in the games, a few programs die in a burst of light; CLU is captured and briefly tortured. We see him screaming while being sort of electrocuted and then he's derezzed; We see cycles crash during the games; Another program is electrocuted like that; Kevin fights some programs briefly; Kevin pilots and crashes a recognizer; Tron hits a program in the head with his disc, causing bits of data to spill out

Disclaimer: All reviews are based solely on the opinions of the reviewer. Most reviews are rated on how the reviewer enjoyed the film overall, not exclusively on content. However, if the content really affects the reviewer's opinion and experience of the film, it will definitely affect the reviewer's overall rating.

To find out why we don't typically review R-rated movies, click here