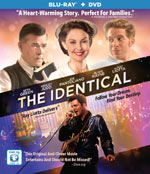 The Identical


- for thematic material and smoking.
Director:
Dustin Marcellino
Starring:
Blake Rayne, Ray Liotta, Ashley Judd, Seth Green, Joe Pantoliano, Brian Geraghty, Chris Mulkey, Amanda Crew, Erin Cottrell, Danny Woodburn
Running Time:
1 hour, 46 minutes
Theatrical Release Date:
September 5, 2014
Official Site
Christian Film Database Page
Blu-Ray Release Date:
January 13, 2015 (
Amazon.com
)
Plot Summary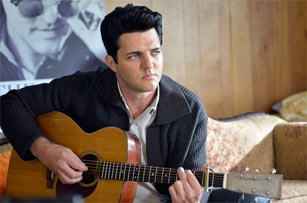 THE IDENTICAL tells the compelling story of twin brothers unknowingly separated at birth during the Great Depression. DREXEL HEMSLEY becomes an iconic 50?s rock 'n' roll star, while RYAN WADE (Blake Rayne) struggles to balance his love for music and pleasing his father. The Reverend Wade (Ray Liotta) and his wife (Ashley Judd) are sure their adopted son has been gifted and called by God to be a preacher. But Ryan challenges his parent's vision for his life, and unflinchingly chooses to launch his own music career with his best friend (Seth Green). Encouraged by his wife (Erin Cottrell) and employer (Joe Pantoliano), Ryan embarks on an unpredictable, provocative path – performing the legendary music of Drexel Hemsley in sold out venues all across the country. As the brothers destinies tragically collide, Ryan discovers that Drexel is his identical twin which leads him to question everything he's ever believed about God, family and his own identity. (from TheIdenticalMovie.com)
Film Review
Christian films, also often-dubbed "faith-based" films, are a tricky business. In most cases, zealous believers are working behind the scenes to piece together a motion picture that can not only inspire, but hopefully win souls for Christ. New music-driven family film The Identical isn't exactly a "Christian film," but the folks behind the film, including director Dustin Marcellino, set out to instill the story with Christian values without coming across as too forward or overbearing. In the end, The Identical presents Christianity in a genuine and realistic fashion, even if the story tends to lean a bit too much toward the fantastical.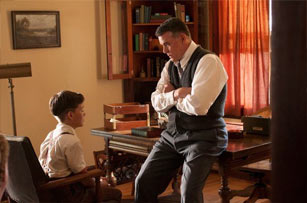 What many Christian films seem to miss when it comes to making a quality production is a really good story with really good acting (not to mention a natural way of presenting the gospel). While Hollywood productions have proven time and time again that having celebrated actors in a movie doesn't ensure great performances, The Identical is a stronger movie for having the presence of talent like Ray Liotta, Ashley Judd and Joe Pantoliano. Their acting just seems effortless, and it helps newcomer Blake Rayne step up his game in his scenes. This is Blake's first acting gig, and while it'll be his singing voice and music that will be talked about first and foremost before his acting talents, he still turns in a good enough performance to carry the film. He also fits the look and feel of this period film nicely--which borrows from the vibe of Elvis Presley heavily--and his voice makes the original songs in the film really pop. Rayne plays a dual role as twin brothers separated at birth, with the film's main character being Ryan Wade. Ray Liotta plays a preacher in the film who raises Ryan and has hopes he'll follow in his footsteps as a preacher. Meanwhile, the other brother, Drexel, becomes a nationwide musical superstar. The theme of the film is primarily about following God's Will and His call on our lives and Liotta's character is really the catalyst for this theme. While Liotta plays Reece Wade as a no-nonsense traditional preacher, Reece isn't demonized either, like some films tend to do with old-fashioned preachers who can't ever accept change and twist the Word of God to support their own agenda (um, Footloose anyone?). Liotta brings a great deal to the role of Reece, fleshing out his character in realistic and sympathetic ways. I just loved him in this. Joe Pantoliano doesn't have a very big role, but it was nice to see him play a good guy for a change. I loved him in The Fugitive (and its so-so sequel) and have enjoyed seeing him in several films since then, but he seldom plays a nice guy. He helps brighten the scenes he's in here.
Setting the movie during the birth of rock n' roll, making it a period piece, is a nice touch too. The production values are very good, which only adds to the overall experience of the movie. All of the songs in the film are originals, too, which is impressive in its own right, but they're pretty decent songs as well. The songs span several decades and different styles of music, all while supporting the theme of pursuing God's call for Ryan's life. The 2013 film Grace Unplugged had focused on a girl who rode the success of her one-hit-wonder father's hit song by covering it herself, but was unable to write her own music. Her journey was a bit of a prodigal story, as she ran away from God instead of toward Him. By the end of the film, however, when she'd surrendered to God, she's shown opening for Chris Tomlin and singing a worship cover she didn't write. It sends a rather mixed message about what it means to serve God and the idealistic view of "if you're a musician and you follow God, your first real gig will be opening for a Gold-record-selling Christian music mega-star." Sure, anything is possible with God, but it felt like the story took the easy way out with an unrelatable ending. In The Identical, Ryan wants to pursue the musical gifts God had given him, but he ended up settling for making a name for himself first while covering his brother's hit songs in concert (and he didn't even know he's his brother). His dream, however, was to sing his own songs live in front of an audience. And he was not wrapped up in pursuing success; he just wanted to do what he felt he was put on this earth to do - sing his own songs. Ryan's determination is inspiring, and the fact that he never really is immature or whiney about wanting things his way, makes his story all the more endearing. He's the underdog here, and as things don't quite get wrapped up neatly with a bow in his life (especially regarding his biological family -- which also make for some of the movie's strongest moments), it just makes you want to see the guy succeed even more.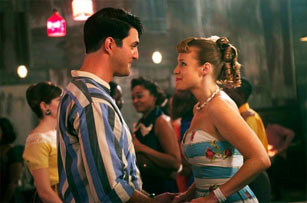 The content for The Identical is quite tame. Ray Liotta's preacher character says "Oh my L-rd" at one point (upon hearing Ryan playing Drexel's single endlessly in the house), and there's one use of "h*ll." There's a little drinking in some scenes, but the main character pretty frequently does not drink when around it. There's some mild violence that includes a cop slapping Ryan and punching him in the stomach when the cop busts up a party in a club, and a character has a heart attack while another dies in a plane crash (not seen, although we do see some news footage of the wreck). Thematically, the film is emotional, dealing with adoption, loss of family members, and tension between an adult child and his parents. It's mostly a feel-good family film with heart, and it's refreshing to see one as well-made as this one.
While not perfect, The Identical certainly improves up on the faith-based family film model with good music, an impressive cast for such a film, an inspiring story and good direction. The theme of pursuing God's call on your life is a great one too, and the movie never feels preachy in its handling of faith and Christianity. It may feel the most genuine of faith-based films that I've seen in some time. The Identical is much better than I expected and highly recommended for fans of Elvis, classic rock, movies chock-full with music and inspiring dramas.
-
John DiBiase
(reviewed: 9/1/14)
Blu-Ray Special Features Review
In addition to the usual digital video providers, you can get
The Identical
in disc form through a single-disc DVD and a Blu-Ray/DVD combo pack. Neither comes with a digital copy of any kind, however (which means Ultraviolet too). The quality of the transfer is wonderful, so the HD release is worth springing for. Along with the feature film are the following extras on the Blu-Ray disc:
The Making of The Identical (20:35) - This isn't quite what it sounds like, but it's still quite good. For this twenty-minute video, director Dustin Marcellino talks about how the film came together, what production was like, and shares about the special effects and some things that were cut from the film. He mentions how they really needed 5 months to shoot but only had 35 days to complete the film. He also shows part of a deleted scene that involved animatronic premature babies and how they hired a robotics specialist named John Nolan to create them. We also see a few special-effects-pass shots that were made to flesh out backgrounds in some scenes. The director also talks about the cast and what they brought to the story. The featurette ends with a production photo slide show set to music.
Behind The Scenes with Cast Commentary (14:43) - This, again, isn't what you might expect. This is a collection of cast interviews with the main cast reflecting on their respective roles and the story. Ray Liotta opens this segment and talks about how moving the script was to him and how he just felt he really needed to be a part of it. He said that, to prepare for the role, he started reading the Bible and admits he had never read it before. It actually got him praying about his role before acting out scenes. The rest of the core cast talks about their roles and then it ends with production footage set to a song.
The Music of The Identical (5:32) - This is a brief sampler of the songs as they appear in their scenes in the movie, and then we hear from the crew talking about writing them specifically for this film. We also hear from the songwriters--who have an impressive history in the music industry--about the writing process and their inspirations for the songs and styles used.
Zaxby's Promotional Video (4:03) - This is an odd one. Being on the east coast, I've never heard of Zaxby's, but apparently it's a restaurant chain. For this video, a race car driver, who's sponsored by Zaxby's, is approached by The Identical's Blake Rayne who has been tasked to test drive the race car. He then does a lap or so and then the race car driver takes him to Zaxby's for a sandwich. It ends with a brief montage of scenes from the film as a commercial.
Deleted Scenes (15:56) - There are about 10 deleted scenes. The first shows the Hemsleys trying to figure out how to financially make it work to support two babies. Next, we see Ryan fishing as a kid and when the rod falls into the river, he jumps in after it. When he comes out of the water, he's an adult. He comes home to show off his catch and finds his parents talking with a member of the staff at his father's church. He's told there's a place for him at the church whenever he's interested. In the third sequence, Ryan unknowingly passes his biological father on the hospital steps when leaving. Next, Ryan approaches his father in church, looking for his blessing for his musical career. Next, Seth and Ryan have a conversation on their tour bus about what Ryan really wants to do with his music career. After that, we have a two-scene sequence where Jenny cares for premature twin baby girls as a nurse in the hospital. In the second part of it, one premie is sick and dying and she decides to reunite it with its sibling. The baby stabilizes when she's placed next to her sister. Next, we see Ryan screaming up at Heaven, asking God where He is. We then see him asleep in his car where a cop finds him and asks him why he's sleeping there. The second to last deleted scene is Ryan calling Jenny late at night from his hotel and they express how much they miss each other. Finally, there's a concert performance of the song "G.I.R.L.S." For the most part, all of these cuts where smart to have left out of the finished film.
-
John DiBiase
,
(reviewed: 1/11/15)
Parental Guide: Content Summary

Sex/Nudity
: None. We see some girls in 1960s 2-piece bathing suits.

Vulgarity/Language
: 1 "Oh my Lord," 1 "h*ll"

Alcohol/Drugs
: Hemsley pours himself a drink while riding in a limo; We see people smoking and drinking at a dance; Dino drinks a beer at another party; A cop busts one of these parties for weed and under age drinking; People have drinks at a banquet; We see Drexel drinking on a plane; Ryan has a whiskey in a bar. He trades it for soda and another man takes it.

Blood/Gore
: None.

Violence
: A police officer slaps Ryan across the face and punches him in the stomach; Ryan collapses when a horrible event happens; A plane crashes and we hear about it on the news. We see some news footage of a burning plane wreck; A man has a heart attack and collapses; Ryan bangs his fist on a dresser in frustration
Disclaimer: All reviews are based solely on the opinions of the reviewer. Most reviews are rated on how the reviewer enjoyed the film overall, not exclusively on content. However, if the content really affects the reviewer's opinion and experience of the film, it will definitely affect the reviewer's overall rating.
To find out why we don't typically review R-rated movies,
click here