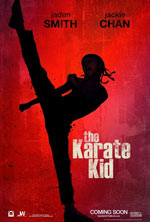 The Karate Kid


- for bullying, martial arts action violence and some mild language.
Director:
Harald Zwart
Starring:
Jaden Smith, Jackie Chan
Running Time:
2 hours 6 minutes
Theatrical Release Date:
June 11, 2010
Blu-Ray/DVD Release Date:
October 5, 2010 (
Amazon.com
)
Website:
karatekid-themovie.com
Plot Summary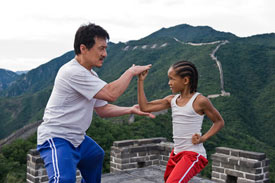 In Columbia Pictures' The Karate Kid, 12-year-old Dre Parker (Jaden Smith) could've been the most popular kid in Detroit, but his mother's (Taraji P. Henson) latest career move has landed him in China. Dre immediately falls for his classmate Mei Ying - and the feeling is mutual - but cultural differences make such a friendship impossible. Even worse, Dre's feelings make an enemy of the class bully, Cheng. In the land of kung fu, Dre knows only a little karate, and Cheng puts "the karate kid" on the floor with ease. With no friends in a strange land, Dre has nowhere to turn but maintenance man Mr. Han (Jackie Chan), who is secretly a master of kung fu. As Han teaches Dre that kung fu is not about punches and parries, but maturity and calm, Dre realizes that facing down the bullies will be the fight of his life. (from MovieWeb.com)
Film Review
It's been twenty six years since the very first Karate Kid film (and 16 years since the fourth film, which introduced Hilary Swank as "The Next Karate Kid"), so although it's nearly thirty years since the franchise was born, it still seems a little odd that Hollywood is aiming to reboot the series by starting over again. In truth, I barely remember the first film (I probably haven't seen them since they released in theaters or at least maybe on VHS), so it's difficult for me to draw direct comparisons to the original. But I do recall a lot of the basic framework for the plot, and the new Karate Kid uses that as a base for its updated story. No character names are reused here, and instead of it being an Italian teenager moving from Jersey to California, we have an African American boy relocate to China where the titular "karate" is actually replaced with kung fu (which makes the film's title obsolete in actuality... but that's being nitpicky, no?). Instead of having an actor who doesn't know karate play a man who can teach a naive youngster the ways of karate, kung fu master Jackie Chan steps in to show off his God-given skills and teach Will Smith's son Jaden the art of kung fu. The end result is a truly legit kung fu action drama about a kid who learns to defend himself - and his honor - by learning kung fu. And this story even goes as far as to delve deeper into the very friendship between the kid and his mentor.
To date, Jaden Smith's on-screen performances have been hit and miss -- but in all fairness, the same can be said for most actors and actresses. His debut, The Pursuit of Happyness, had Jaden supporting his actor dad Will and proved that the kid had some potential. The Day The Earth Stood Still remake in 2008 counteracted that fact, unfortunately, as Jaden's performance was more irritating than strong or convincing. However, The Karate Kid sets the record straight and helps cement the young actor as a force to be reckoned with - like his father - giving the little Smith a whole lot more to do (and work with) than his two previous films. Jackie Chan is fantastic in one of his most serious roles of his careers (if not his most serious role), trading in his lighthearted charm and humorous fighting style for a straight face and even tears. Chan finally gets a script that stretches him as an actor and he certainly makes good on the challenge presented to him. He's a bit quiet, fragile, and mysterious as Mr. Han, but when we find out just why Han is the way he is, both Smith and Chan together create one of the best moments in the film.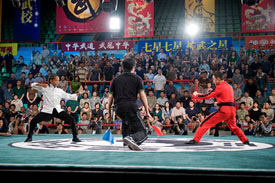 Although well-acted and scripted (and directed), The Karate Kid isn't without its flaws. The movie's very biggest problem, unfortunately, is its length. At just over two hours, the film tends to drag at times - especially before we get to the student/mentor relationship of Dre and Han (and even then, the jacket-hanging scenes can only go on for so long). While every really good story gives the audience ample time to get to know the characters and to build up the plot, it's important to choose your means of doing this wisely. Some directors forsake plot for eye candy or non-stop action (almost anything Stephen Sommers has done after the first Mummy film, for example), while others don't realize when too much story begins to kill the pacing. Harald Zwart (who last worked on the underrated and fun Pink Panther 2) probably could have cut a good fifteen to twenty minutes from The Karate Kid without hurting the film. But with it as it is, The Karate Kid still works, it just moves slower than it probably should. The other drawback to the film is the emphasis placed on the bullying Dre endures from the kids in school in China. It's essential to the story, but it's kind of painful to watch at times, and anyone who has ever been picked on or harassed shouldn't find it too difficult to relate to Dre here. Lastly, there's just a little bit of language here - Dre says the "a" word a couple times (but is actually refreshingly instructed by Mr. Han not to say it), and he also uses "d*mmit" once, as well as a couple uses of "G-d" or "Oh my g-d." The ending includes quite a bit of tournament-style kung fu violence - some "ouch"-inducing to watch too - while some of the other bullying scenes merely consist of Dre getting walloped by a couple of his peers. Chan also gets a significant sequence where he uses his classic, signature fighting techniques to defend himself against six or so kids trying to attack him, mainly causing the kids to accidentally beat each other up in the process. Priceless.
Fans of the original may be surprised with what they find here in the 2010 remake. I admit I wasn't thrilled at the idea of it being remade or casting Jaden in the title role, but the end result is impressive. Also, its box office success is already sparking talk of a sequel, and if it's anything like this one, it'll be well worth checking into. Casting Jackie Chan as the teacher here is inspired casting, and Chan turns in what is quite possibly his best performance to date. And if this film is any indication of what movie goers can expect from Jaden Smith, it's looking like the apple didn't fall too far from the ol' "Big Willie" tree.
-
John DiBiase
,
(reviewed: 6/26/10)
Blu-Ray Special Features Review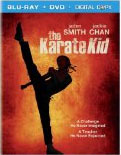 For 2010, with the help of Will Smith and his family, Sony relaunches the Karate Kid franchise with a new approach to the 80's classic (like kung fu instead of karate) and boasting the star power of Jackie Chan and the on-location filming of historic locations in China. The end result is impressive and a successful reboot. When the film is brought home in HD with the Blu-Ray release of the movie, fans can get the movie in a combo pack that gives moviegoers a deeper look into the making of the 2010 Karate Kid.
Alternate Ending (3:32) - Exclusive to the Blu-Ray release of The Karate Kid is a three-and-a-half minute alternate ending (There may be some spoilers here if you haven't seen the theatrical film). The Alternate Ending is shown by itself and features the rival student trainer attacking Jackie Chan's Mr. Han, causing the two to launch into a one-on-one fight that takes them around the ring and even into the bleachers. It's slightly over the top and doesn't really fit the tone of the movie (or the ending), but I've always found Jackie Chan's fighting style very entertaining and this scene is a fun watch for any Chan fans. But because The Karate Kid remake isn't about Chan's character, it makes more sense to have left this ending out and I'm glad that they did.
On Location: The Karate Kid Interactive Map of China - This section features three key China locations: The Wudang Mountains, The Great Wall and Beijing. The Chinese locations are narrated by director Harald Zwart and the footage includes a lot of behind-the-scenes moments, with Zwart giving some cool trivia info as well. For example, during the Wudang Mountains segment (4:24), the director reveals that, because Jackie Chan experienced bamboo pole training by a lake from his master in one of his first films, Zwart wanted to include something similar in The Karate Kid, with Chan passing it on to his student. The Wudang featurette also shows how they filmed the "snake lady" scene and it's all pretty intriguing footage. The Great Wall segment is broken up into two parts. The first part (1:35) shows how they were able to get the footage taken on top of the Great Wall while Jackie was training Jaden, and the second part (4:45) takes us inside brand new studios that were built in China. It turns out that The Karate Kid was actually the first to use many of the studios on the lot. Zwart then takes us to each set they built from scratch -- some that are very surprising to learn that are just sets and not real locations - and we see a lot of great on-set footage here. Lastly, Beijing is broken up into five segments. The first, "Beijing Shaolin Wushu School" (1:34) reveals that they shot at a real school, but chose only pieces of it to show in the film. "Feng Tai Sports Arena" (2:05) focuses on filming the finale, while "The Forbidden City" (1:05) shows a little bit of what it was like to film there (anyone remember The Forbidden City from Chan's Shanghai Noon?). "Olympic Park" (0:55) talks about visiting the modern architecture, and Zwart talks about the difficulties of filming in the water fountains. "Beiying Film Studios" (2:36) reveals that Han's maintenance room is actually the real maintenance/props department at the Beiying Film Studios. This segment also shows how they filmed the playground fight.
Production Diaries (29:44) is hosted by Jackie Chan, starting out with how they trained Jaden Smith for the role. Here we meet Jaden's traimer, Gang Wu, who spent three months working with Jaden. The next segment is "Jaden Smith: A Day In The Life," which features Jaden narrating how a normal shoot day would go, with clips from an actual day (the playground fight scene). Smith clearly has a loaded schedule on each filming day and this walks us through it with him. Next is more about filming in The Forbidden City. In this section, Zwart talks about how difficult it was to get permission to film there, and we see some great on-set footage with Jaden and his father, Will Smith. "From Jackie With Love" focuses on the Chinese celebrity's involvement in front of the camera and behind it. Jaden and Zwart both express their love and admiration for the actor here. Jackie then introduces the next part that revisits filming on The Great Wall. It's a more personal and intimate look at the experience than in the "Map" featurette, but it's a little curious why all the footage from the similar segments in the previous feature weren't just merged together with these. "Olympic Village" shows a little more of, again, what we saw earlier of the filming of the "date" sequence. We get to see more behind-the-scenes footage here as well. "Director's Profile: From Model to Movie" is a really cool portion that shows the director, Harald Zwart, in his house in November of 2008 after he built a model of what Mr. Han's house might look like in the film, and then it cuts to him standing on set inside the courtyard of the life-size movie set version of it after it's been built. It's short, but it's neat to see Zwart's vision come to life. "Taraji P. Henson Goes To China" showcases Taraji, who plays Jaden's character's mom in the film, and her experience in making the film, taking the role, and working on location in China. "Wudang Mountains" is introduced by Jackie Chan, with him sharing the tidbit that the crew climbed 2,000 steps to the Wudang Mountains every morning they filmed there. It expounds upon the other featurette and features more of Will Smith on set with the crew (even teasing Jackie a bit while filming the bamboo pole training scene). Jackie then offers some final words to the camera about the importance of Kung Fu before this featurette is officially over.
Chinese Lessons is a list of different moments in the film where Jaden is learning Chinese or other characters are speaking it. It cuts from film clips to lists of words or phrases with English and then a Chinese translation, with a little girl's voice narrating how to pronounce it. It's neat if you want to dabble a little in the Chinese language (It even shows the written Chinese characters if you want to learn how to write it in addition to speaking it). It also will help fans understand the language used in the movie a little more too.
Music Video: Justin Bieber Featuring Jaden Smith "Never Say Never": Unfortunately, this is exactly what it sounds like. Only tweens will really be interested in this one.
Just For Kicks: The Making Of Karate Kid (20:09): Starting from the original pitch of recreating the 1984 classic, The Making Of Karate Kid is much more of a look into how this remake was inspired and inevitably got off the ground. Even the producer, Jerry Weintraub, thought it was a bad idea to remake the film at first, but the end result clearly works as a separate entity to the original, and he admits he was wrong after seeing the final product. Here we see some great footage from the original Karate Kid as they talk about the two separate films. It's cool to see, when comparing the "wax on, wax off" sequence from the original to their approach in the new film, original footage of the director asking Jackie for a new idea and Jackie pitching the "jacket on, jacket off" motion that Mr. Han makes Dre do. The rest of this featurette quickly runs through all of the locations and moments the other featurettes focused on, but spends less time on each one. If you have to watch just one behind-the-scenes featurette, this would be the best one to see, however, all of the others add more trivia, details, and tidbits of info that this one more or less skims over. The highlight, in addition to the pre-production opening, is really the close of The Making Of Karate Kid, when it focuses on James Horner's original scoring of the film. Horner talks about his work on the film a bit and we even get a look into the studio during a recording session. I would have liked to have seen this Making-Of combine more of everything to be one, longer subfeature (kind of like what's featured on the recent Iron Man 2 release), but it still is a nice, abridged look at what went into making the new movie.
In the end, tacking on a DVD and digital copy of the film makes the HD Blu-Ray combo pack of the 2010 Karate Kid a no-brainer version of the film to take home. It's a worthy update to the 26 year old film and, in some ways, an improvement. But diehard fans shouldn't write off the remake as just a poor retread, and instead see it as another take on the idea and values of the original. Jaden and Jackie are really great in this update, and here's to hoping any possible sequel to the franchise reboot will continue the quality of this potential new classic.
-
John DiBiase
,
(reviewed: 10/22/10)
Parental Guide: Content Summary

Sex/Nudity
: None. Two young children (around 12 years old) share a kiss

Vulgarity/Language
: 1 "d*mmit," 4 "a" word, 2 "G-d"

Alcohol/Drugs
: Dre walks in on Mr. Han violently smashing a car, and his eyes focus on a bottle of liquor and a glass on a nearby table, suggesting he'd been drinking

Blood/Gore
: Dre has a black eye after a fight and a small cut on his cheek; We see a big purple bruise on a person's leg during a tournament fight

Violence
: Some kids bully Dre who tries to stand up for himself, but gets kicked and punched pretty roughly, resulting in him getting a black eye; Cheng knocks Dre's lunch tray into him (spilling all his food all over himself); Cheng and his friends corner Dre by himself and take his bookbag, empty it out, and kick his stuff around; Master Li makes a kid "finish off" another kid while practicing by kicking him in the face (Li encourages his students to use violence and show no mercy); Dre tosses a bucket of oil or grease onto the kids who have been harassing them. They then chase him through the streets of China until he's cornered. Cheng punches Dre in the stomach several times and then kicks him, causing him to fall. One of his friends encourages him not to finish him off, but Cheng motions to do so and is stopped by Mr. Han. The kids then attack Han, who defends himself and causes the kids to inadvertently beat each other up; There's some violence with Han teaching Dre kung fu; We see Han destroying a car with a huge hammer (out of anger and frustration); We see a lot of tournament-style kung fu fighting - some more violent than others. Master Li's kids often fight more brutally than the other kids. In one sequence, a kid grabs another by the leg, holds his leg and punches it repeatedly in the same spot (with specific intentions of doing physical harm)
Disclaimer: All reviews are based solely on the opinions of the reviewer. Most reviews are rated on how the reviewer enjoyed the film overall, not exclusively on content. However, if the content really affects the reviewer's opinion and experience of the film, it will definitely affect the reviewer's overall rating.
To find out why we don't typically review R-rated movies,
click here