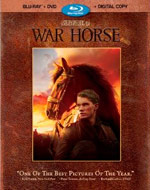 War Horse


- for intense sequences of war violence.
Director:
Steven Spielberg
Starring:
Jeremy Irvine, Emily Watson, Tom Hiddleston, Toby Kebbell, Niels Arestrup
Running Time:
2 hours, 26 minutes
Theatrical Release Date:
December 25, 2011
Blu-Ray Release Date:
April 3, 2012 (
Amazon.com
)
Official Site
Plot Summary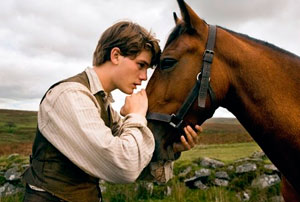 "War Horse," the Academy AwardŽ-nominated Best Picture, is a story of incredible friendship, loyalty, courage, hope and tenacity. Based on the Tony AwardŽ-winning play, and set against the sweeping canvas of World War I, this deeply heartfelt tale begins with the remarkable friendship between a feisty colt named Joey and his young trainer Albert (Jeremy Irvine). When they're forced apart by war, the film follows Joey's extraordinary journey as he changes and inspires the lives of everyone he meets. No matter where they go or what they experience both boy and horse keep forging ahead, driven by devotion and the hope of returning home. Filled with spectacularly rich visuals, "War Horse" is one of the most powerful and moving stories of friendship and love ever filmed. (from Disney)
Film Review
Unless you happen to have an affinity for the revered animal, the trailer for Steven Spielberg's latest film, War Horse, probably didn't look very appealing. With very little dialog and consisting mostly of images of a wide-eyed boy and his horse and a horse running through battlefields, the trailer just wasn't doing it for this movie watcher. While I've enjoyed many of Spielberg's ventures in the past, I really had little hope for this one. Thankfully, I was terribly mistaken.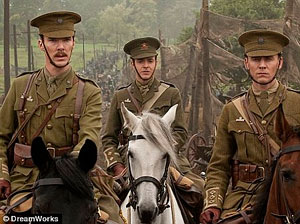 Maybe it can be chalked up to poor marketing, but since I'm not a huge horse fan, the trailer was lost on me. Let's face it, the last big epic trailer for a film that had worked a war element into its story [that comes to mind, that is] was Australia, and that proved to be one of the most taxing movies for me to sit through (long, boring, irritating and WAY too much green screen instead of on-location scenery). Right out of the gate, as War Horse starts, we're presented with sweeping landscapes and a gorgeous musical score from the brilliant John Williams. The film then continues on in real locations with beautiful cinematography and convincing actors leading the charge. After about thirty minutes of setting up the story of a colt named Joey who could do some extraordinary things, I was reeled in for the long haul. The story that followed took Joey from a small farm in Devon into the first World War, and from all different sides of the war, transcending differences and uniting people of all walks of life. It was just as much about the story of this magnificent animal as it was about who he touched in the process.
War Horse begins with Joey being raised by a farm boy and developing a deep connection with him before he eventually is forced into becoming part of the British war efforts. As the story continues, Joey changes hands several times, finding his way into all sides of the war as well as even into the hands of French civilians. The landscapes, people, scenery, sets, and musical score all add to the epic cinematic feel of the film and Spielberg gives us what ultimately feels like a classic film, delivered in 2011. These kinds of films are scarce these days, and if they are attempted, they aren't nearly as skillfully done as War Horse. While Joey is never shown to be anything more than a regular horse with strength and courage that inspires anyone who comes in contact with him, he is given a subtle sub-story of his own. Once he enters into the British service, he befriends another war horse named Topthorn, and it gives the horse a companion to accompany him through some of the loneliest and toughest moments in the story. And all of the humans who interact with Joey are different and colorful, creating multiple stories within this overall grand story, that makes little vignettes peppered throughout War Horse. It keeps things fresh and interesting all the way through its two-and-a-half hour running time, with the constant being Joey from start to finish.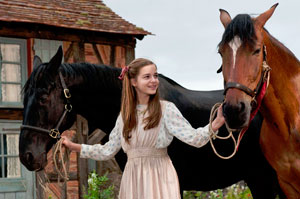 I'm a fan of classic cinema. While big epics, like Ben-Hur or even The Big Country, require some serious time and emotional investment from the viewer, they can often be rewarding (and in Ben-Hur's case, it's spiritually speaking). For War Horse, there is quite a bit of emotional investment required; loss and sacrifice are big themes in the film, but the resolution of the movie is a satisfying one. What is most likely my favorite scene in War Horse is when two opposing soldiers are brought together across "No Man's Land" because of Joey (I won't spoil the details). From the spooky cinematography to the awkwardness of the situation and the ability for enemies to overcome circumstances to briefly become friends, it was just a wonderful moment in the film. Another thing that's worth pointing out about the movie, too, is its sound. Few films have such a striking sound to it that it just screams above most other films. It's not loud and noisy just for the sake of throwing anything and everything at the viewer; it actually aids in telling the story. The war scenes especially have such a powerful sound that it really makes you feel like you're in the thick of it along with the characters. The sound really booms, amd with the force it brings to the battle scenes, it really adds to the experience. Coupled with Williams' beautiful composition for the film and it's just one incredible sounding movie.
The content for War Horse is mild by most standards. Battle scenes aside, there really is a PG movie underneath it all. The language is very minor, with just an occasional word here or there (nothing worse than "h*ll" or "d*mn" and a few uses of the British word "bugger"), and there isn't any sexual content to speak of. The war violence is more startling at times than anything. It's never graphic, however, with the worst just being a little bit of blood on battle survivors' heads and hands. What is most startling to see, though, are battlefields littered with dead bodies and sometimes dead horses, while a lengthy fight sequence in "No Man's Land" shows soldiers dropping left and right and bombs tossing bodies into the air like rag dolls. Again, it's not very graphic, but it's certainly violent, and Spielberg puts the audience on the frontlines to really get a feel for what World War I was like. Two last scenes worth mentioning (and it's a bit of a spoiler, so be warned), is that a pair of young boys desert their regiment and are soon recovered and then executed. Spielberg's filming of the execution is uniquely done (we see them standing, then their bodies are not seen when they are actually shot, and then we see their bodies lying on the ground -- all shown at a distance). It's a terrible moment, but the film doesn't dwell on it for too long. The other sequence shows a horse that has been tangled up in barbed wire, so we see some scars/cuts on its body later on, but overall, Spielberg lights these scenes in a way that masks the brutality of it.
All in all, I was surprised by how truly wonderful War Horse turned out to be; that's not to say that I didn't think someone as skilled as Steven Spielberg could turn in such an excellent film, but given my preconceived notions as to what the film would be, I'm happy to have been so very wrong about it. Horse lovers will especially want to check this one out, but those who just enjoy fine storytelling, wonderful acting, and a movie done on a grand scale made right, should treat themselves to a viewing of War Horse.
-
John DiBiase
(reviewed: 3/26/12)
Blu-Ray Special Features Review
The film adaptation of
War Horse
is available on single-disc DVD, a 2-Disc Blu-Ray/DVD combo and a whopping 4-Disc Blu-Ray (2 Discs)/DVD/Digital Copy set. The 4-disc set is a real nice option for those who really loved the movie. The extras are quite good, with a hour-plus long documentary of the making of the film being included on the Bonus Blu-Ray disc only...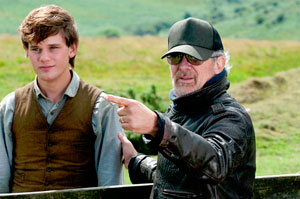 Blu-Ray DISC ONE:
War Horse: The Journey Home (19:35) - This is a round table with Steven Spielberg, Kathleen Kennedy, Jeremy Irvine, Emily Watson, Tom Hiddleston and Toby Kebbell. Here the cast and crew talk about their experiences with the horses, what they liked about the script, etc. About halfway in the actors leave, and Steven and Kathleen talk to the director of photography, costume designer and other crew about the technical side of making the film. It's a great featurette for those wanting to know more about how the film came to be.
An Extra's Point of View (3:06) - An extra named Martin D. Dew takes us through his experience as a "background artist" in War Horse. He played a random German soldier, a random British soldier and one of Lyon's buddies. The end of this short segment also shows Spielberg thanking a group of extras and meeting and greeting with them a bit.
Blu-Ray DISC TWO: A Filmmaking Journey (1:04:13) - This is a marvelous feature-length making-of of War Horse. Here we learn that Kathleen Kennedy had actually pitched making this movie to Spielberg after seeing the play herself in London. Shortly after Spielberg makes his introduction here, we hear from the book's original author, Michael Morpurgo, about writing the story. "Filmmaking Journey" then takes us through the film from beginning to end, showing us how each major scene was created, including lots of B-roll footage while the cast and crew interject their own experiences throughout the documentary. It's wonderfully done and a must-see extra for anyone who enjoyed the film and wants to know more about it.
Editing & Scoring (8:53) - Here, Spielberg gushes about John Williams' work on the music of War Horse. Williams is one of the most brilliant and amazing composers of all time and he really did an incredible job on this film. Spielberg also briefly talks about his long-time editing partner Michael Kahn, and it's great to hear from both Kahn and Williams about their work here.
The Sounds of War Horse (7:13) is dedicated to the sound effects of the film and how they aimed to make the sound of the film as authentic as they possibly could. It's really quite fascinating.
Through the Producer's Lens (4:04) - Kathleen Kennedy talks about the film while showing photographs she took while on set. It's a neat addition and her photos are fantastic.
-
John DiBiase
,
(reviewed: 3/25/12)
Parental Guide: Content Summary

Sex/Nudity
: None.

Vulgarity/Language
: 4 "h*ll, 1 d*mn," 1 "bugger off," 2 "bugger me," 2 "b*stard," 1 "Good L-rd"

Alcohol/Drugs
: Ted is known for drinking a lot; We see Ted taking a swig of something from a flask. A few moments later, he goes to drink again, but Rosie pulls the flask away.

Blood/Gore
: We see some blood on a soldier's hand; A soldier who has been rescued has some blood around their head; Topthorn has a wound on his leg; We see a horse covered in barbed wire and a little bloody (the lighting is dark enough that it isn't gory); An injured man has some blood on his head; We see some scarring on the horse's legs and body; A young man has some redness around his eyes after a tear gas attack.

Violence
: SPOILER ALERT: Ted is knocked over by Joey. He gets up, grabs a shotgun and threatens to shoot the horse. He pushes Albert to the ground a couple times and Albert then steps in front of the gun; Albert whips Joey and he takes off, pulling the plow, dragging Albert behind him across the ground; Rosie briefly threatens Lyons with sewing needles; Joey stops short of a stone wall, throwing Albert off his back and over the wall; Joey knocks over a soldier leading him; We see a charge led right through a camp where those charging slice opposing soldiers standing on the ground with their swords. Some are shot while opposing forces shoot back. Then the opposition get behind a wall of chain guns and mow down the charging soldiers. We then see an aerial shot of a battlefield littered with dead soldiers and horses; A young soldier trips and falls, almost getting run over by a passing truck; We see two teenage soldiers in front of a firing squad and then get executed; German soldiers surround a girl on a horse and bully it away from her; We see some horses pulling artillery. One collapses, and a soldier shoots it (not seen). We then see its lifeless body being dragged away; We see artillery firing and then a group of soldiers in a trench with explosions all around; We see a very intense battle with soldiers dropping left and right, explosions everywhere, etc. We then see the an entire field littered with dead bodies, and a trench covered with dead bodies. It's a disturbing sight; A weary horse collapses and dies; Joey runs though several lines of barbed wire, is tangled up and flips head over feet on the ground; We see a camp of wounded soldiers in various states of being wrapped in bandages; A soldier is instructed to put down an injured horse but is stopped just in time.
Disclaimer: All reviews are based solely on the opinions of the reviewer. Most reviews are rated on how the reviewer enjoyed the film overall, not exclusively on content. However, if the content really affects the reviewer's opinion and experience of the film, it will definitely affect the reviewer's overall rating.
To find out why we don't typically review R-rated movies,
click here