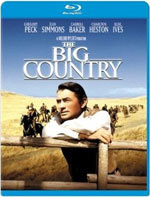 The Big Country

Director:
William Wyler
Starring:
Gregory Peck, Jean Simmons, Charlton Heston, Burl Ives, Carroll Baker
Running Time:
2 hours, 45 minutes
Theatrical Release Date:
October 1, 1958
Blu-Ray Release Date:
November 1, 2011 (
Amazon.com
)
Plot Summary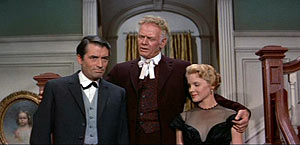 One of Hollywood's greatest directors teams with a cast of incredible screen legends for this bold, sweeping tale of a ship's captain who ventures west to find a hotbed of jealousy, hatred and dangerous rivalries. As the reluctant hero is thrust into the maelstrom, he must summon all of his resolve to save not only his own life, but also the life of the woman he loves.

Four-time Academy AwardŽ Winner William Wyler directs this action-packed adventure that triumphs as "a work of art" (Motion Picture Herald). Starring Gregory Peck, Jean Simmons, Charlton Heston, Chuck Connors, and Burl Ives (in an OscarŽ-Winning performance), this magnificently entertaining epic will take your breath away with unbridled suspense, exhilarating excitement and explosive drama on a grand scale. (from MGM)
Film Review
While I've been watching all kinds of classic films for as long as I can remember, I have to admit that it wasn't until recent years that I've begun to take notice of things such as who directed such classics for any of those films (except for maybe someone like Frank Capra). The name William Wyler escaped me until recently with the Blu-Ray release of Ben-Hur, and now I'm noticing his name on all kinds of classic films, including one of my favorites, Roman Holiday. Following the release of Ben-Hur to Blu-Ray is Wyler's 1958 western epic, The Big Country. This film preceded the iconic Ben-Hur and also starred Charlton Heston, except this time in a supporting role instead of the lead. Wyler's Roman Holiday lead, Gregory Peck, takes the spotlight here as a fish-out-of-water ship Captain who moves to a small western town to marry his fiancee who has grown up there. Peck's character, Jim McKay, is immediately rejected by most of the town, who believe being tough and forceful is the measure of a man. McKay is more of a quiet man who has grown a different kind of thick skin at sea, where things clearly are different than in the old west. McKay soon proves that there is a place for a man like him in the west and their way of handling things may not be the best way after all.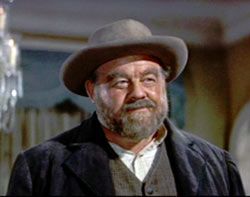 The Big Country is also driven by the classic story of two warring families, sort of like the Capulets and the Montagues in a way, with McKay being an outsider who ends up intervening and shaking things up. About an hour into the film, actor and singer Burl Ives enters the story as the father of a family of misfits named the Hannasseys. It's not long after McKay arrives in the town that he discovers the tensions that exist between the Hannassey family and that of his fiancee's, the Terrills. Her father, Major Henry Terrill, paints these hoodlums as a pretty rough bunch--and they prove to be quite the mess--but it turns out that the way the Major handles the Hannasseys isn't all that honorable either. And as the Major drags his family and friends into what is ultimately a personal feud, things really escalate. Among those in the mix is Steve Leech, played by Heston, a rough and rugged man's man who isn't too crazy about McKay's presence either. Heston's Leech is a far cry from Judah Ben-Hur and really shows a different kind of performance for the actor. Burl Ives took me by surprise most, however, considering how I know the man most for his Christmas songs than anything else. Here, he's nearly a wildman as the rustic head of the Hannassey family. After watching his performance, it's no secret why he won an Oscar for it. Peck is excellent as the subdued and reserved McKay who can step up when he needs to, but ultimately, he's a tad dry in the role, which works perfectly for the character. The fact that we can't figure him out very well at first puts us in a similar place as those around him.
As a film, the story focuses on McKay and his experience, and works as a slow build to a climactic confrontation. The near three-hour running time does feel a little long at times, but Wyler has proven himself to be a skilled storyteller, and he gives the story plenty of air to breathe, stopping and lingering on key character-developing moments as needed. Giving ample time to really paint a good portrait of McKay as the film progresses certainly adds to the intrigue of his character. The situations he faces in the film draw out the kind of person he is and don't really shape him all that much, but reveal things about his character and integrity. In the same way, these circumstances reveal the kind of woman he's engaged to and some tensions are birthed from these moments as well. The film is a classic western with a twist, but those who are a fan of the genre should enjoy Wyler's sprawling take on the genre.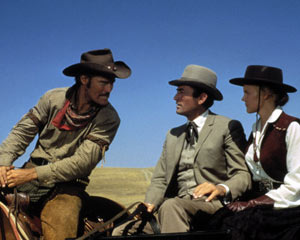 The Blu-Ray presentation of the film is pretty good. At first, the opening credits suffered massively from the way they had originally been edited, making the picture seem no better than any standard definition release. But once the massive scenic shots and colorful character transfers follow the opening credits, the high definition format pays off. The only downside to the clarity is the noticeable flicker in the film's image from the original film as it's played. Granted, you'll feel like you're watching an old film reel in the theater, but it can be distracting at times. For the most part, however, you do get used to it, but the fact that it's noticeable at all may annoy some expecting a pristine image.
The content for The Big Country is on par with most films from the 50's era, but it can be a bit intense at times. The Hannasseys are pretty brutal fellows--Buck especially--and some scenes do get violent. The only parts that get a little bloody come toward the end of the film with some gunfighting (including a duel), but there's a pretty intense scene where the Hannasseys have a woman held captive and Buck enters her room while she's asleep on a bed (facedown) and he forces himself on her by trying to get her to kiss him. She pushes him away, and before he can do anything else, his dad barges in and roughs him up. The two of them get into a pretty violent exchange before Buck is kicked out of the house. There's another lengthy sequence where two men have a knock-down, drag-out fist fight in the moonlight alone that seems to go on for a pretty long time. Later, we see a character shot down with a little bit of blood shown and we see two other characters shoot each other down from a distance.
When it comes to westerns, The Big Country may not stand out as among the very best, but it's a good entry into the genre with a solid cast and great acting. It's a bit rough at times for young audiences, but otherwise, it's a lot more family friendly than a film like 2010's True Grit remake. They just don't make 'em like this anymore.
-
John DiBiase
,
(reviewed: 12/15/11)
Blu-Ray Special Features Review
The Blu-Ray release of The Big Country is a single-disc release with just the feature film in high definition and one single bonus feature...
Fun in the Big Country (5:12) - The single featurette is a mere five minutes long, but is clearly one of the original behind-the-scenes looks at the movie. Narrated by Jean Simmons, "Fun in The Big Country" is about their on-set entertainment during filming: Jean playing gin with Willie, Gregory and Burl playing chess, Heston looking for turtles and sketching Jean's horse... on down to cast and crew having their own turtle race. It's short, but pretty neat to watch over 50 years later.
-
John DiBiase
,
(reviewed: 12/4/11)
Parental Guide: Content Summary

Sex/Nudity
: Buck grabs Julie against her will to kiss her and she pulls away; Rufus tells Buck to "stop womenin' around;" Pat hits Leech in the chest and he forces her to kiss him. She pulls away, though; We see Leech in his pajama pants and no shirt;

Vulgarity/Language
: 4 "d*mn," 3 "h*ll"

Alcohol/Drugs
: We hear about a gang being in town that has been drinking

Blood/Gore
: Some of the Hanasseys have abrasions on their faces after being beaten up; Leech has a bloody lip after trying to force a kiss on Pat; Jim has some blood on his shirt and he and Leech both have some on their faces; Steve has a dried cut on his lip and a bruise on his cheek; Buck has some blood on his lip; Jim has blood on his forehead; We see a man with blood all over his hand and chest; We see some blood on Steve's hand

Violence
: The Hannassey gang is shown throwing things while sitting in the woods. One of them throws a knife at a log near one of the other guys foot while he's sleeping; They rope Jim and drag him off the coach and then ride around him while he's tied up; Buck roughly grabs Julie against her will and she pulls away; We see some cowboys firing their guns in the air and shooting up a water tank; Jim keeps trying to ride a horse and keeps getting thrown off; Buck throws a chair through a hotel window to escape. The posse round up some of the Hannasseys. Leech slaps one of them, then they rope the others and drag them to a barn where we then hear punching inside from outside after they're brought inside. They then throw them out; Pat hits Leech in the chest and he forces her to kiss him. She pulls away and he has a bloody lip. He leaves and she bangs on the table; We see a brutal fistfight between Leech and McKay mostly from a distance and in the moonlight; Cowboys fire their guns to scare off cattle; Buck goes into Julie's room and climbs on top of her and tries to kiss her. They struggle and Rufus comes in and smacks him. Buck tries to strangle Rufus and he throws Buck off; Buck slaps Julie, Jim punches him, the two fight; A man shoots another man twice, killing him; There is a big gunfight and we see some miscellaneous cowboys get killed. One instance shows a dead man rolling down a hill; Two guys shoot each other dead
** Disclaimer: All reviews are based solely on the opinions of the reviewer. Most reviews are rated on how the reviewer enjoyed the film overall, not on content. However, if the content really affects the reviewer's opinion of the film, it will definitely affect the reviewer's rating.
Disclaimer: All reviews are based solely on the opinions of the reviewer. Most reviews are rated on how the reviewer enjoyed the film overall, not exclusively on content. However, if the content really affects the reviewer's opinion and experience of the film, it will definitely affect the reviewer's overall rating.
To find out why we don't typically review R-rated movies,
click here