HISTORY IS IN THE MAKING AS COMPASSIONART SONGWRITERS EXCEED INITIAL GOAL, WRITING 21 SONGS SO FAR
NEWS SOURCE: Hoganson Media
January 11, 2008

(Littlehampton, England) January 11, 2008 – The Compassionart songwriter's retreat began Monday with the admirable goal of receiving 10-12 songs to be given to the world not just to sing, but to raise money for the relief of suffering for the poorest of the poor around the planet. On target to surpass that initial goal, Compassionart founder and Delirious? frontman Martin Smith says, "We now have 21 songs; all are strong."
"There are times in history when people join together to do something great and lay down their own agenda, their own territory," continues Martin. "It's been especially touching to see everyone be themselves and be vulnerable in front of each other. Yet when a group plays its song, the whole room erupts. It's just pure Christianity. It's a team thing of people lifting each other up."
"In a word, this week has simply been 'unbelievable,'" says Michael W. Smith. "It's incredible to be working with all of these artists for a worthy cause. Laying down your own agenda really frees you in so many ways, and this week has been a pure joy."
Compassionart is hosting internationally recognized songwriters Paul Baloche, Steven Curtis Chapman, Stu Garrard (Delirious?), Israel Houghton, Tim Hughes, Graham Kendrick, Andy Park, Matt Redman, Martin Smith (Delirious?), Michael W. Smith and Darlene Zschech in Perthshire, Scotland.
The latest blog from author and journalist Christa Banister, who is attending the retreat that ends today, can be found at www.delirious.co.uk/livingroom/blog.php. One fellow blogger, after reading her posting, wrote, "There are those moments in history that changed history and you just hear about them. It is amazing that I am seeing history being made in my lifetime. One day I won't just tell the historians I heard about the great evangelists of the 1800's, but I will be telling the next generations about the worship revolution that happened in my time."
For more information on the Compassionart songwriter's retreat, go to www.compassionart.co.uk.
###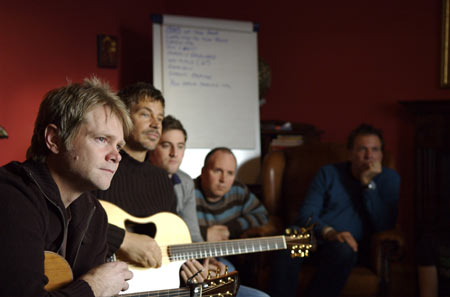 CAPTION:
Compassionart songwriters craft a song in one of the writer's rooms at the House of Cantle in Scotland. Pictured (l-r) are: Steven Curtis Chapman, Paul Baloche, Tim Hughes, Jim McNeish (House of Cantle owner) and Mark Zchech (husband of Darlene).
January 10, 2008
Compassionart Songwriter's Retreat Blog #2
By Christa Banister
Perthshire, Scotland—It's been four days, and there's still a pervasive sense of wonder for every artist involved in the CompassionArt event.
For Delirious frontman Martin Smith and his wife Anna, it was a longtime dream fulfilled that has far surpassed their wildest expectations. "When I was getting to bed the first night, I still couldn't believe that everyone here was really under the same roof," Smith says. "I was nervous and excited. And now that we're inching toward the end of the week, the electricity was more than I could've ever imagined."
That "electricity" has resulted in one successful collaboration after the next—a process that starts in the early morning and continues into the wee hours of the evening. And while these artists could technically call it "work," the laughter that emerges from the practice rooms seems to indicate that work and play seamlessly go hand and hand.
"In a word, this week has simply been unbelievable," says Michael W. Smith. "It's incredible to be working with all of these artists for a worthy cause. Laying down your own agenda really frees you in so many ways, and this week has been a pure joy."
Speaking of pure joy, the picturesque Scotland scenery was the perfect backdrop for the creative process. Following a tour of the sights in Glencoe, including lunch at a proper Scottish pub, the falling snow inspired a spontaneous snowball fight. In case you ever wondered, Darlene Zschech may have a cherubic face, but she's got a killer instinct. Who knew, right?
All joking aside, Martin can't help but be proud of what's resulted from these artists' time together.
"There are times in history when people join together to do something great and lay down their own agenda, their own territory. It's been especially touching to see everyone be themselves and be vulnerable in front of each other. Yet when a group plays its song, the whole room erupts. It's just pure Christianity. It's a team thing of people lifting each other up."
# # #

[2019]
Jan. | Feb. | March | April | May | June | July | Aug. | Sept. | Oct. | Nov. | Dec.
[2018]
Jan. | Feb. | March | April | May | June | July | Aug. | Sept. | Oct. | Nov. | Dec.
[2001 - 2017]
Visit our complete MUSIC NEWS ARCHIVE