WORLD VISION UNVEILS
"WORLD VISION'S SUMMERFEST '09" CONCERT SERIES
FEATURING POP-ROCK BAND BUILDING 429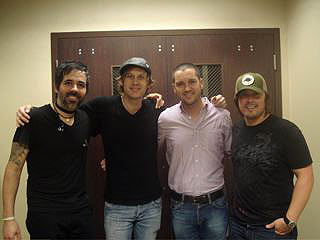 NEWS SOURCE: The M Collective
May 18, 2009
May 18, 2009…Nashville, TN… World Vision unveils "World Vision's Summerfest '09," their first-ever summer concert series featuring pop-rock band Building 429. Other acts appearing on stage will be 33Miles, Lanae Hale and new act Kimber Rising. The Summerfest will visit 12-15 cities and it kicks off in Joplin, MO on June 2. World Vision hopes to have more than 800 child sponsorships by the end of the tour.
"World Vision is thrilled to once again be teaming up with Building 429," said World Vision's Artist Representative Ben Greene. "During 2008, in concerts all across the US, Building 429 connected over 4000 vulnerable children to new World Vision sponsors. We are so excited to be partnering with them to create a new summer event that will surely be an incredible concert series. Concert goers are sure to leave a Building concert with a renewed passion for being the hands and feet of Christ, and that makes our relationship such a perfect fit."
The family friendly summer concert is joining with churches and radio stations around the country including large market stations such as WBFJ in Winston Salem, NC, WVFJ- Atlanta, GA and KWND in Springfield, MO. Tickets are being sold for a convenient $5 at the door.
The tour dates lead up to Building 429's World Vision mission trip to Uganda this July where the band will be performing to approximately 30,000 people in Rwanda with Andrew Palau of the Luis Palau Association. The band will continue their tour with World Vision in August for 15 dates across Canada.
For more information on World Vision Summerfest '09 and the tour dates, please visit http://www.worldvisionsummerfest.com.
World Vision
World Vision is a Christian humanitarian organization dedicated to working with children, families and their communities worldwide to reach their full potential by tackling the causes of poverty and injustice. World Vision provides hope and assistance to approximately 100 million people in nearly 100 countries. In communities around the world, we join with local people to find lasting ways to improve the lives of poor children and families. In 2007, 86 percent of World Vision's total revenue was designated for programs that benefit children, families, and communities in need.
Building 429
Building 429 has had a history of success with the release of three albums and now the rock band has joined forces with INO Records for their fourth studio record which became available in stores last fall. In 2005 "Glory Defined" was named BMI's Christian Song of the Year, they were named the Gospel Music Association's 2005 New Artist of the Year and nominated that same year for Rock/Contemporary Album of the Year and Song of the Year. They have toured with artists such as TobyMac, Family Force 5, Casting Crowns and Thousand Foot Krutch. Jason, Michael and Jesse are excited for their fans to hear a record that reflects where they are as individuals and artists.
33 Miles
After logging in over 120,000 miles (not including air travel), performing at over 200 churches, garnering radio hits and a 2008 Dove nomination for "New Artist of the Year," 33Miles released their sophomore record One Life on Sept. 16 to much praise. Critically acclaimed One Life entered the Top Christian Soundscan Album Sales chart and the Christian Digital chart at No. 5, while debuting at No. 160 on the Billboard Top 200. Since their debut in 2007, 33Miles' Jason Barton (lead vocals), Chris Lockwood (guitar) and Collin Stoddard (keys) celebrated one of the highest-selling freshman albums of 2007 with their GMA Dove nominated project 33Miles.
Lanae Hale
After generating major attention from the Christian and mainstream music industries with her six-song self-titled EP, Centricity Music's, Lanae Hale, is scheduled to release her eagerly awaited full-length album Back & Forth May 19, 2009. Back & Forth was produced by Mark Hammond (Nichole Nordeman, Ashley Tisdale) and Allen Salmon (Seabird, This Beautiful Republic) and features eleven new songs written by Hale. Hale's journey before her music ministry was a difficult one, but through God's grace her life has become a joyous one that has given her a platform with a powerful testimony. During her last year of high school and early college years, Hale became a cutter to help deal with issues of depression and low self-esteem. She was raised in a Christian home and a personal relationship with Christ, but it was through this challenging period that Hale came to truly know the grace of God and that He was answering her prayers for healing. Today, Hale is fully recovered from her cutting addiction and has become a strong role model for teens and young women.
###
For more info on Building 429, visit the JFH Artists Database.


[2021]
Jan. | Feb. | March | April | May | June | July | Aug. | Sept. | Oct. | Nov. | Dec.
[2020]
Jan. | Feb. | March | April | May | June | July | Aug. | Sept. | Oct. | Nov. | Dec.
[2001 - 2020]
Visit our complete MUSIC NEWS ARCHIVE