HAWK NELSON PREPARES TO RELEASE CRAZY LOVE + THE LIGHT SIDES
PRE-ORDER OPTIONS NOW AVAILABLE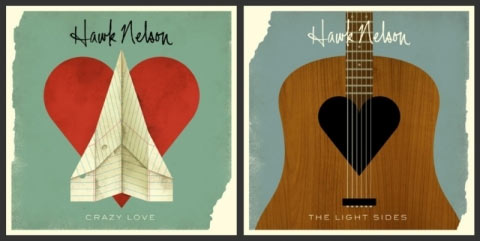 NEWS SOURCE: Overture Media
November 8, 2010
SEATTLE, WA...November 08, 2010 – Tooth & Nail Records / BEC Recordings' Hawk Nelson has just finished their fifth studio release, "Crazy Love," set to release on February 8, 2011. Produced with Ian Eskelin (All Star United, Francesca Battistelli, Starfield), "Crazy Love" is already generating a buzz among fans. Last week, more than 20,000 fans downloaded a free new track, "Skeleton," in just four days. Hawk Nelson promises fans that this new release will be a combination of punk rock and new styles.
"We're very excited about our new record. It's got some old-school punk rock feel to it, as well as some songs my mom would appreciate," shares frontman Jason Dunn. "Overall it is one of our most well rounded albums dealing with truth."
Along with the "truth" theme, Hawk Nelson wants to encourage fans to love like crazy as stated in the debut radio single and title track. Similar to their last album's plea to Live Life Loud, this band is about giving a call to action for their fans.
"Part of this truth talk is us growing older and wanting to sing about what's real to us," states bassist Daniel Biro. "The truth topics make 'Crazy Love' the most different from past records; we are definitely more overt about faith this time. We're not scared about the truth in our lives, and it's satisfying to be real like that."
In addition to "Crazy Love," Hawk Nelson will also be releasing "The Light Sides," acoustic/stripped down versions of their hit songs from their four previous albums. "The Light Sides" will not be available separately. It will only be available with the purchase of "Crazy Love" as a 2 disc set. Fans can pre-order their copy of "Crazy Love" + "The Light Sides" online here: here.
Hawk Nelson just finished their fall headline tour "Fly Me To The Show," which was an overwhelming success. JesusFreakHideout.com raved about the tour saying, "Fly Me To The Tour is definitely a highlight among the Fall 2010 tours, and one that fans of any of the acts on the billing shouldn't miss! And if you're unfamiliar with some or all of these acts, fans of pop rock and power pop would especially enjoy this fun evening of music, entertainment, and spiritual inspiration." Stay tuned for Spring 2011 touring information for Hawk Nelson.
For more information on the band, visit www.hawknelson.com, follow the band on Twitter at @ HawkNelson and communicate with other fans on Twitter using the hashtag: #crazylove.
Crazy Love Track Listing:
1. Tally-Ho
2. Your Love Is A Mystery
3. Crazy Love
4. My Next Breath
5. We're Alright
6. Skeleton
7. We Can Change The World
8. One Shot
9. Fraud
10. Joanna
11. LAX
12. Done Holding On
13. Thanks For The Beautiful Memories
The Light Sides Track Listing:
1. California (Acoustic)
2. Friend Like That (Acoustic)
3. Zero (Acoustic)
4. Stagefright (Acoustic)
5. First Time (Acoustic)
6. You Have What I Need (Acoustic)
7. Everything You Ever Wanted (Acoustic)
8. Head On Collision (Acoustic)
9. Long Ago (Acoustic)
10. Take Me (Acoustic)
11. 36 Days (Acoustic)
- ### -
About Hawk Nelson:
This powerhouse, pop rock foursome hailing from Canada has won the hearts of thousands since its debut release. After three stellar studio projects, Hawk Nelson released "Live Life Loud" in 2009. This release was the third top album on the overall Christian chart, the #18 digital album in the nation, the second digital album on the Christian chart and debuted with eight singles in the Top 200 digital tracks during street week. Recently, Hawk Nelson was also awarded two Canadian GMA awards for Modern Rock/Alternative Song of the Year ("Never Enough") and Modern Rock/Alternative Album of the Year (Live Life Loud). Hawk Nelson is a Mocha Club and Compassion artist.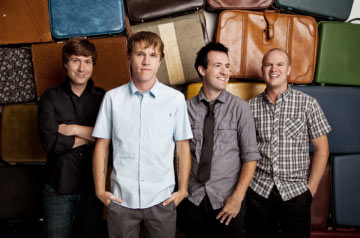 Left to Right: Daniel Biro, Jason Dunn, Jonathan Steingard, Justin Benner Photo Credit: David Molnar
For more info on Hawk Nelson, visit the JFH Artists Database.


[2020]
Jan. | Feb. | March | April | May | June | July | Aug. | Sept. | Oct. | Nov. | Dec.
[2019]
Jan. | Feb. | March | April | May | June | July | Aug. | Sept. | Oct. | Nov. | Dec.
[2001 - 2018]
Visit our complete MUSIC NEWS ARCHIVE