REBECCA ST. JAMES PARTNERS WITH PROVIDENT LABEL GROUP
INTERNATIONALLY ACCLAIMED RECORDING ARTIST,
SONGWRITER, AUTHOR, SPEAKER AND ACTRESS READIES FOR A
2011 RELEASE ON PLG'S BEACH STREET/REUNION RECORDS

ST. JAMES APPEARS ON "HANNITY" TONIGHT 9:00 PM EST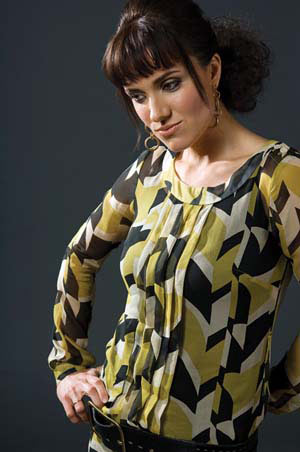 NEWS SOURCE: Provident Label Group
November 18, 2010
(Nashville, Tennessee) November 18, 2010 – GRAMMY and GMA Dove Award winning artist Rebecca St. James, respected as one of contemporary Christian Music's groundbreaking and key influential personalities, announced her signing to Provident Label Group's Beach Street/Reunion Records. Plans for a 2011 worship project, produced by Mark Miller (Casting Crowns), are currently in motion.
"I couldn't be more excited to be in partnership with Terry Hemmings and the Provident team," shares St. James. "I've spent the past several months writing and recording new music with Mark Miller and have even been able to share a few songs in a live setting already. The entire creative process has been inspired and inspiring and I look forward to sharing the entire project this spring."
"I've been a fan of Rebecca and her music throughout her career and believe she has a unique platform having successfully navigated a career in music, books and film," shares Terry Hemmings, President and CEO of Provident Music Group. "She is respected by both fans and industry gatekeepers for her talent and integrity. I'm honored we're able to partner with Mark Miller and Rebecca in this new phase of her music and ministry."
Emerging on the music scene in the mid-90's while still in her teens, the Australian born St. James has become one of Contemporary Christian Music's most beloved and enduring artists, embraced by audiences worldwide. Her signature sound yielded 17 Top 10 singles (nine of which were No. 1) and two RIAA Gold Album certifications (commemorating sales of more than 500,000 units) for God (1996), as well as GRAMMY winning Pray (1999).
In addition to a successful recording and touring career, Rebecca is an accomplished author having released eight noteworthy Christian market titles including the Top 10 ranked devotional, Pure, (Hachette/Faithwords, 2009) on the CBA Bestseller Chart.
While fully engaged in balancing the demands of recording, touring and authoring, this modern-day renaissance woman made the decision three years ago to pursue acting. "I felt called to this creative medium. While I'll never shift my focus from ministry, film allowed me to discover and cultivate another side of myself. I've made incredible friends in Hollywood who have encouraged and challenged me; the whole experience has deepened my walk with Jesus." Rebecca's first dramatic lead role in the film Sarah's Choice, released in 2009 by Purefix Entertainment, won both critical and audience acclaim for its strong pro-life message.
While readying for Sarah's Choice, Rebecca created a series of national Crisis Pregnancy events. "I saw the work this organization was doing and I just had to help," she notes. She also continues to connect with teen girls and their mothers at her nationally attended "SHE" events, which meld music and ministry into an evening of encouragement and practical advice on living Godly lives.
Having traveled the globe as an advocate of faith and values topics, ranging from purity to pro-life, Rebecca has been invited to speak or perform in venues including the White House and is even a frequent guest on the highly rated FOX News show, "Hannity" anchored by Sean Hannity.
For more information on Rebecca St. James' tour dates and events, please visit: http://www.facebook.com/RSJames
###
For more info on Rebecca St. James, visit the JFH Artists Database.


[2022]
Jan. | Feb. | March | April | May | June | July | Aug. | Sept. | Oct. | Nov. | Dec.
[2021]
Jan. | Feb. | March | April | May | June | July | Aug. | Sept. | Oct. | Nov. | Dec.
[2001 - 2022]
Visit our complete MUSIC NEWS ARCHIVE