NEWSBOYS' BORN AGAIN: MIRACLES EDITION
RELEASES TOMORROW
CD Features New Songs, A Music Video, And Hot New Remixes From Today's Biggest Remix Producers;

A Limited Edition Version Was Created For Retail, Featuring High Def 3-D Cover;

New Song "Save Your Life" Now Available Online
NEWS SOURCE: Vining Media
April 4, 2011
Nashville, TN - April 4, 2011 - This Tuesday, April 5th, is the release of Newsboys' anticipated Born Again: Miracles Edition, courtesy of Inpop Records. This expanded version features new songs, the music video for "Miracles," and exciting remixes in addition to the dozen songs currently found on their summer 2010 hit CD release, Born Again.
An additional bonus is that a limited edition 3-D cover was created for retail. This limited edition CD is a collector's item with its unique high definition cover.
Four of the five new songs to be featured on the Miracles Edition - "I'll Be," "Give Me To You," "Glorious," and "We Remember" - were originally available only as part of Born Again's digital deluxe version. The additional tune, "Save Your Life," is newly recorded and shipping to radio April 15th. Be sure to check out the song here!
Tuesday's release also includes a few special remixes. "Miracles" was remixed by Mega Is A Gang, who has mixed for artists such as Katy Perry, Black Eyed Peas and John Legend. The remix of "Mighty To Save" was produced by Family Force 5, and "Born Again" was remixed by French Horn Rebellion, best known for producing MGMT's breakout hit "Time To Pretend."
Additionally, it was announced last fall that Newsboys and Inpop Records were holding a contest to find the best remix of their latest single, "Way Beyond Myself." The winning version, chosen by fan votes and the Newsboys themselves, was from Flatline and also appears on the Miracles Edition.
ON THE ROAD WITH NEWSBOYS:
It is well known that Newsboys are not a band to sit still. Continuing to prove this point, as soon as the band wraps their current headlining gig of the 47-city Winter Jam tour, they will kick off their own 25-city "The Born Again Experience" spring tour. Beginning April 9th, this unique tour will bring the message of "A Night For The City To Serve The City," which already promises to redefine the typical live show experience. Newsboys plan to get audiences on their feet while offering the evening's mission to offer hope, service and compassion to the community, for one another and for those in need.
Newsboys also plan to take that mission directly to heart. With the band's partnership with Compassion International, proceeds from their VIP Born Again Experience special tour package will go towards supplying a water filtration system for the poor community of Santo Domingo, located in the Dominican Republic.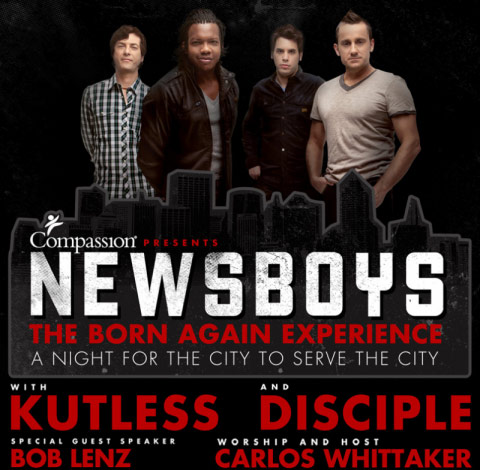 THE BORN AGAIN EXPERIENCE tour dates*:
Sat., April 9 - Williamsport, MD
Sun., April 10 - Binghamton, NY
Mon., April 11 - Williamsport, PA
Fri, April 15 - Bowling Green, KY
Sat., April 16 - Paducah, KY
Sun., April 17 - Topeka, KS
Mon., April 18 - Dodge City, KS
Thurs., April 21 - Poplar Bluff, MO
Fri., April 22 - Austell, GA
Sat., April 23 -Pikeville, KY
Thurs., April 28 - Cypress, TX
Fri., April 29 - Wichita Falls, TX
Sat., April 30 - San Antonio, TX
Sun., May 1 - Robstown, TX
Tues., May 3 - Lubbock, TX
Thurs., May 5 - Albuquerque, NM
Fri., May 6 - Phoenix, AZ
Sat., May 7 - Santa Ana, CA
Sun., May 8 - Sacramento, CA
Thurs., May 12 - Medford, OR
Fri., May 13 - Salem, OR
Sat., May 14 - Seattle, WA
Sun., May 15 - Liberty Lake, WA
Tues., May 17 - Idaho Falls, ID
Wed., May 18 - Billings, MT
Thurs., May 19 - Casper, WY
*All tour dates subject to change
ABOUT Newsboys:
This GRAMMY®-nominated and Dove Award-winning band has achieved what few artists have in their lifetime, selling almost 7 million units, garnering five Gold albums and 26 #1 radio hits. Since Newsboys' 2010 CD release of Born Again, their 15th studio project, its first week out was the largest street week of their careers by selling an astounding 45,311 units and hitting #4 on Billboard's overall chart. Its self-titled single topped the charts for weeks, having more than 7.47 million impressions to date, and the second single, "Way Beyond Myself," made history by garnering the most adds at Christian CHR radio in a single reporting period.
To view Newsboys' brand new music video for their single "Miracles" and find out more about the band and the most updated tour dates, please visit Newsboys.com.
# # #
For more info on Newsboys, visit the JFH Artists Database.


[2019]
Jan. | Feb. | March | April | May | June | July | Aug. | Sept. Oct. | Nov. | Dec.
[2018]
Jan. | Feb. | March | April | May | June | July | Aug. | Sept. | Oct. | Nov. | Dec.
[2001 - 2017]
Visit our complete MUSIC NEWS ARCHIVE